From creators Alex Gregory and Peter Huyck and directed by David Mandel, the HBO limited series White House Plumbers follows former CIA agent E. Howard Hunter (Woody Harrelson) and former FBI agent G. Gordon Liddy (Justin Theroux) on their seemingly impossible journey into the Watergate scandal. Not exactly the most astute masterminds, the political saboteurs wholeheartedly believed in their strongly held convictions to an extent that ultimately led to their own downfall as criminals.
During this interview with Collider, co-stars Harrelson and Theroux, who are also executive producers on the series, talked about their mutual lovefest for each other, what intrigued Theroux about the eccentric Liddy, how Harrelson related to his character, Liddy's troubling obsession with Hitler, whether there is any occasion that you should wear glossy pants, whether Liddy and Hunt actually liked each other, and how they had an unhealthy amount of fun sharing scenes together.
Collider: You guys are, both executive producers on this. Did one of you sign on first, and then suggest the other? How did you come to be doing this together?
JUSTIN THEROUX: I was the executive producer, and then I was like, "I would love to have Woody [Harrelson] executive produce. And so, I found him, I put him on the movie, and the rest is history.
WOODY HARRELSON: Thank you.
THEROUX: You're welcome.
HARRELSON: And I'm so happy I got to do it with you.
THEROUX: He's really just cutting his teeth. It's just nice to have such a young talent with so much promise. It was great to be able to showcase Woody, for people who don't know him, which is most of the world, let's be clear.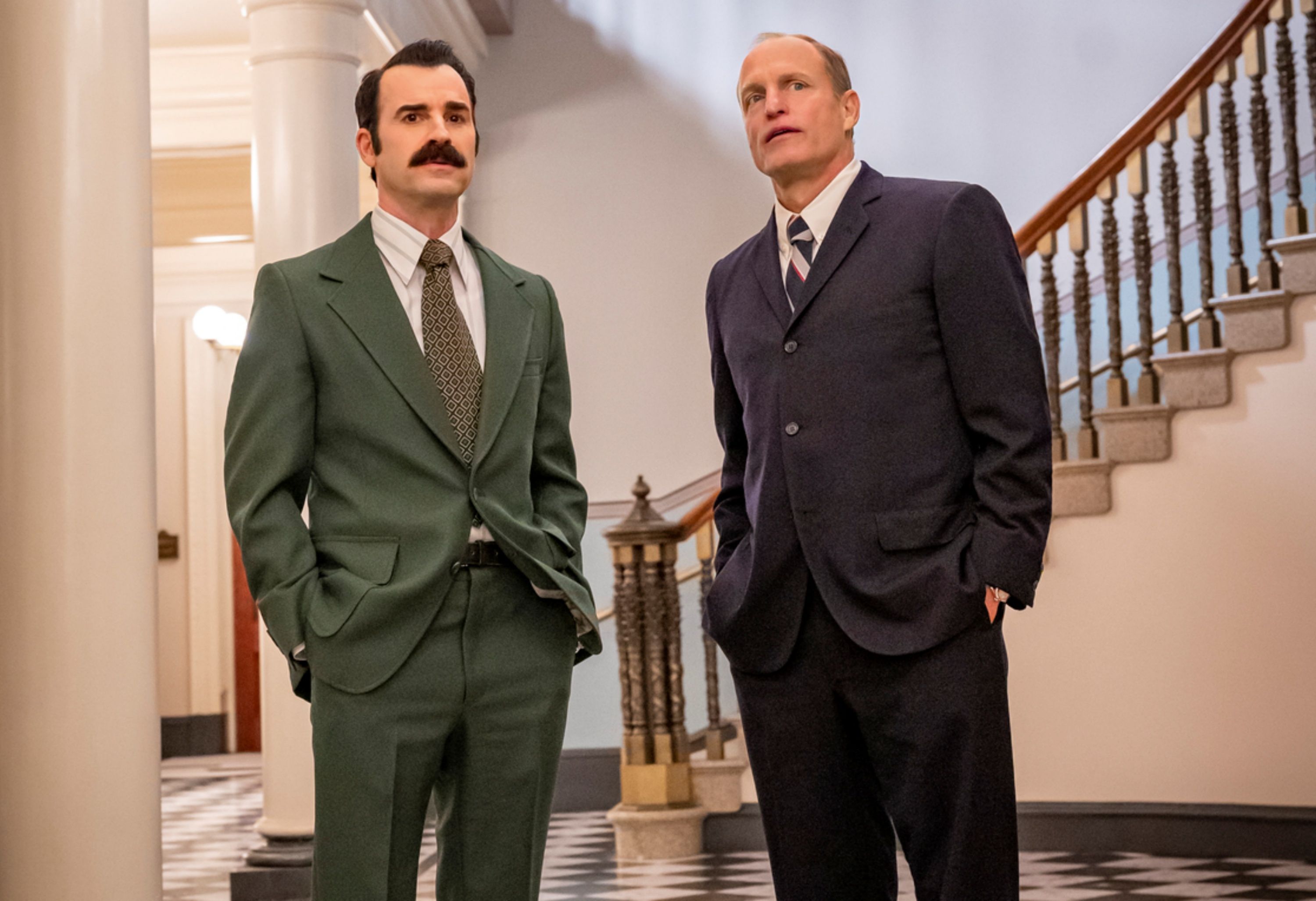 Woody, do you just go along with what Justin says? Are you reconsidering any of this, right now?
HARRELSON: It's too late to reconsider. It feels like it's done and in the can. No. For me, I was very psyched to work with Justin. I think he's a tremendous actor. The Leftovers is one of the great shows of all time.
THEROUX: Thanks.
HARRELSON: I was on the edge of my seat. I thought his acting in that was superlative. I just think he's great. I thought it was such a fresh, interesting perspective, to take the burglar's view of this whole thing, which we never see. That seemed like a natural thing that should have been done, instead of doing it from the media perspective, or whatever.
Justin, funnily enough, you're the second actor that I've talked to within a year, that's played G. Gordon Liddy in a limited series. I also talked to Shea Whigham, who played him in Gaslit. The interesting thing about that is that it doesn't even feel like you were playing the same guy.
THEROUX: I think he had the burden of doing a drama.
This is such a different exploration this guy's story and life. What intrigued you about Liddy, especially this Liddy?
THEROUX: No disrespect to Shea, but I studiously avoided his performance of Liddy because he was doing it around the same time that I was doing it. You have to love the characters you play. You have to find something to fall in love with, even though I find a lot of the things he did pretty awful. By the end of it, I really did admire him for a couple of things, like his willpower and how, even though his compass was a little bent, he stayed true to it. He hd an optimism that I really like. He saw the country as this great, amazing place to live in, and he loved being an American. He was deeply patriotic. He would set goals for himself and achieve them, even if they were felonies.
HARRELSON: It's nice to get something done and put a checkmark on it.
THEROUX: He was like, "You know what? I'm gonna commit a couple of felonies and betray the country and the will of the people." And then, he ticked that off the list.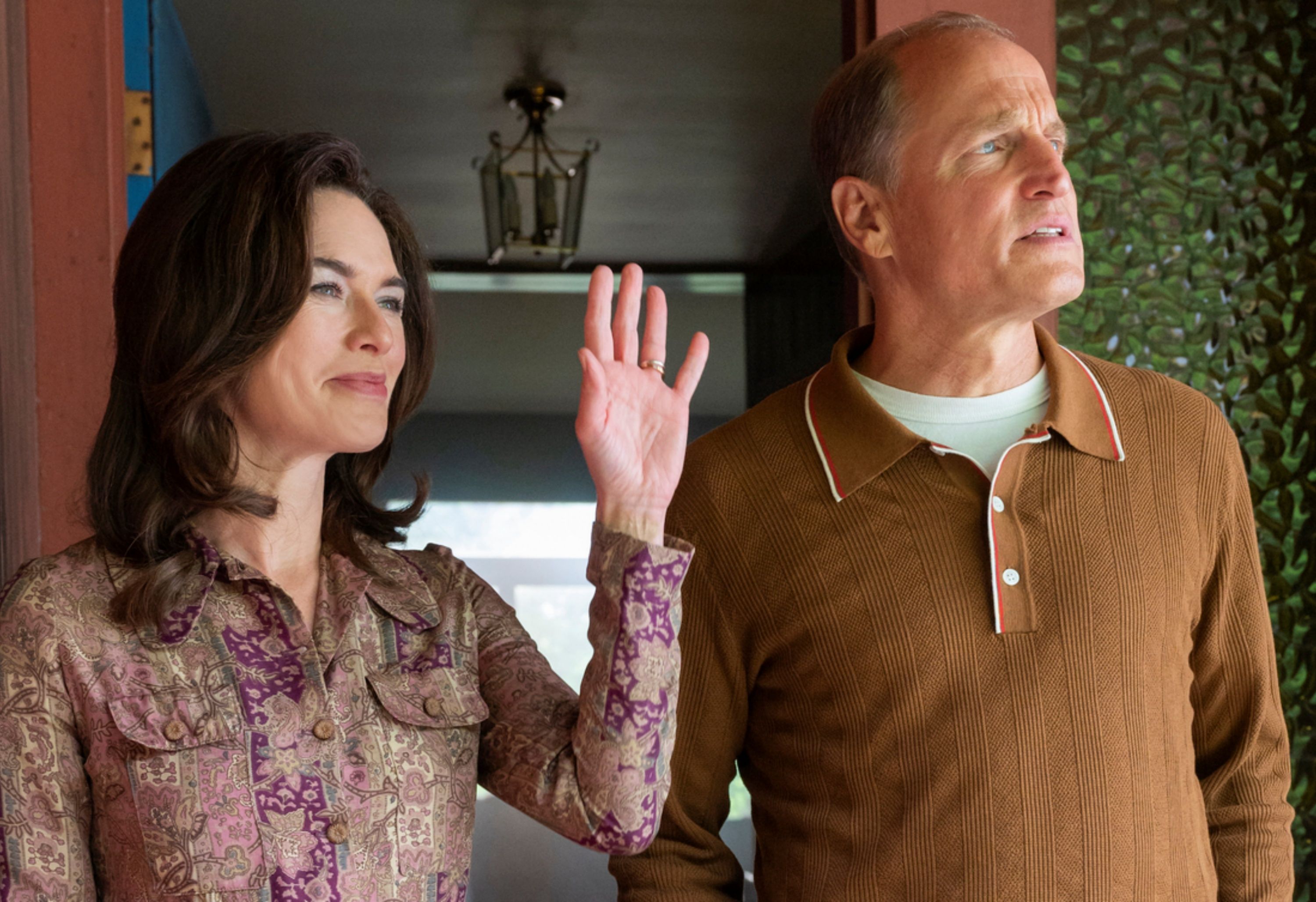 Woody, which aspect of E. Howard Hunt did you find most interesting, his work marriage or his actual marriage?
HARRELSON: We did have a marriage dynamic sometimes. That was the most fun stuff that we shot, when I was shooting with Justin and the Cubans. With the home like, I related to it, in the sense that he spent a lot of time away from home, and I spend a lot of time away from home. You've gotta pick up the pieces of those relationships, and there were some heavy scenes there. I like to just recline in the comedy.
He felt like a guest star in his own family. Was he just so focused on work and this goal he thought he was reaching that his family just couldn't really compete with that?
HARRELSON: Well, yeah. That's what was going on. On a positive side, I got to pretend to be married to Lena [Headey].
THEROUX: That's nothing to sneeze at.
Justin, how did you come to understand your character's obsession with Hitler? Do you even try to rationalize that? What does it say about him, that he sees Hitler as a hero?
THEROUX: This is probably an overly sympathetic answer to have, but I believed him, in his autobiography, when he said he was a weak Irish kid, growing up in New Jersey. Like all people with fascist tendencies, what they admire in people like Hitler is that it gives them a false sense of strength or purpose, or something. He would say, "I know Hitler was bad, but . . . ," or "I know he didn't do great stuff, but . . ."
HARRELSON: It's the ellipses there that's troubling.
THEROUX: Whenever anyone attaches "but" to that sentence, it's problematic. I don't know, I felt bad for him. Not in the playing of him, but at a certain point in my research, I took a little bit of pity on him, as a guy who had to strap himself to trees in thunderstorms, in order to lick his fear of thunderstorms. Or he'd eat rats because he was afraid of rats. He overcompensated with everything that he was afraid of.
HARRELSON: Even putting his hand on the flame was probably because he was afraid of fire.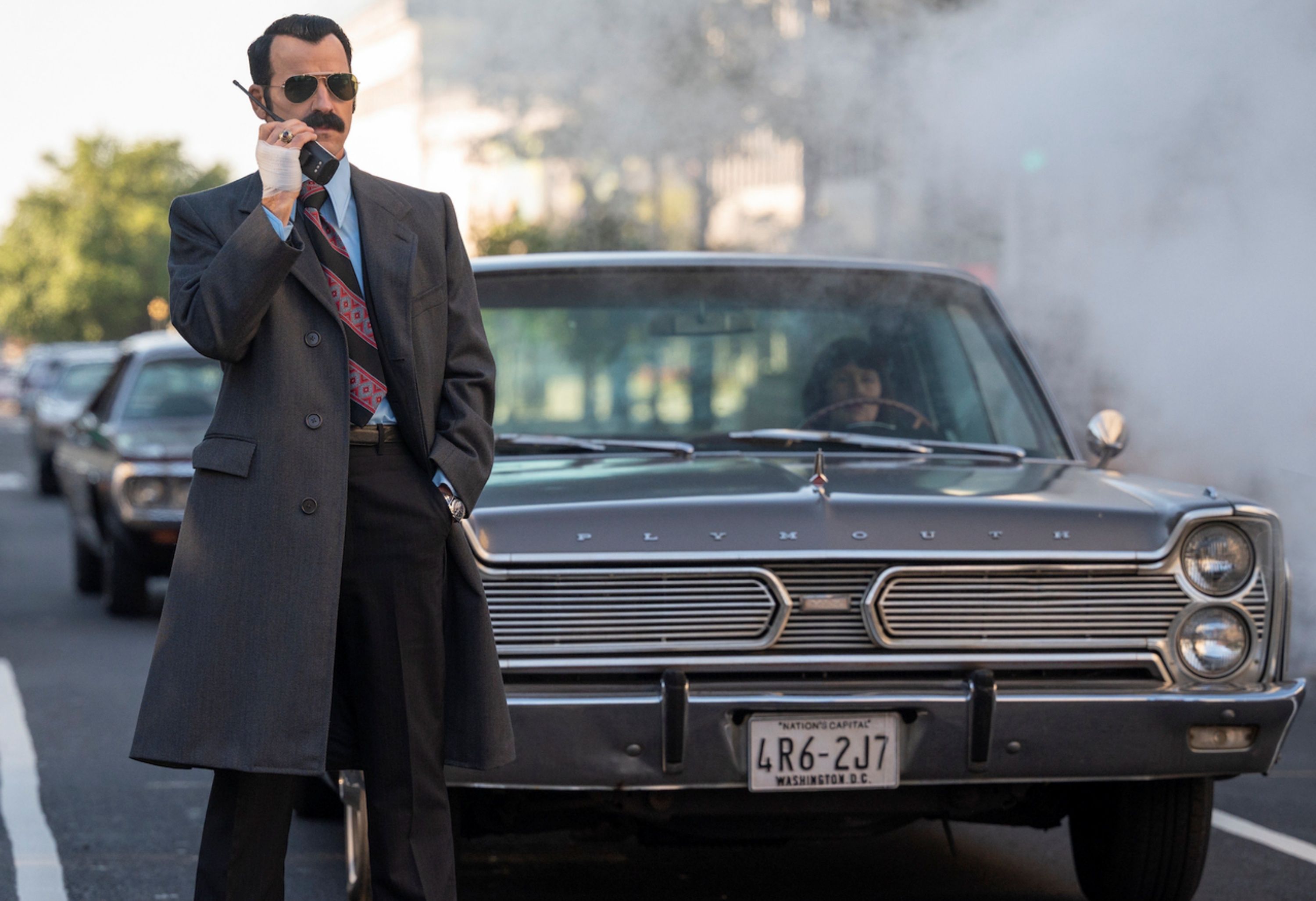 I love that this is a show that's just weird enough to have grown men, repeatedly trying to break into the Watergate Complex and being really bad at it, but then also discussing each other's wardrobe choices.
HARRELSON: I love that too. Liddy goes, "Are you gonna wear those shiny pants?"
Have you ever had to wear glossy pants before?
THEROUX: It was fabulous. That was one of those moments where you think, "I'm so lucky to have gotten here, to get to say these words today." That's obviously one of the scenes I think we took some comedic liberties with.
HARRELSON: (Show creators) Pete [Huyck] and Alex [Gregory] are such tremendous writers. Who would even think about the pants thing? That's just such a great concept. It's the perfect thing to define Liddy, that he just cannot be okay with Howard wearing these pants. There was great humor in it.
Does it feel like there are occasions where one should and shouldn't wear glossy pants?
THEROUX: Definitely not when you're staking out the Watergate and about to commit a crime. Then, you don't wanna draw any attention to yourself.
HARRELSON: That's a good point.
THEROUX: That was Liddy's point.
HARRELSON: You would be a fine criminal.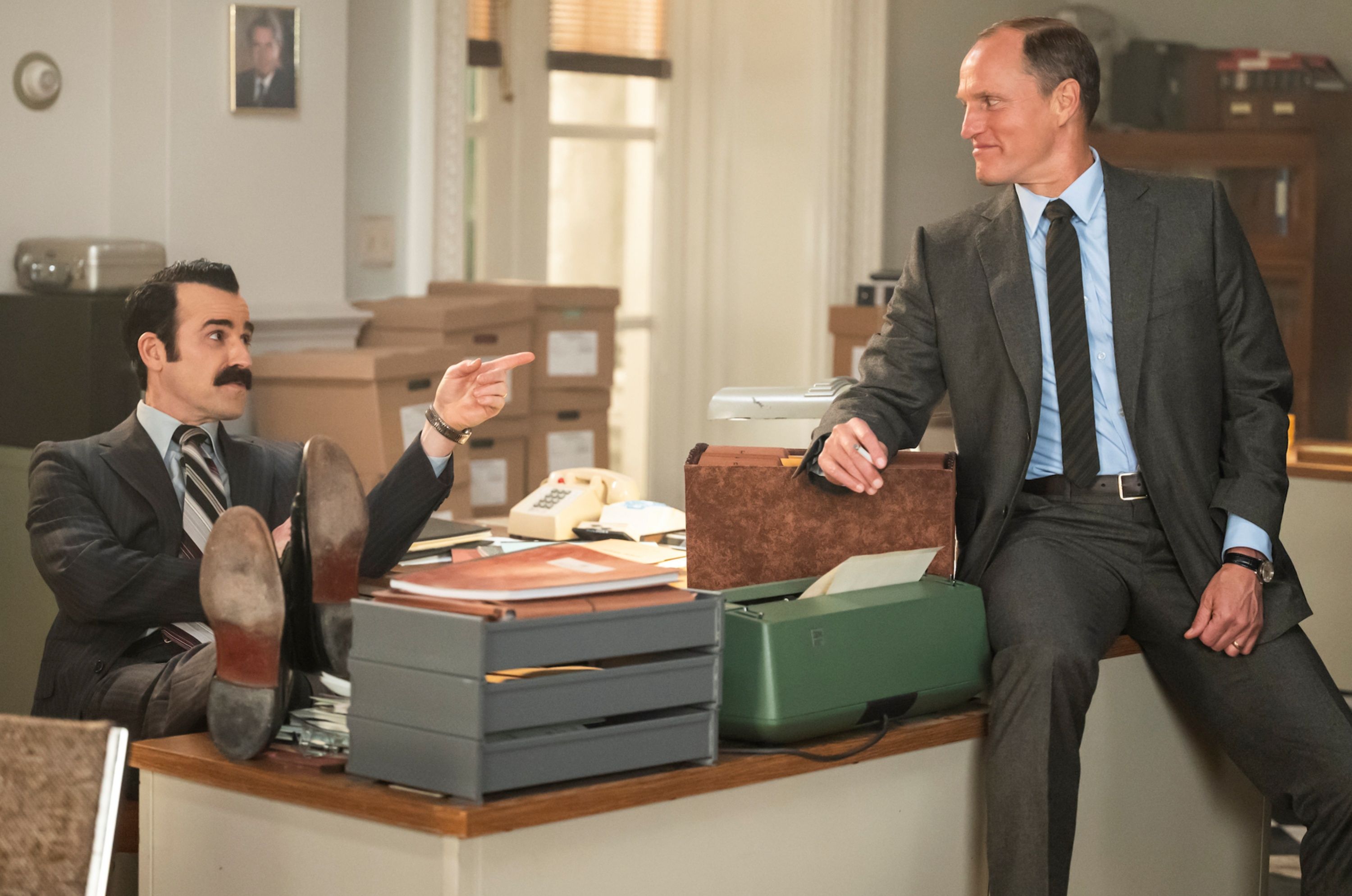 Do you think that these guys actually liked each other?
THEROUX: I think they were best friends for a while. It was only when push came to shove and certain small betrayals started to happen, like Hunt wanting to write a book that went against Liddy's code of ethics, and things like that. And then, once they got into prison, it became a tank of piranhas and everyone was trying to save their own skin, and Liddy was the only guy who couldn't even understand why someone would ever betray the president, even if the president had betrayed you.
Because you guys spent so much time in scenes, just with each other and just talking to each other, are you the type of actors that have conversations about that ahead of time, or do you just like to jump in and figure it out, in the moment, when you're doing it?
THEROUX: It's a series of small conversations. I don't think we ever sat down and were like, "Now, listen, by the time we're in prison, I think we're not friends anymore." We didn't have those kinds of conversations. It was more like, "Let's just get on the dance floor and have fun."
HARRELSON: There's a certain presumptive thing, especially with a pro like [Justin], where you know he's done his homework, and he knows where he's at, emotionally. And I know where I'm at, emotionally, as it relates to what's going on in the scene. And hopefully, that resonate as true.
THEROUX: We had an unhealthy amount of fun. It was great.
White House Plumbers airs on Monday nights on HBO and is available to stream at Max.