While the Chef ultimately accomplished his gory plan in The Menu, Margot was eventually spared, with her being allowed to leave towards the end. Released on November 18, 2022, The Menu garnered positive reviews, as the movie navigated themes of alienation from work, artists' dying passion, and the intelligentsia's pretentiousness. From the onset of the thriller comedy, Anya Taylor-Joy's performance as the no-nonsense Margot complemented Ralph Fiennes' clever and creepy embodiment of Chef Julian Slowik. Although The Menu attempted to explore the characters' backstories and motives individually, it was Margot and Chef Julian's connection that pushed the narrative forward – albeit unexpectedly.
What started out as an exclusive, once-in-a-blue-moon dinner experience at Hawthorn quickly turned into a night of secrets unraveled, schemes executed, and grudges unloaded. Apart from disclosing his traumatic childhood and sharing disturbing commentaries, Chef Julian was instrumental in revealing the darkest truths behind The Menu's cast of characters – ranging from illicit affairs to embezzlement records. Each of them was carefully situated in that private restaurant because, in one way or another, they contributed to the capitalistic exploitation of the art that Chef fell in love with. As such, similar to how the flames of Chef Julian's passion died down, his restaurant will also be burned down, and with it, his staff and customers – save for one.
RELATED: Anya Taylor-Joy's Off-Script The Menu Scene Fixed An Old Movie Problem
The Chef Allows Margot To Leave Because She Challenges Him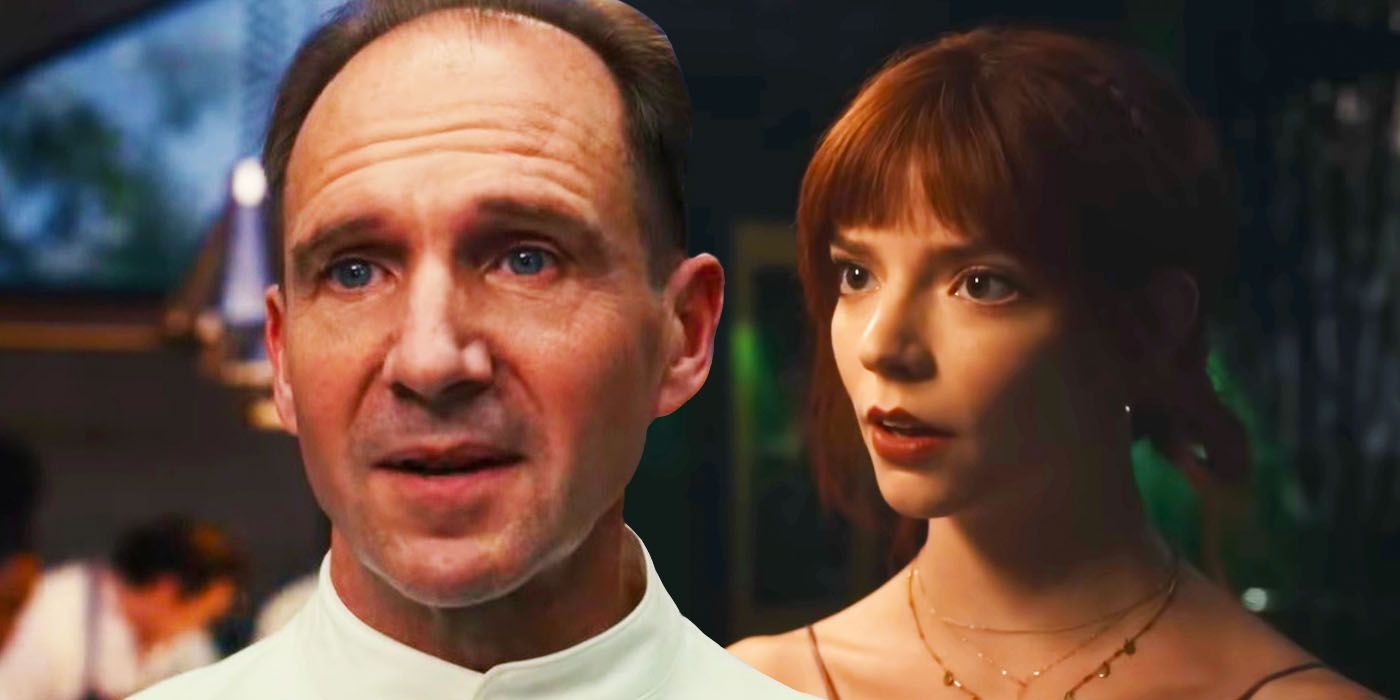 Margot was allowed to leave towards the end of The Menu essentially because she was an anomaly. Right from the film's introduction of the character, she immediately stuck out like a sore thumb among the rich and famous, with her being disgustedly shocked at the price of a dinner experience at Hawthorn. It was then revealed that as the hired date of Nicholas Hault's Tyler, Anya Taylor-Joy's Margot was the unaccounted pawn in the sick chess game set to occur that night. As such, she was the only one unaffected by the hype of consuming Chef Julian's creations; she never made an effort to feign enjoyment with the different courses served and take part in the collective sycophantic behavior of her fellow diners.
From one service industry worker to another, Margot was able to see right through Chef Julian. However, beyond the illusion of acceptance that Chef offered Margot, she was also able to gain his respect when she challenged him with a cheeseburger order. It was the sole moment in The Menu when Chef was visibly delighted with the food preparation, with his passion slowly reigniting. After all, it was actual food to be enjoyed by actual consumers, not historical allegories or political statements to be discussed by critics and know-it-alls. That is why, with The Menu flipping a horror movie trope, Margot was allowed to take her cheeseburger to go, leaving the restaurant full of snobs to burn down.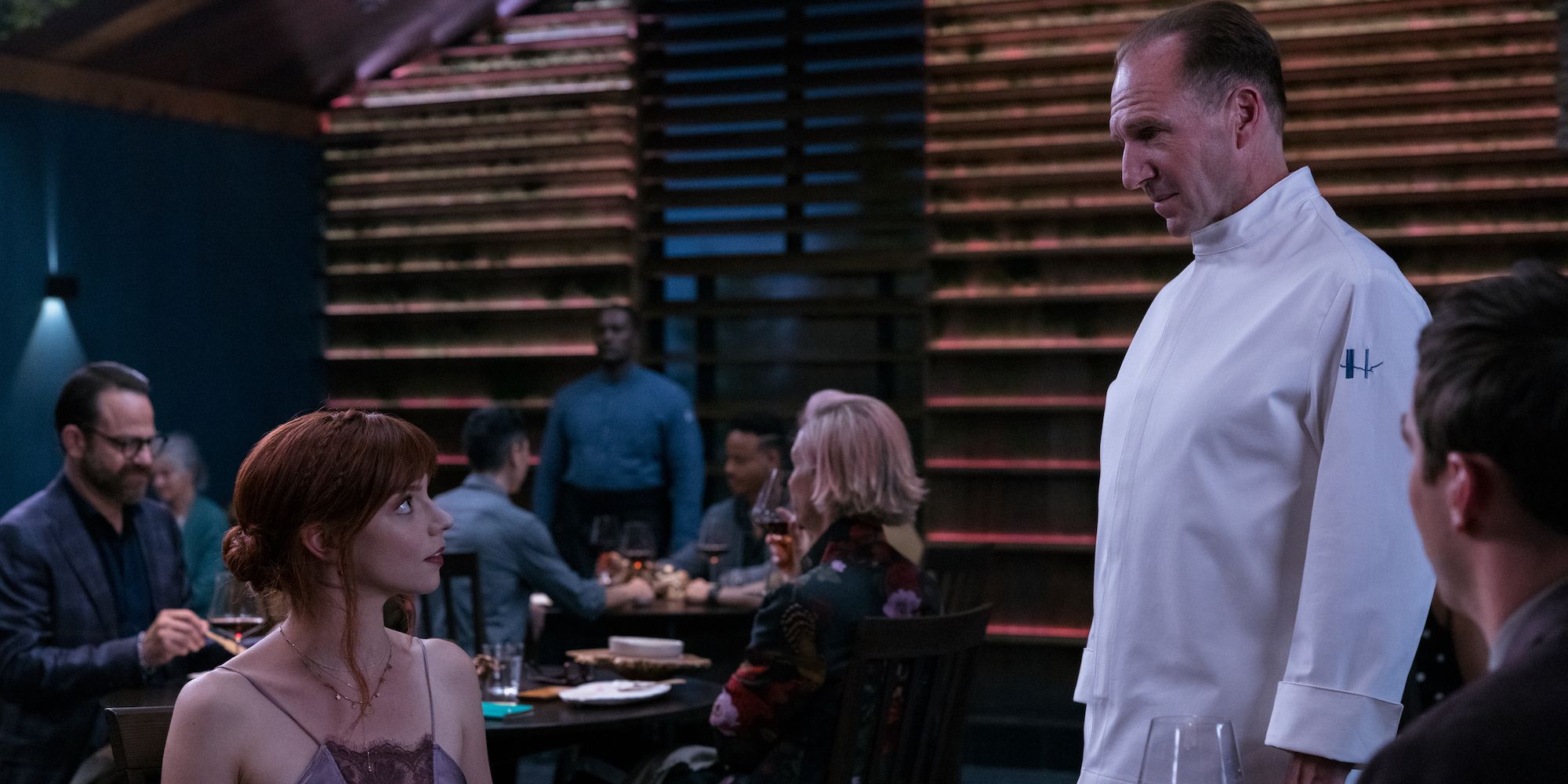 At some point in The Menu, Margot grabbed the opportunity to call for outside help, but then Chef Julian posed a painfully obvious question: "This entire evening, why didn't you all try harder to fight back?" The wealthy business partners Soren (Arturo Castro), Dave (Mark St. Cyr), and Bryce (Rob Yang), as well as George (John Leguizamo), had plans, but after a few futile attempts to escape, they handed over their lives to Chef. Disturbingly, up until their last breaths, these characters – from Lillian the food critic to George the washed-up movie star – still viewed their invitation to Hawthorn as a sign of their power and influence, and they believed that until The Menu's ending, everything Chef Slowik did was specifically to impress them.
The characters were made aware from the start that their secrets were no longer safe. Chef Slowik had ammunition ready to be released to the public, and since their fear of their reputation being tarnished was greater than their need to survive, The Menu's diners were already resigned to their fate. For them, facing their demons and seeing the lives they curated crumble before them was more pressing than getting killed, and they would rather die than live with a wounded pride. Tor Margot, that is not a problem. She was the only one there struggling to survive, after all.