The Real Housewives of Miami season 5 is being praised by fans who are thoroughly impressed with the real-life drama and juicy storylines. The new season is the show's second season back after a decade-long hiatus. The franchise includes OG's Alexia Echevarria-Nepola, Marysol Patton, Larsa Pippin, and Adriana de Moura, who appears in a friend role. RHOM season 5 also includes last season's returning housewives, Lisa Hochstein, Dr. Nicole Martin, Guerdy Abraira, Julia Lemigova, and friend Kiki Barth. Fans were already expecting Lisa and Lenny Hochstein's divorce to take center stage, but there's plenty more drama outside the Hochstein's messy split.
Lenny announced his and Lisa's divorce in May 2022. The announcement came shortly after Lisa and Lenny engaged in a nightclub showdown where she confronted him and his new girlfriend, Katharina Mazepa. Their divorce played out in the press the next few months, with Lenny trying to push Lisa out of their Star Island estate and Lisa battling it out for more money. When RHOM season 5 premiered, it showed the buildup to their fallout, and how blindsided Lisa was by the divorce. Lisa thought things were going well with Lenny, but he had already checked out of their marriage.
Related: The Real Housewives Of Miami Season 5 Taglines Ranked
RHOM Fans Are Enjoying The Cast Dynamic
Besides Lisa's divorce drama on RHOM season 5, Alexia is bumping heads with Julia and Adriana. Alexia, who carried RHOM season 4, had to apologize for racially insensitive remarks about Julia and accused Adriana of purposely dating a married man. Alexia's showdown with Julia and Adriana in the sprinter van came during the same time Lisa told the cameras to stop filming her phone conversations with Lenny. The discussions she didn't want the camera's to hear were about him bringing his new girlfriend to their house while she was out of town. After the episode, the Twitter account Queens of Bravo raved about how "iconic" RHOM season 5 is. "Just when you think #RHOM can't get more iconic, in one episode, we get Lisa breaking the 4th wall while putting Lenny in his place AND an epic feud in a sprinter," they tweeted.
Fans Think RHOM Should Be On Bravo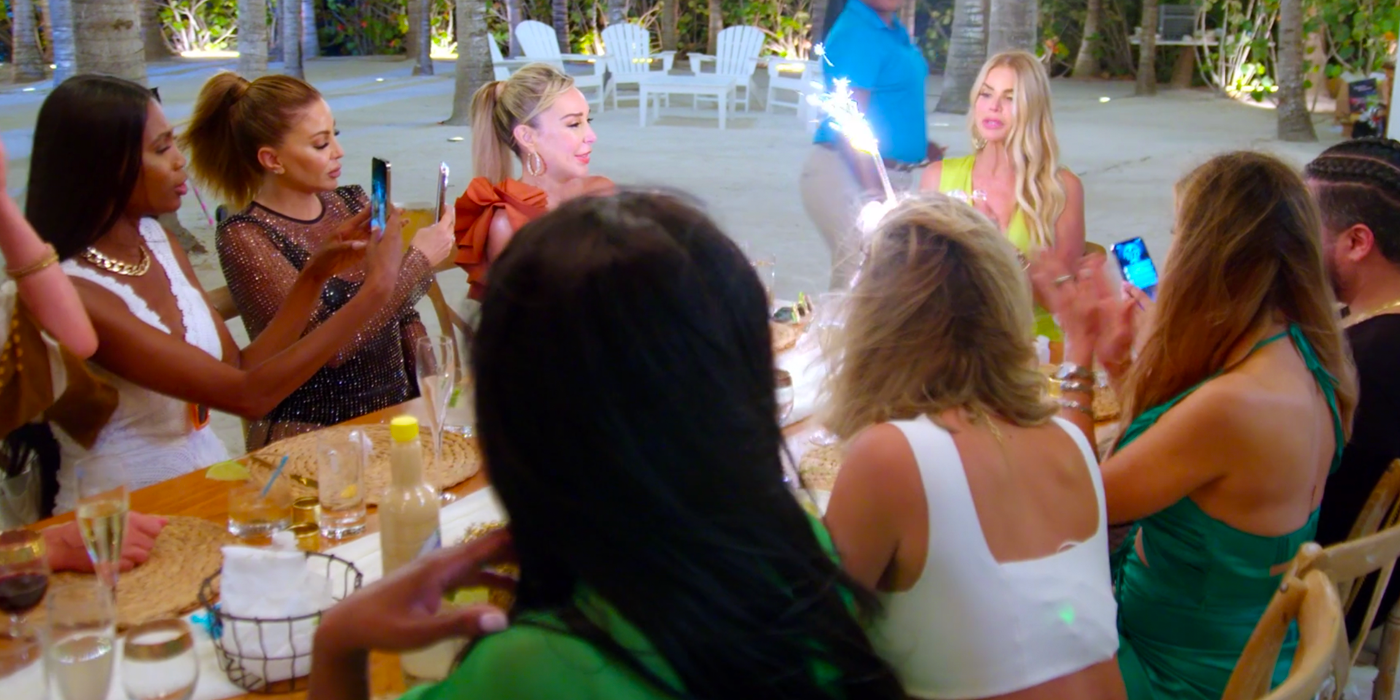 Fans responded with their approval of RHOM season 5 compared to other franchises. "It should be airing on Bravo! Put BH and SLC on Peacock!" one fan said, referencing RHOM being the only American franchise to air on Peacock while others air on Bravo. "RHOM is on fire this season," another fan added. "The cast manage to open up their lives & still meet in the middle giving sisterhood at its best!" RHOM season 5 has unveiled a lot more than Lisa and Lenny's divorce. Julia has her own marital woes to tend to as her wife, Martina Navratilova, expresses her disappointment with the current state of their marriage.
Then there's the drama between Alexia, Julia, and Adriana and her minor feud with Guerdy. Lisa and Larsa also exchanged words at the start of the season, but Lisa's ongoing divorce from Lenny reunited the longtime friends. Lenny is being very bold about moving on from Lisa. Cameras captured Lisa's meltdown when she realized Lenny waited until she left town to kick his mother out of the house with the children to get alone time with his new girlfriend. RHOM season 5 will continue following the Hochcstein's messy divorce and other juicy drama that the fans are loving.
More: RHOM: Inside Lisa & Lenny Hochstein's Financial Support Battle
Source: Queens of Bravo