The Google Pixel 7 series has an Adaptive Charging feature that controls the phone charging speeds and helps preserve battery health in the long run. The Pixel 7 and 7 Pro's 4,355 mAh and 5,000 mAh lithium-ion batteries, respectively, offer solid battery life. However, like any battery, its charge-holding capacity decreases with regular usage because of chemical aging. It's natural for a smartphone battery to lose its maximum capacity after a time. But certain things increase the rate of chemical aging, one of which is charging the Pixel 7, or any Android phone for that matter, overnight.
According to Google, "Adaptive Charging helps preserve battery health over time by dynamically controlling how quickly a Pixel device charges." When users leave their devices plugged in overnight, the phone stops charging once the battery hits 100 percent capacity. The Pixel 7 or the Pixel 7 Pro starts to run off its battery, but the moment it bleeds just one percent charge, it starts drawing power from the charger. In a seven or eight-hour duration, this process, called trickle charging, could occur several times, harming the battery's charge-holding capacity and reducing its lifespan.
Related: How To Enable Do Not Disturb On The Pixel 7 (And Why You Should)
Adaptive Charging Helps Maintain Your Phones Battery Health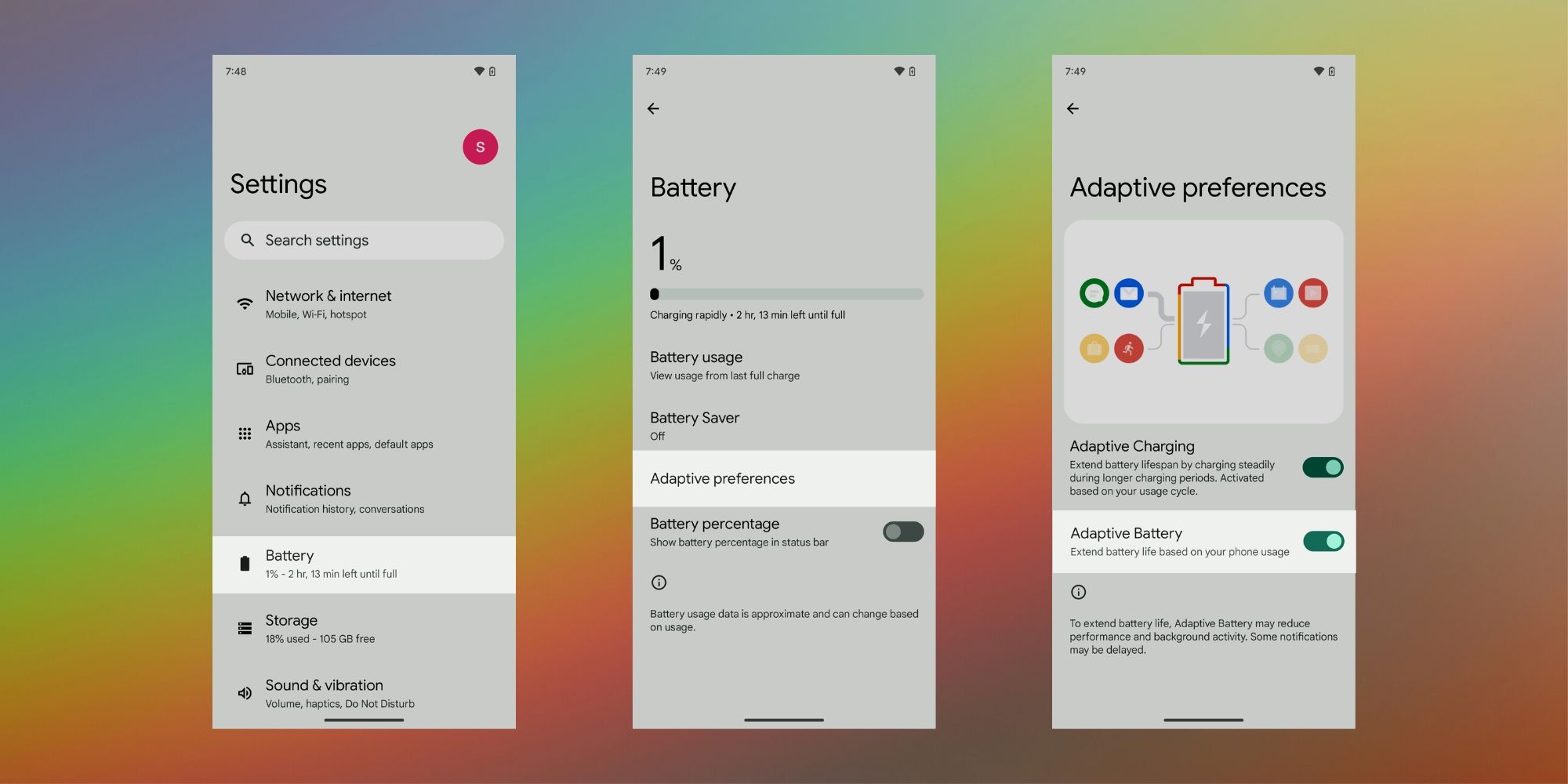 This is where Pixel 7's Adaptive Charging comes in. To enable the feature, open the 'Settings' app, go to the 'Battery' section, and select 'Adaptive Battery.' Enable the 'Adaptive Charging' option on the next screen by tapping on the toggle beside it. The always-on display will show when the phone is using adaptive charging and show at what time the phone will charge completely. However, for the feature to work, users must charge their Google Pixel 7 "between 9 PM and 4 AM with an active alarm set for 3-10 AM."
Activating the feature prevents the battery from reaching 100 percent during the night and falling prey to trickle charging. Instead, it charges the phone up to 80 percent at the regular speed before slowing down. Essentially, the Adaptive Charging feature breaks down the charging process into phases. In the first phase, it takes the battery to 80 percent at a regular pace and covers the remaining 20 percent at a reduced rate.
The Pixel 7 and 7 Pro don't offer particularly fast charging speeds, so many users might leave their phones to charge overnight. Adaptive Charging is a great way to ensure that doing so will not affect the battery's health and longevity. Over time, Google has improved the feature to complete charging well before the morning alarm goes off, and it also works when charging the Pixel 7 and 7 Pro wirelessly.
More: How To Go Back On The Pixel 7: Screens, Websites, And Apps