A Star Wars cosplayer has brought The Mandalorian's Din Djarin to life with some truly impressive armor. However, the legendary Darksaber they're wielding arguably steals the show. With features unseen in the actual Star Wars show, this new cosplay makes the Darksaber's destruction in The Mandalorian season 3 even more tragic.
Coming from cosplayer Jake Fogg (@foggyknight14), the titular Mandalorian is showcased on Instagram in a series of dynamic photos featuring the iconic beskar armor forged for Djarin in The Mandalorian season 1. However, the armor is wonderfully highlighted thanks to a visually stunning Darksaber that surprisingly doesn't have the typical all-white outline. Instead, there are elements of a fiery orange that make the photos incredibly unique. You can check them out below:
Not only does Fogg credit the creator of the armor (@aylinlab) as well as the photographer (@ghost_shoots), but @coastalsabers gets a shout-out as well for the amazing Darksaber that somehow looks even more legendary than the weapon seen in the show.
Related: Every Star Wars Character That Has Wielded The Darksaber
Will The Darksaber Ever Return In The Mandalorian?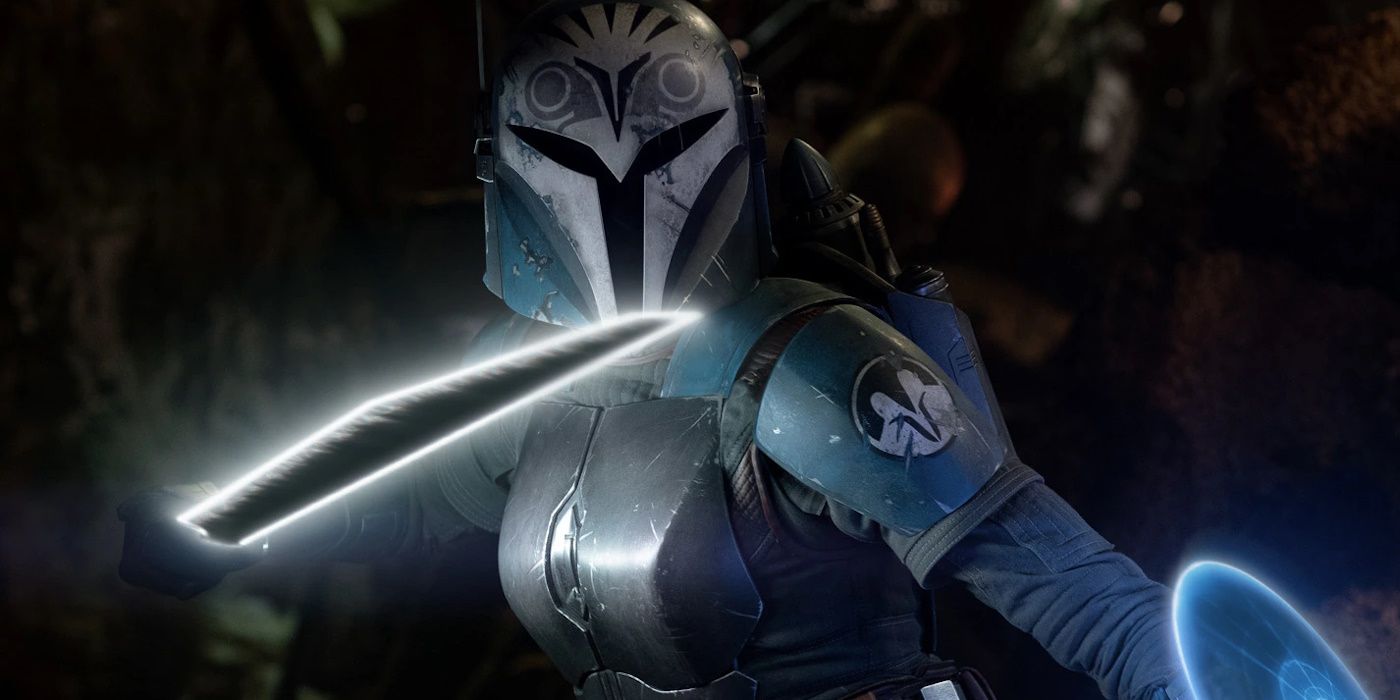 As amazing as the Darksaber is in Jake Fogg's cosplay, the fact remains that the Darksaber is seemingly no more in the Star Wars galaxy. Following Bo-Katan Kryze's duel with Moff Gidon on Mandalore, the Imperial Remnant leader crushed the Darksaber in The Mandalorian season 3 finale, seemingly destroying it for good. While the people of Mandalore no longer needed the legendary weapon to unite their people, it's still sad to see such a cool and historic weapon meet its demise.
However, it's possible that the kyber crystal within the destroyed hilt was recovered following Gideon's defeat and the destruction of his secret Imperial facility. So long as the kyber crystal's intact, a new Darksaber could perhaps be forged now that Mandalore has entered a new dawn, successfully reclaimed by its people after years of being scattered throughout the galaxy following the Empire's purge known as The Night of a Thousand Tears. However, that's all just hopeful conjecture.
At any rate, Fogg's cosplay is still quite amazing, along with the featured collaborators who helped make a truly stunning Star Wars photo shoot. The Darksaber in particular ties it all together extremely well, especially with its additional color features. Here's hoping the Darksaber can be resurrected in The Mandalorian's future.
Source: Jake Fogg (@foggyknight14)