The Kardashians stars are famous for their extravagant Christmases, and it's time to look at some of their most dazzling winter holiday decorations, from 2022 and yesteryear. They used to live in the original Hidden Hills home shown on Keeping Up With the Kardashians, and now own sprawling estates, which are featured on the Hulu series. No matter where they live, the famous family members love to show off stunning décor during the festive season.
Matriarch Kris Jenner started many of the family's holiday traditions, which include opulent home furnishings and accessories, star-studded Christmas Eve parties, and iconic family holiday cards. Kris's over-the-top décor is so impressive that it was once featured in Architectural Digest. Her famous children seem to have inherited the Christmas spirit, as they are now creating their own jaw-dropping holiday wonderlands each season.
Related: Best Kardashian – Jenner Halloween Costumes Through The Years Ranked
Kylie Jenner Showed Fans Her 2022 Christmas Celebration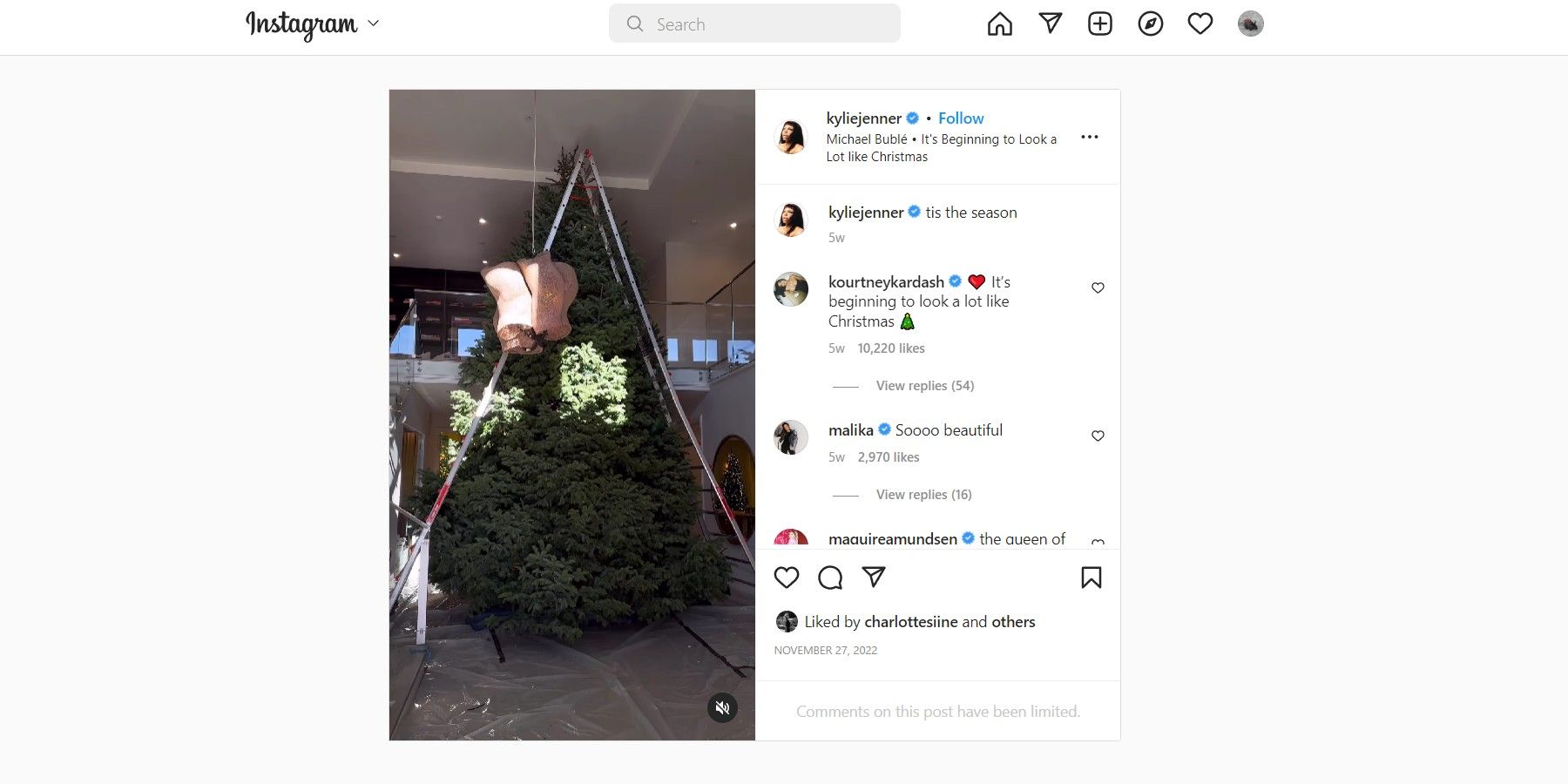 This year, Kylie Jenner gave fans an inside look at the creation of her Christmas décor. Kylie took to Instagram on Dec. 27 to show off her mesmerizing Christmas tree. She captured the post, "tis the season," and set the video to Michael Bublé's holiday hit, "It's Beginning To Look A Lot Like Christmas." Fans can view a gigantic tree being set up by workers in the foyer of her home. A tarp protected the floors, as the workers used a huge ladder to reach the top of the impressive tree. Kylie then showed the tree being trimmed with classic white lights, as well as a massive pile of glittering ornaments.
Past Kardashian-Jenner Holiday Season Highlights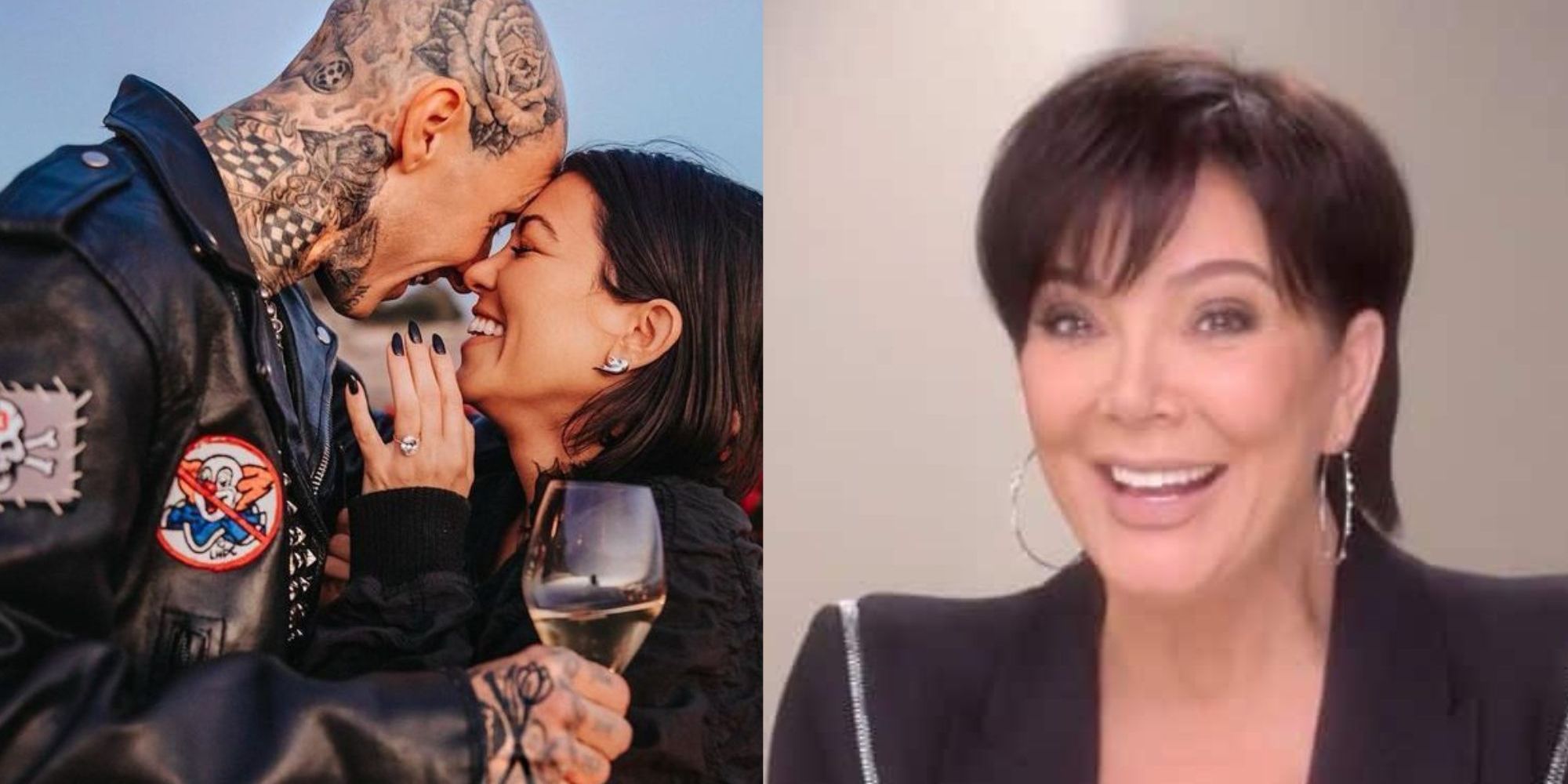 Kourtney Kardashian also began decorating for the season, showing off small artificial trees throughout her home. 2022 marked Kourtney and Travis Barker's first Christmas as a married couple; the pair wed in Italy in May. The newlywed filmed an ad on her Instagram stories for her Lemme gummies products, in front of a small, sparkly tree. Getting into the Christmas sprit, Kourtney commented on Kylie's video with holiday-themed emojis, by saying that it was beginning to look like Christmas.
The family's 2021 Christmas bash was canceled in light of the spike in COVID-19 cases. However, the Kardashian-Jenners still got together for a more intimate celebration. Kim Kardashian posted a series of photos to Instagram, in which fans got a glimpse of the family's festivities. Family members posed in front of multiple trees trimmed with white lights and romantic red roses. Photos from the gathering at Kourtney's stunning estate showed plush red tree skirts skimming the floor, and white candles around the trees' bases.
Kendall Jenner Went For Traditional Christmas Decorations
In 2020, supermodel Kendall Jenner posted photos and videos to her Instagram, flaunting her classic and cozy holiday décor. Her living room featured a beautiful tree, and a fireplace draped in garlands, with white lights covering the greenery. Khloé Kardashian also highlighted her fireplace with two trees flanking the white centerpiece. Those trees featured silver decorations. Kim went with her signature all-white theme, while brother Rob Kardashian Jr.'s tree was colorful, with plenty of green, blue, and red bulbs. Rob catered to his daughter Dream Kardashian, trimming the tree with Disney-themed ornaments.
Related: Best Fashion Looks From The Kardashians 2022 Christmas Party
Kourtney Kardashian Planned The 2019 Christmas Bash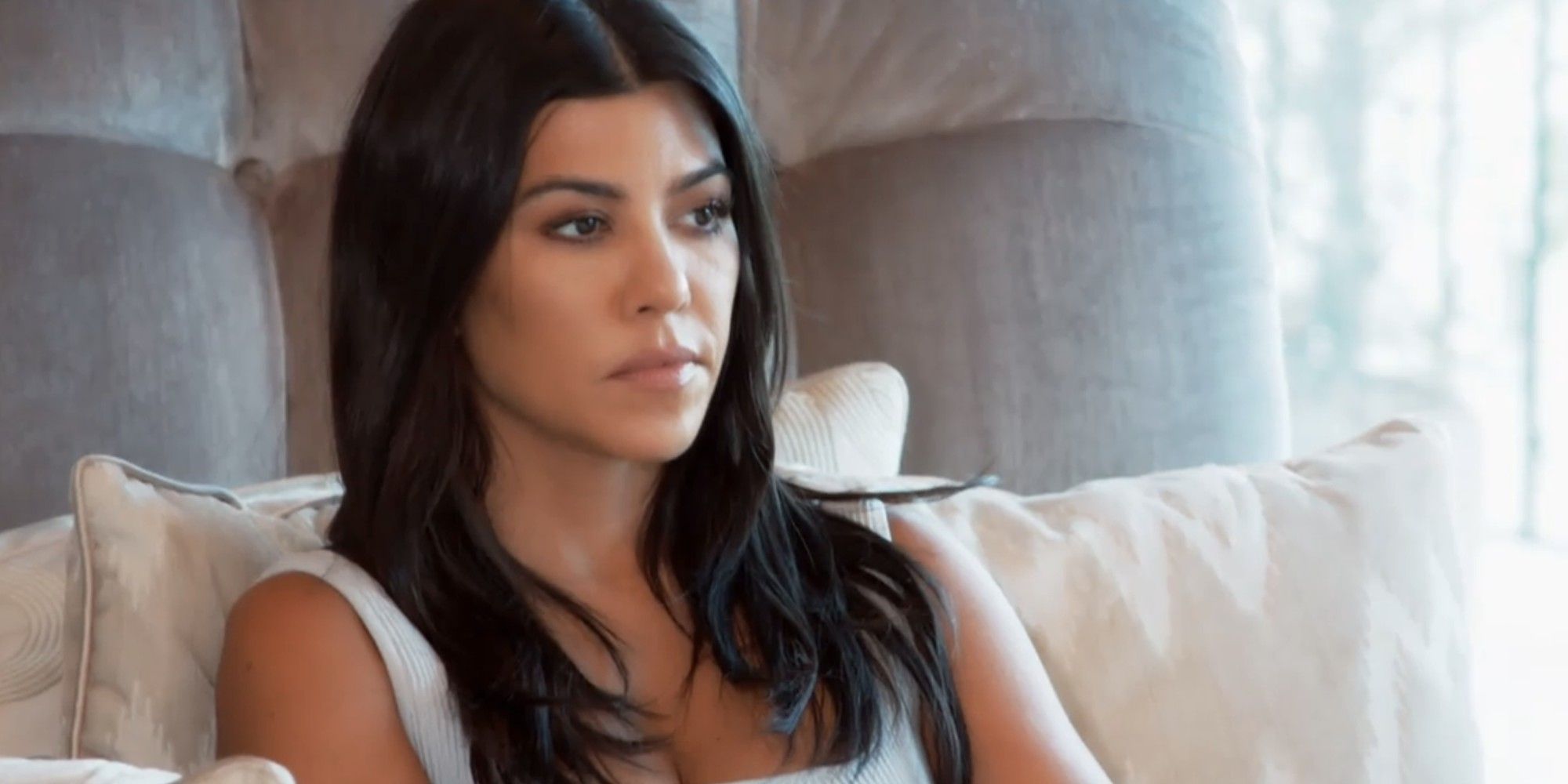 Kourtney planned the family's annual Christmas Eve party in 2019, transforming her backyard into a spectacular winter wonderland. Photos of the celebration were posted to the Poosh founder's Instagram. A dramatic display of red poinsettias lined the entryway, highlighting an upside-down tree hanging in the center of the foyer's ceiling. The rest of Kourtney's home was brimming with countless candles and tiny white lights. Palatial chandeliers hung from the ceilings, above banquet-style tables embellished with holiday greenery and white flowers.
Kim Kardashian & Kanye West Went All Out In 2018
Kim and now ex-husband Kanye West threw the family's Christmas celebration in 2018. The party's non-traditional design spotlighted artist, Kathy Temin. Known for her contemporary artwork, Kathy's whimsical white sculptures created a dreamy winter atmosphere throughout the event space. Plumes of fluffy white fabric topped fanciful tree-like structures on the tables. Fashionista Kim described the décor as being reminiscent of Dr. Seuss's How The Grinch Stole Christmas and The Lorax. The SKIMS founder has used Temin's pricey sculptures for multiple years of Christmas celebrations.
Kylie Jenner Loves Gold-Toned Christmas Decorations
That same year, Kylie Jenner decorated with an all-gold theme. Kylie's daughter Stormi Webster was born in February 2018, and the new mom went all out for her daughter's first Christmas. Floral designer Jeff Leatham created the dazzling two-story tree and matching gold base. The opulent design was fit for the queen of lip kits.
Khloé gave fans on Instagram a behind-the-scenes look into her 2017 Christmas decorating. The Good American designer decorated for the holidays in Cleveland, Ohio with ex, Tristan Thompson. In 2017, Tristan was playing basketball in the NBA, for the Cleveland Cavaliers. At the time, Khloé was pregnant with their daughter, True Thompson. She showed fans detailed photos of her silver and gold ornaments, large trees, and adorable faux deer.
Related: Why The Kardashians Fans Think Kim & Khloé Loathe Kourtney's Style
Architectural Digest got a sneak peek inside Kris's holiday décor in 2016. Her Calabasas, California home was decorated by friend and family favorite designer, Jeff. The entryway burst with holiday spirit. A peppermint-themed tree sat in the center of the foyer. Garlands adorned the banisters of the double staircase, creating a striking affect, and a life-size glass bear shone next to the tree. Kris started her family's tradition of extravagant decorating, and her feature with the famous publication was well-deserved.
Kourtney Kardashian Likes Over-The-Top Gingerbread Houses
In 2016, Kourtney created different décor themes for her kids, Mason (12), Penelope (10), and Reign (7) Disick. Kourtney shares three children with ex, Scott Disick, and she gave each of them their own unique tree. Mason's tree had personalized "M" ornaments, and a large Darth Vader figurine standing next to it. Fit for a princess, Penelope's tree was adorned with pink and purple ornaments to match the then 3-year-old's girly style. Reign's adorable miniature tree featured lots of animals and Santa ornaments.
Kourtney posted a photo of her family's 2015 gingerbread house to Instagram. The elaborate treat was personalized with a Christmas greeting written in frosting to Mason, Penelope, and Reign. In years since, other family members have posted fancy gingerbread houses of their own. The extreme gingerbread house has become a Christmas staple of the Kardashian family.
The stylish The Kardashians stars know how to ring in the holidays in style, and before the holidays ended, fans definitely got their fill of the family's festivities. As the Kardashian-Jenner bunch continue to grow, celebrations have traditionally become more grand. Fans of the family can assume that the next Christmas season will be no different.
More: How The Kardashians Celebrated Christmas In 2022
Source: Kylie Jenner/Instagram