DC is kicking off the new year with a new Flash movie comic offering the best look yet at Ezra Miller's new suit. Miller is returning to lead the ensemble cast of the film, marking their first solo effort in the DC Universe after making their franchise debut with a cameo in Batman v Superman: Dawn of Justice before being better fleshed out in both the theatrical version of Justice League and the subsequent Zack Snyder's Justice League release. The Flash has seen a variety of starts and stops throughout both its development and lead up to its release, the latter of which has partially suffered due to Miller's various legal troubles, but the film is finally gearing up to hit theaters later this year.
As spotted by Reddit user SpeedForce2022, a new Flash movie comic has been released to promote the film's June arrival. The cover of the new comic offers the best look at Ezra Miller's new suit yet for the upcoming DCU film, namely the updated logo situated at the center of the Scarlet Speedster's chest. Check out the comic cover below:
Related: Every Upcoming Superhero Movie In 2023
How The Flash's New Suit Compares To Justice League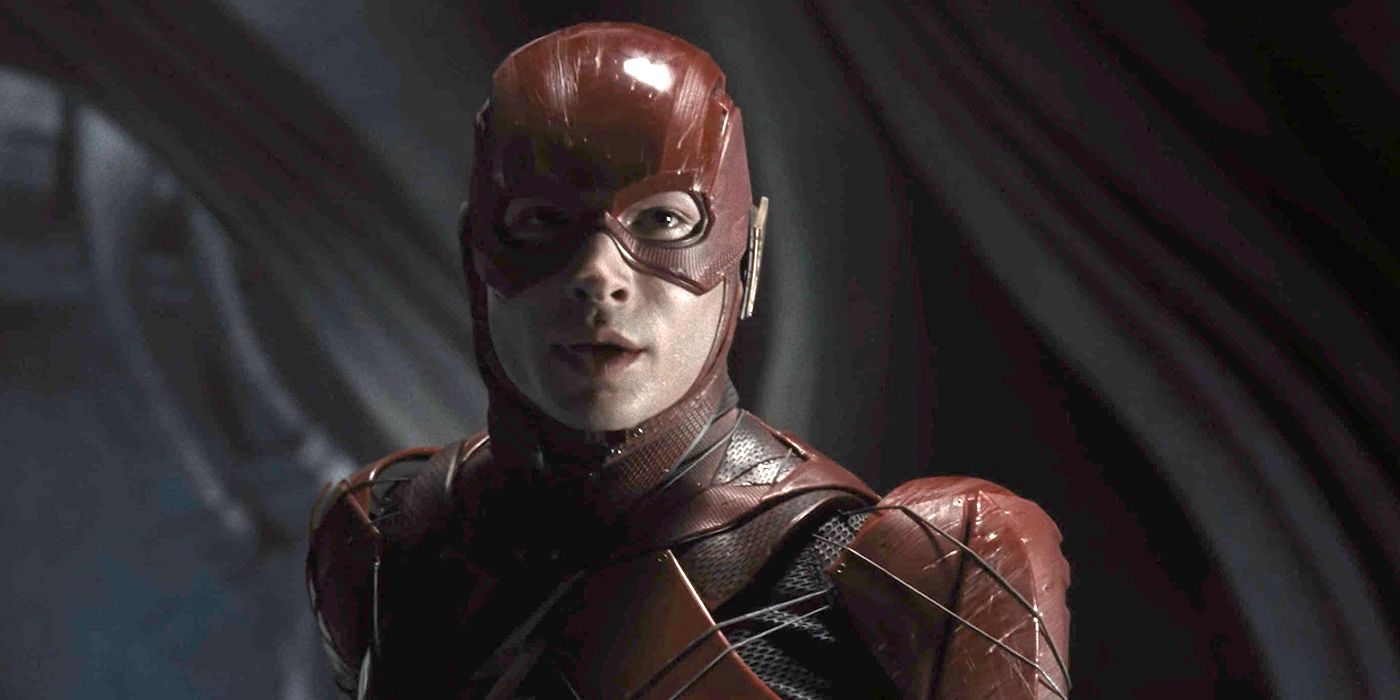 With Justice League nearly acting as an origin story for Miller's character, it was generally assumed that The Flash movie would feature Barry Allen in a new suit before the sole bit of footage shown for the film was released. The video shown during DC FanDome 2020 did confirm that The Flash's new suit would be a far slicker design complete with a new emblem, a retractable visor to protect his eyes through his superspeed runs, and yellow energy streaks running throughout his suit. By comparison, Barry's Justice League suit proved to be a far more DIY creation, seemingly held together by hypertension wire and various other scrap materials.
Everything We Know About The Flash Movie
How exactly Barry gets his hands on a new suit in The Flash movie is currently unknown, though the film's sole trailer released thus far did see him donning it in what appears to be the Bat Cave. Rather than being that of Ben Affleck's Batman, however, it looks to be a scene set in the lair of Michael Keaton's Batman, who will return as part of the film's multiversal adventure as Barry travels back in time in the hopes of preventing his mother's murder. Barry will have to turn to Keaton's Batman, Sasha Calle's Supergirl and an alternate reality variant of himself in the hopes of fixing the consequences of his timeline tampering.
Inspired by the Flashpoint comic storyline, Miller is leading the star-studded cast of The Flash movie alongside Ron Livingston as his father Henry, taking over the part from Billy Crudup, Keaton as Batman, Calle as Supergirl, Kiersey Clemons as Iris West, Michael Shannon as General Zod, Antje Traue as Faora-Ul, Affleck as Batman, and Temuera Morrison as Aquaman's father Thomas Curry. The film, which is being helmed by IT's Andy Muschietti, will also feature the DCU debuts of Maribel Verdú as Barry's mother Nora, Saoirse-Monica Jackson, Rudy Mancuso, and Luke Brandon Field. Following a number of delays, The Flash is finally set to hit theaters on June 16, with plans for The Flash 2 and Miller's DCU future reportedly already in the works.
Next: The Flash Can Still Connect 2023's DC Movies To James Gunn's DCUSource: Reddit