Warning: SPOILERS for Captain America: Sentinel of Liberty #8Marvel's Captain America is frequently seen as having humble origins, but Superman beats him in the "average American" department in one way. Steve Rogers, unlike the Man of Steel, was not born with any superpowers, but was born in Brooklyn to Irish immigrant parents on the 4th of July (this is heavily hinted to be a fabrication, however, and Captain America's real birthday remains classified). Captain America: Sentinel of Liberty #8 reveals that Captain America isn't as ordinary as he may seem… at least when compared to Clark Kent.
In current comics continuity, Captain America is reeling from a shocking betrayal by his former best friend, Bucky Barnes. The former Winter Soldier has become embroiled in the Outer Circle conspiracy: a group of long-lived individuals who decided to shape the course of human history since the end of the first World War. With Bucky Barnes out of the picture, Steve must rely on a small group of his friends, including Sharon Carter, to put a stop to the machinations of Advanced Idea Mechanics' (AIM) new plan. Unfortunately, Captain America wakes up in the near future only to discover his plan failed before it could even begin; AIM has erected a massive yellow shield over New York.
Related: Marvel Admits A Captain America Army Would Be Useless
In Captain America: Sentinel of Liberty #8, written by Jackson Lanzing & Collin Kelly with art by Carmen Carnero, Captain America bursts into a gas station somewhere in Kansas and asks the attendant to use his phone. When pressed for an ID, Steve says "Sir, I've got no wallet, and I really do hate to do this, but maybe I look a little familiar?" Though the situation is indeed dire, Steve lets slip that he doesn't carry a wallet or money on his person – something that his moral counterpart in the DC Universe, Superman, regularly does.
Captain America Doesn't Carry Money…But Superman Does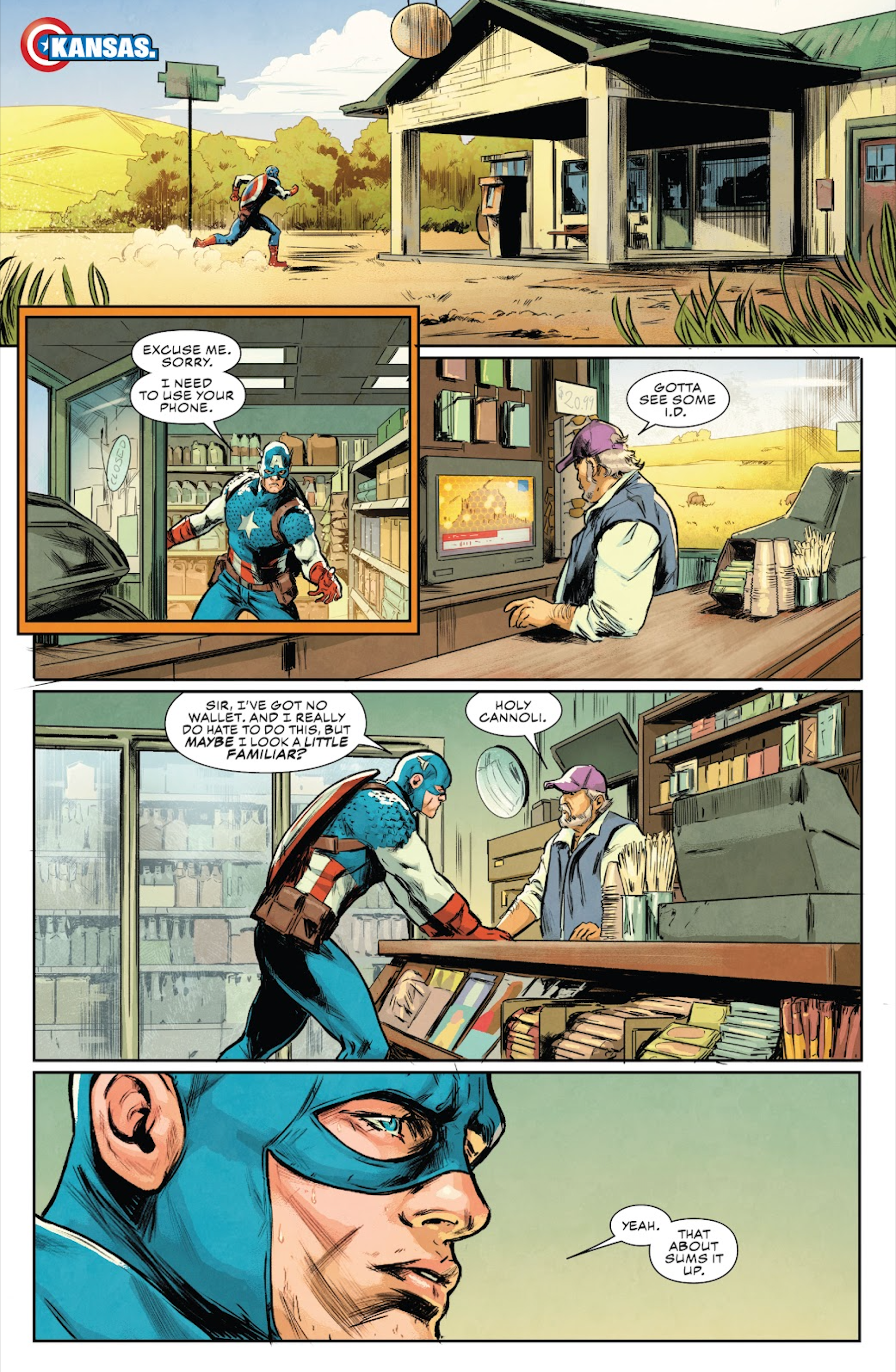 In Superman #701, written by J. Michael Straczynski, Clark Kent decides to walk across America – not fly, walk – to reconnect with the people he serves. In one instance, he enters a diner and pays with money hidden in a pocket within his cape. This serves a practical purpose, but also shows that he grew up as Clark Kent, not Superman, and as such is more accustomed to walking around with money (and presumably, an ID).
By contrast, Captain America has spent most of his life in the United States Army or as the leader of the Avengers, and he has no secret identity. Whether he likes it or not, Steve Rogers is a celebrity who, quite frankly, doesn't need to carry cash or an ID, but that doesn't mean he shouldn't. Captain America may have forgotten his small-time roots and necessities, but not Superman.