Warning: contains spoilers for Star Trek #3!What is largely considered to be one of the worst Star Trek episodes ever, The Next Generation's "Sub Rosa," just got a sly callout in the franchise's latest comics. The episode, almost universally panned by critics and fans alike, saw Doctor Beverly Crusher fall in love with the same otherworldly entity that menaced her grandmother, and in IDW Publishing's Star Trek #3, she mentions the incident in passing to Captain Benjamin Sisko; while it was a throw-away reference, it shows the events of this episode still left an impact on Doctor Crusher.
The issue, written by Collin Kelly and Jackson Lanzing, illustrated by Ramon Rosanas and Joe Eisma, colored by Lee Loughrdige and lettered by Clayton Cowles, sees Captain Sisko in therapy. For the past three years, he has been living with the non-linear, non-corporeal Prophets, but they returned Sisko to our reality to discover who is killing the god-like beings of the Star Trek universe. Starfleet has ordered constant physical and mental monitoring of Sisko as well as ordering him to undergo counseling, and during a therapy session with Doctor Crusher, he struggles to describe what omnipotence was like. Crusher tells Sisko of some of the truly fantastic things she has seen being in Starfleet, mentioning "one time I fell in love with a ghost."
Related: Star Trek Reveals What Klingon Weapons Looked Like Before the Bat'leth
The incident Doctor Crusher refers to happened in "Sub Rosa," which aired during Star Trek: The Next Generation's seventh and final season. After her grandmother dies, Doctor Crusher is left to sort her estate out; as she sorts through her grandmother's life, she meets a ghostly stranger, who claims to be her grandmother's lover. Soon, Doctor Crusher came under the stranger's influence, and history nearly repeated itself. It was revealed the being was an "anaphasic" being, and the crew of the Enterprise was able to defeat it. The episode is generally despised by fans and critics for a variety of reasons, including the bizarre setting (a distant colony world modeled after Scottish culture) as well as the storyline. However, the episode was long on character development for Doctor Crusher–and now it gets an acknowledgement in the comics.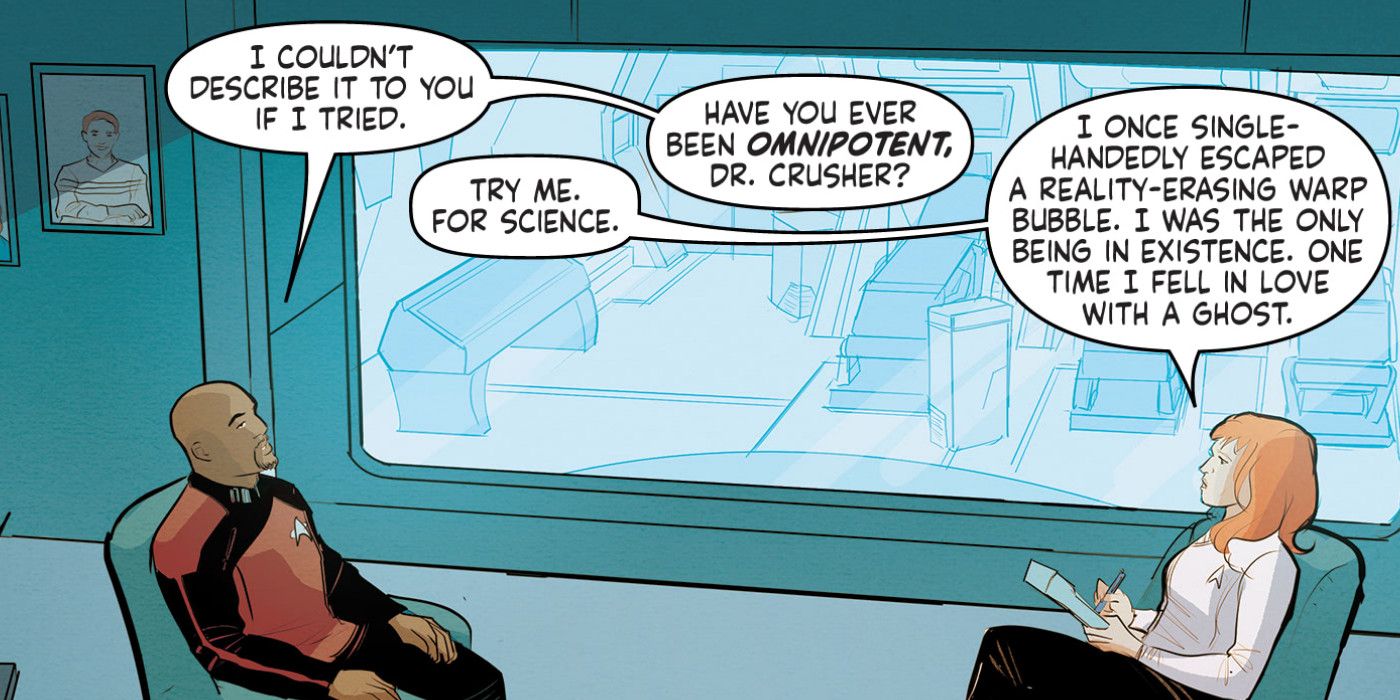 "Sub Rosa" Was a Low Point for Star Trek
"Sub Rosa" is not only regarded as a low point in Star Trek: The Next Generation's history, but in the franchise as a whole, and while its mention here is not likely to lead to its rehabilitation, it still shows the events of the episode mattered. In addition to fleshing out Doctor Crusher further as a character, it reminded viewers that the universe is big, and there are many types of creatures in it–including ones that take the forms of ghosts and seduce women, using their life force for nourishment. While this may sound like the makings of a good episode, many factors work against it in the end, causing it to miss its landing.
Doctor Crusher related the story to Sisko as a way of telling him she had dealt with non-corporeal entities in the past; it gave her an "in" with Sisko, who was going to the counseling sessions somewhat reluctantly. Sisko has been slow to warm up to his new crew, and this session with Doctor Crusher was progress–and thanks in part to one of the worst Star Trek episodes ever: The Next Generation's "Sub Rosa."
More: Star Trek Sets the Stage for a New Federation vs. Klingon War
Star Trek #3 is on sale now from IDW Publishing!