Warning: Spoiler for Shang-Chi: Master of the Ten Rings (2023) #1 ahead!Comics have had a notoriously rocky history with representation and diversity, and while Shang-Chi's latest journey through time is a thoughtful foray into memory and legacy, it doesn't hesitate to take a few swipes at a particularly problematic trope: broken English. With some clever writing, writer Gene Luen Yang turns this trope on its head in a way that is both provocative and incisive, and serves as a sharp reminder that everybody is an outsider to someone and that speech alone cannot be a signifier of character.
As comic books and superheroes were a major part of the United States' WWII propaganda during the 1940s, racist and dehumanizing depictions of East Asians (particularly Japanese people) were baked into the medium during its formative years. This has led to comics that portray Asian characters as either buffoonish figures with broken English or evil masterminds embodying the idea of "Yellow Peril," seeking to subvert Western culture (villains such as the Mandarin and Zheng Zu have roots in these tropes). Writer Gene Luen Yang is well known for tackling these tropes head-on in his comics such as American Born Chinese (2006) and The Shadow Hero (2014), and has been an instrumental figure in providing better representation for both DC and Marvel.
Related: The Origin of Shang-Chi's Ten Rings Is Too Dark to Appear in the MCU
When Shang-Chi has fallen back in time to early 1800s China in Gene Luen Yang, Michael Yg, and Erick Arciniega's Shang-Chi: Master of the Ten Rings (2023) #1, a brief bit of fun is had at the expense of the muddled language tropes that have been used to single out Asian characters. Startled by his father's non-villainous past, Shang-Chi accompanies his father Zheng Zu to try and stop a disturbance in town, where they find British soldiers arguing with the local constable in broken speech: "Today, many crates smashed! Pieces everywhere, Constable! Pay for crates! Pay now!" When the conflict is later revealed as a sting to catch Zheng Zu, the British captain grouses about the injuries sustained in subduing him: "Constable! Me and my men, so many bruises! Not part of deal!"
Shang-Chi's Bilingualism Recontextualizes a Tiresome Trope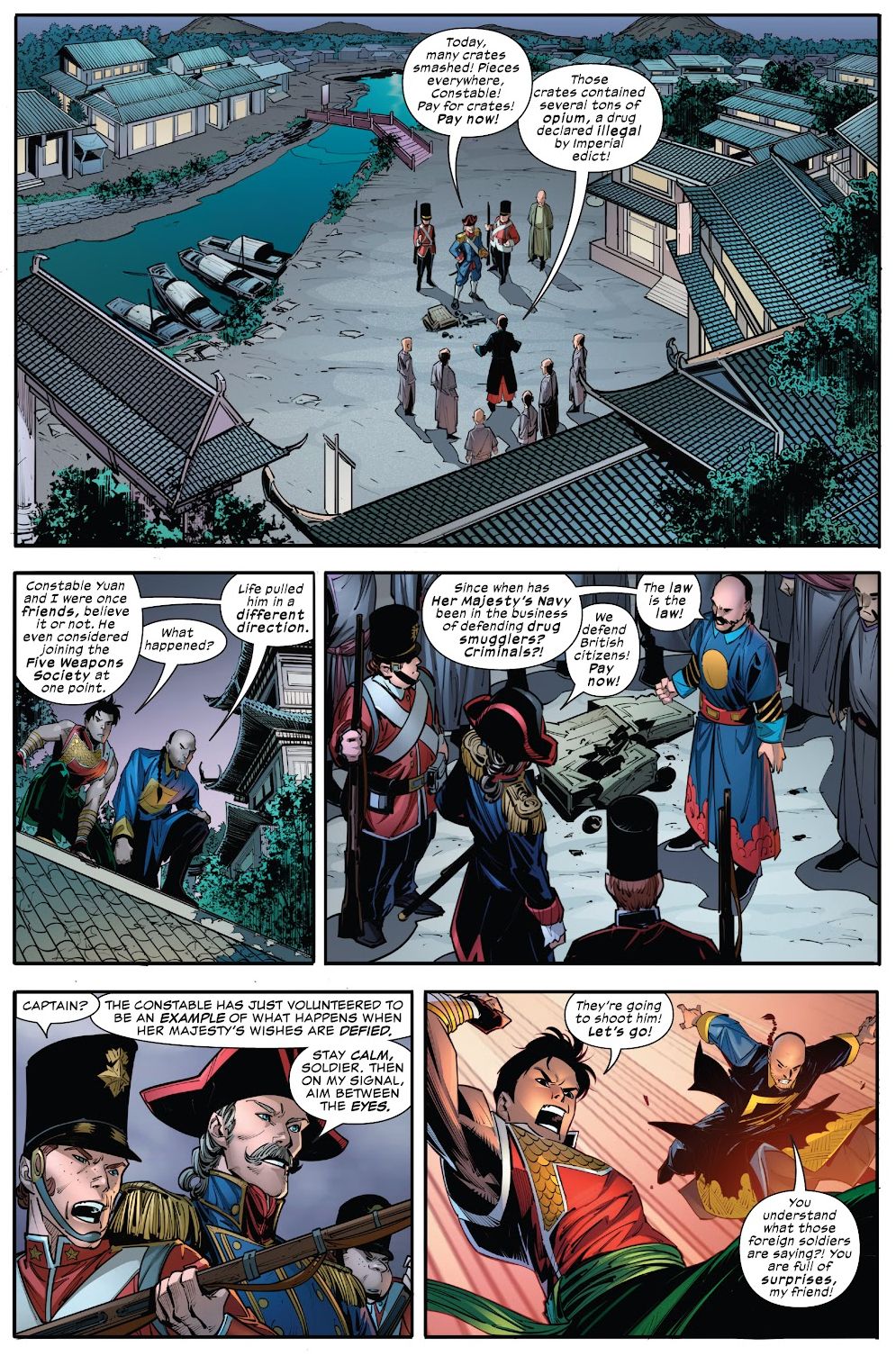 The beauty of this interaction is that when the British captain gives orders to his soldiers, he does so in perfectly clear speech ("The Constable has just volunteered to be an example of what happens when her Majesty's wishes are defied"). The implication becomes that the captain isn't silly or flamboyant, but rather that he is speaking in terrible Mandarin. Indeed, there are subtle indications of language throughout, with English being written in comic's traditional full capital letters while conversations in ancient Mandarin are written in English with upper and lower case letters.
The British are hardly sympathetic figures in this issue, advancing their influence by spreading opium through the land. By first othering them through their broken speech and then revealing it to simply be a trick of having to navigate an unfamiliar language, this issue reframes the broken English trope from an indicator of one's character (the British as cartoonishly evil) to one of being different (having to adapt to a foreign country with a language they are still learning). It's quite something to see English framed in this unfamiliar way, and a fitting way for Shang-Chi to skewer tropes and stereotypes that have haunted the character since his origins.
More: Shang-Chi's Dating Life is Even Worse Than Spider-Man's
Shang-Chi: Master of the Ten Rings (2023) #1 is now available from Marvel Comics.