Ryan Gosling has consistently been an actor audiences can count on. With each new film, he delivers, and Gosling has managed to escape the full brunt of Hollywood's typecasting, keeping those who love him on their toes with each new role he takes on. In looking at his work, there was a period of time early in his career when Gosling took a more serious approach to his movies. There were films like 2010's All Good Things where Gosling played a fictionalized version of Robert Durst. The following year, Gosling starred in George Clooney's The Ides of March, another movie with an overly serious in tone that finds Gosling playing a subdued character. As his career progressed, however, he started to find a balance between playing heavier roles and tackling parts that were fun and more suited toward his own personality. In 2016's La La Land, he got to be a song-and-dance man. (Gosling is one-half of a rock duo named Dead Man's Bones.) And in 2017, he flexed his action muscles in Blade Runner 2049. But the more roles he tackled, the more one simple fact became abundantly clear: Gosling is at his best when he gets to be funny.
Maybe we all should have realized this earlier than we did. As far back as 2000's Remember the Titans, Gosling was showing us glimpses of his comic side. Dancing in a locker room and serving as the light-hearted energy of the entire film, his role as Alan Bosley was the first time many audiences recognized Gosling's easy-going comic charm. Fans of that film may not have been surprised how effortlessly funny it turned out Gosling can be when needed. As for everyone else, it wouldn't be long before they figured it out as well.
RELATED: Ryan Gosling on Why He Wanted to Make 'The Gray Man' and the Status of Derek Cianfrance's 'Wolfman'
Gosling Offers Up Leading-Man Looks and Comedic Wit
2011's Crazy, Stupid, Love, which found Gosling playing the womanizing Jacob Palmer and holding his own against comedy powerhouses Steve Carell and Emma Stone, might have been the first time in which audiences at large realized how delightfully quick on his feet Gosling can be. The movie itself pokes fun at Gosling's movie-star appearance, and even has Stone's character commenting on how he looks Photoshopped. In another scene, Gosling, stands naked with Carell's head fully blocking his naked crotch — a clear indication that he has no problem looking silly to score some laughs.
At this point, Gosling's comic persona became established. But even on the comedic side of things, the actor refused to be boxed in. Instead, he explored physical comedy with The Nice Guys. In Shane Black's darkly comic actioner, Gosling plays Holland March, a private eye who ends up working alongside enforcer Jackson Healy (Russell Crowe). But what makes the movie so remarkable is how willing Gosling was to completely throw himself into the physical-comedy side of things. Ever want to see Gosling fall off a roof? Well, watch The Nice Guys. Holland is a character who is bad at nearly everything in his life, except for being a private eye. His daughter Holly (Angourie Rice) basically takes care of them both. Holland is a drunk, and he's great at being an absolute mess. The entire movie, Holland is injured and bleeding in some way or another — mostly through accidental, self-inflicted means. While Jacob was a character who presented himself as fully put together, Holland is the polar opposite, a character who is barely keeping his life together.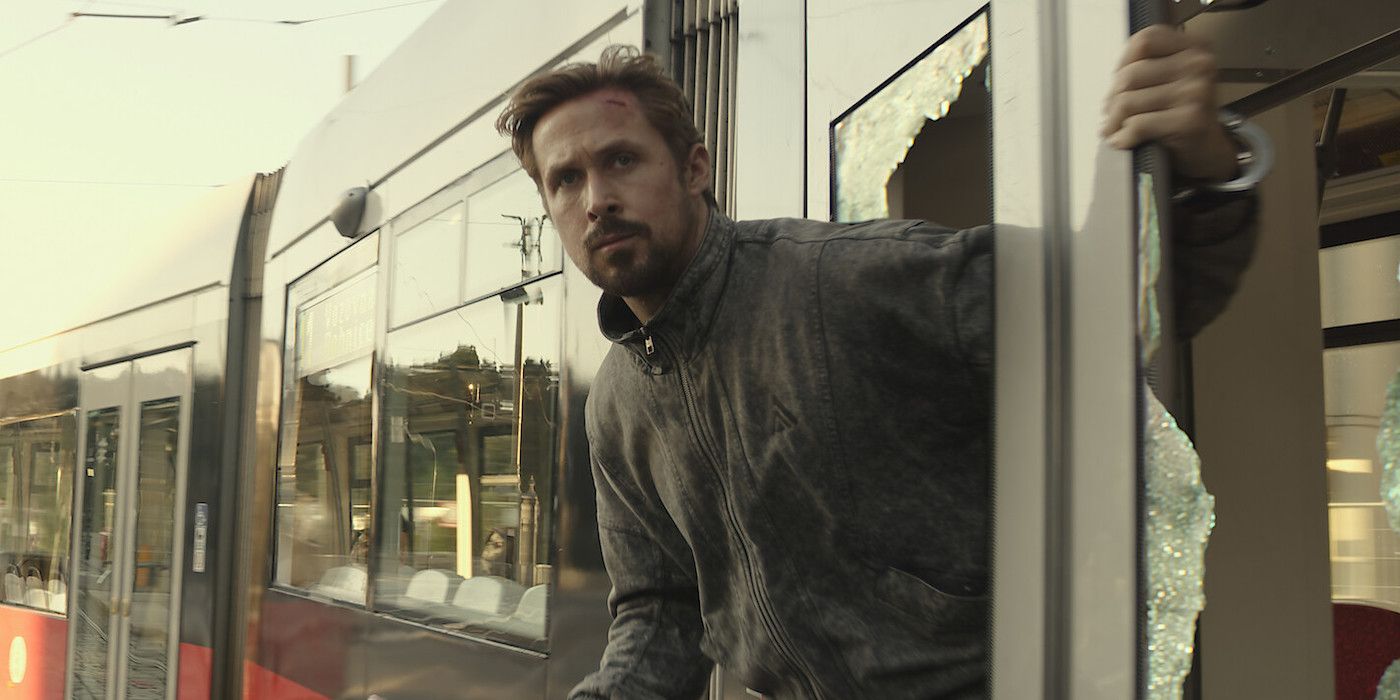 With The Gray Man, Gosling's ability to bring comedy to this Netflix action film proved to be one of the film's highlights. If you love both Drive and The Nice Guys, then The Gray Man may be a perfect blend of Gosling personas for you. The character of Sierra Six has the same ruthless nature that Gosling had as the Driver in Drive, but he also has that physical comedy appeal and humor that Holland March had in The Nice Guys. He's the best of both worlds. Holland wasn't great at the action-hero stuff, but Sierra Six certainly is.
None of this should be all that surprising because Gosling has also shown that he can think on his feet and be funny live and in the middle of the action. Both times Gosling has hosted Saturday Night Live, he showed audiences around the world how funny he can be and also brought us sketches like "Papyrus" that live on infamy to this day. Even as a member of The All-New Mickey Mouse Club from the 90s, at the start of Gosling's career, he was able to excel as a performer in an ensemble variety show, foreshadowing his future SNL success.
Why Gosling Is Going to Be a Perfect Ken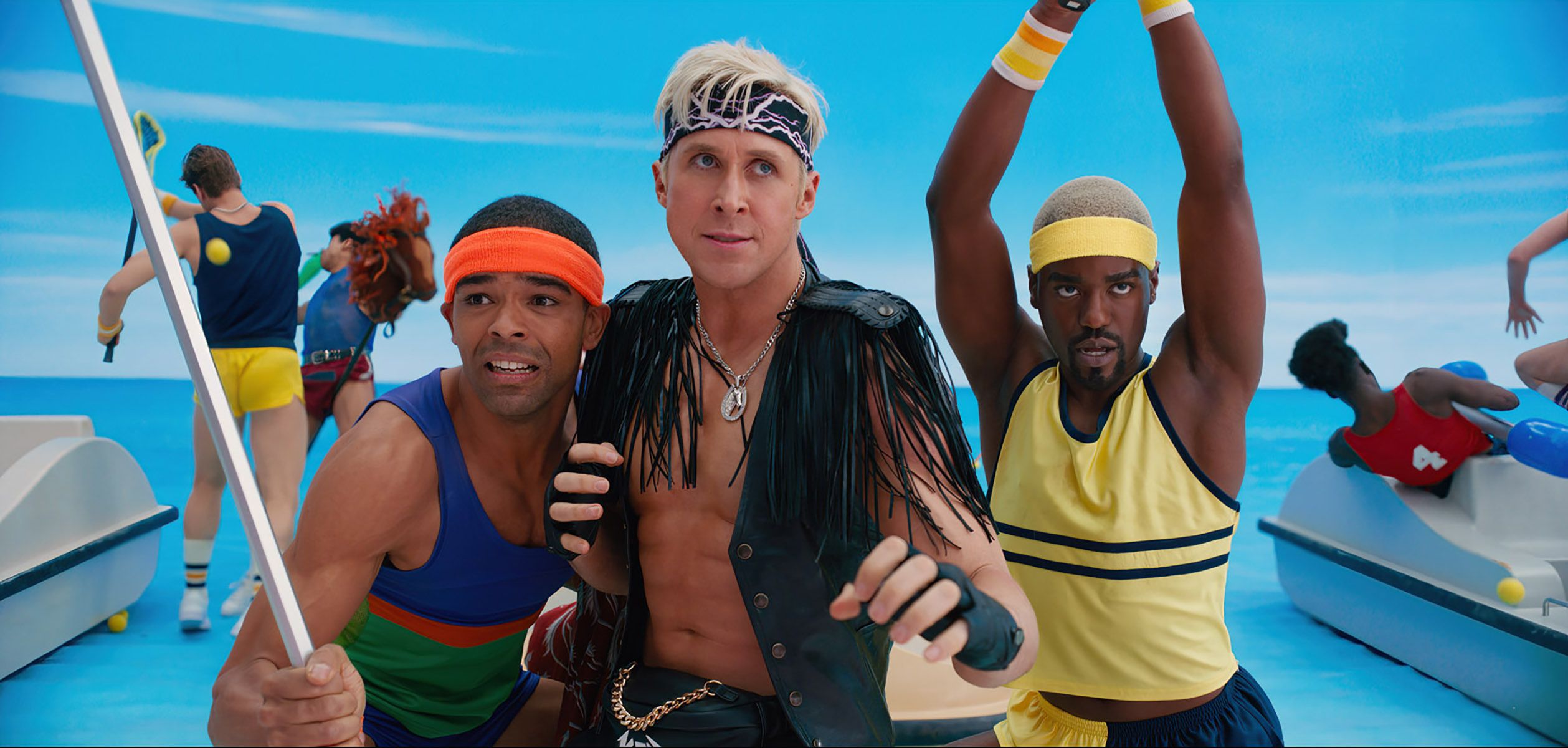 All of this is a good sign for what is lining up to be Gosling's next big comic outing playing Ken in Greta Gerwig's Barbie. It seems a strong bet that he'll be able to put most of his comic assets to good use in the role — the exaggerated physical comedy, using his charm to slyly poke fun at his own persona, and just being silly on the screen when needed. We only catch a single moment of it in the trailer, with Gosling striking a pose with co-stars Ncuti Gatwa and Kingsley Ben-Adir at his side, but it's already enough to strongly indicate exactly what kind of Gosling we're going to get in the movie: The kind that makes us laugh. And we couldn't be happier about it.