The runtime for Ant-Man and the Wasp: Quantumania has seemingly been revealed, and it may be the longest Ant-Man movie yet. Paul Rudd became Marvel Comics character Scott Lang for the first time in 2015's Ant-Man. Since then, the size-shifting superhero has become an integral part of the MCU, starring in another standalone movie alongside Evangeline Lilly's Wasp aka Janet Van Dyne, while also appearing in Captain America: Civil War and Avengers: End Game.
The MCU has of course moved on from a lot of the characters it introduced during its earlier phases. But Ant-Man continues to be a big part of Marvel's plans, with a third standalone movie set to hit theaters. Ant-Man and the Wasp: Quantumania has of course already released a thrilling trailer, and now fans may have just learned the runtime for the next movie on the MCU docket. As revealed by Fandango, the new Ant-Man entry runs for 2 hours and 5 minutes, making it the longest Ant-Man movie yet by a very narrow margin. The original Ant-Man came in at 1 hour and 57 minutes, while Ant-Man and the Wasp clocked in at 1 hour and 58 minutes.
Related: Ant-Man Being The First Avenger To Meet Kang Continues An Endgame Trend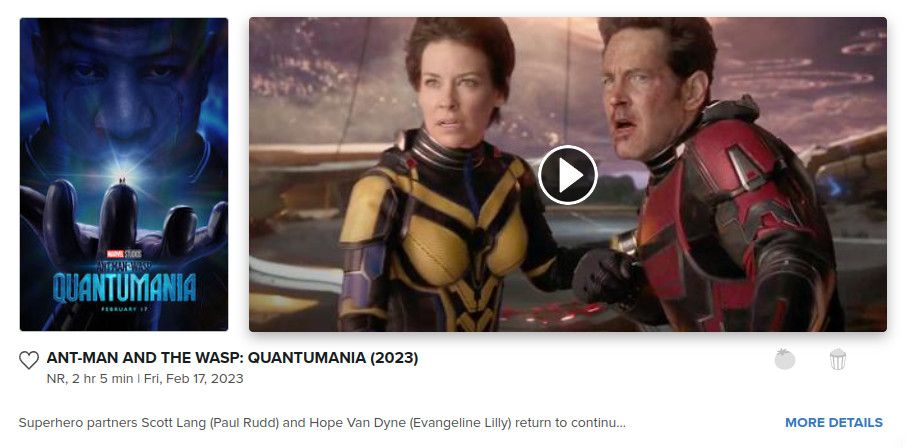 How Quantumania's Runtime Compares To MCU Phase 4 Movies
Though Ant-Man and the Wasp: Quantumania may be long for an Ant-Man movie, it's actually rather short compared to the average MCU film of recent years. Phase 4 indeed continued the trend of ever-lengthening MCU epics, kicking off with Black Widow, which came in at 134 minutes. Shang-Chi and the Legend of the Twelve Rings continued the trend with its 132-minute runtime, followed by Eternals, which ran for a hefty 156 minutes (a runtime that may have contributed to its poor reception by critics and MCU fans).
Things didn't get any better when it came to lengthy MCU movies with the blockbuster Spider-Man: No Way Home, which ran for 148 minutes. Then came 2022's Dr. Strange In the Multiverse of Madness at a relatively compact 126 minutes and Thor: Love and Thunder at a positively brief 119 minutes. Phase 4 then wrapped up with Black Panther: Wakanda Forever, which came in at a truly epic 161 minutes.
Ant-Man and the Wasp: Quantumania now kicks off Phase 5 with a runtime that, compared to the MCU movies fans have been treated to in recent years, may feel a little on the light side. But given where Ant-Man fits in the overall Marvel picture, a shorter runtime feels appropriate. A Wakanda Forever-sized Ant-Man movie certainly would not make any sense. It will be interesting to see if future MCU movies also try to keep things closer to the 120-minute line, given the superhero fatigue that some think has begun setting in at the box office.
More: Ant-Man 3 Can End By Revealing The MCU's Future
Source: Fandango