Warning: contains spoilers for Marauders #10The conclusion to the Marauders latest time-traveling adventure saw Charles Xavier's evil twin sister finally brought to justice, as the X-Men heroes Kate Pryde and Emma Frost finally take down Cassandra Nova in Marauders #10.
One of the biggest surprises of Kate Pryde's newest iteration of her Marauders team was the inclusion of Cassandra Nova, a long-time enemy of the X-Men who was responsible for the slaughter of over 16 million mutants on the island of Genosha in 2001's New X-Men. While Krakoa is known for their extreme policy of radical forgiveness for past enemies, it was always shocking that Kate could look past Cassandra murdering her father, and in the pages of Marauders #10 it turns that Pryde couldn't look past it.
Related: The Biggest Ways the X-Men Have Changed Since Their First Appearance
Marauders #10 – written by Steve Orlando with art by Eleonora Carlini and Matt Milla – concluded the most recent arc of the mutant rescue group's adventure, which saw Pryde, Bishop, Psylocke, Aurora, Tempo, Daken, Somnus, and Nova travel 2 billion years into the past in an attempt to save the ancient mutant civilization of Threshold from destruction. The Marauders plan to save the past immediately went awry when they came up against the twin villains Sublime and Arkea and their army of "Unbreathing." The team was saved several times through the power of Cassandra Nova, much to everyone's chagrin. In the Marauders final battle against Arkea and Sublime, Cassandra Nova invited the two sentient bacterium to attach to her body as a host, only to use her incredibly telepathy to slaughter the trillions of hosts they had all connected to her, ending the Marauders battle against Sublime and Arkea. Yet, after being saved by Nova, the evil twin of Charles Xavier – technically an evil "Mummandrai" spirit – was struck down by a psychic attack from Somnus, kept alive but immobile and imprisoned in Threshold's "zero cells" 2 billion years in the past, with a mass extinction event on the horizon.
Cassandra Nova Proves Krakoa Won't Forgive Some Crimes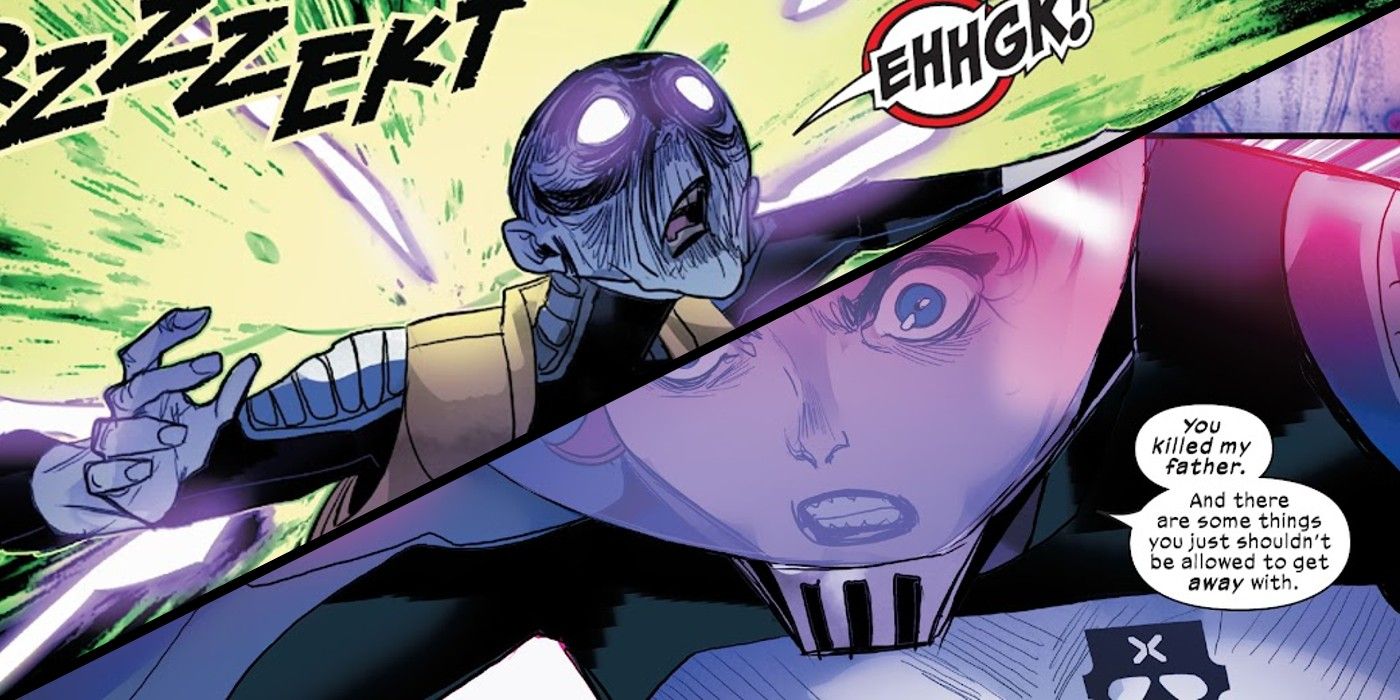 It was revealed that Kate Pryde, Somnus, and Emma Frost had planned this betrayal of Nova from the very beginning, using Frost's considerable psychic talent to install an impenetrable crystal box in Pryde's mind that kept Nova – or the rest of the team – from discovering their plan. Emma Frost and Kate were two of the mutants most impacted by Cassandra Nova's horrific assault on Genosha, with all of Frost's young students dying in her arms and Pryde's human father being killed as well. And since Pryde knew that they would almost certainly not succeed in the past without the help of Cassandra, she devised a plan to use her while she was needed and then take her down. Pryde got in the perfect last word against Nova saying, "You killed my father. And there are some things you just shouldn't be allowed to get away with," a truly impactful end to Nova's long career as a genocidal villain of the X-Men. In many ways Nova deserves a way worse fate, and while a terrifying cosmic power like Cassandra could potentially escape her imprisonment on Threshold, this is certainly the end of Nova for now. Solicits for the next two issues of Marauders reveal that Kate Pryde is attempting to create the biggest mutant circuit yet in an attempt to do a mass resurrection of the Genoshan mutants murdered by Cassandra, and if successful not only will Nova be imprisoned millennia in the past, but her most horrific crime will finally be avenged.
Kate Pryde and Emma Frost's plan to takedown Cassandra Nova in secret cements the fact that some villains are simply unredeemable and Krakoa does have limits to its forgiveness, and while the evil twin sister of the X-Men's Charles Xavier may return at some point, the genocidal villain has finally been defeated by those most impacted by her crimes.
More: The X-Men Discover The Unbelievable True History Of The Marvel Universe
Marauders #10 from Marvel Comics is available now in stores.