The Gotham City Sirens are a trio of femme fatales that take pride in being the baddest villains in town, and now, in a new cosplay image, the team has finally gotten back together in a way that DC Comics — and the DCU — need to take note of!
Recently posted on Instagram by the Poison Ivy cosplayer in the photo, Gracie (@graciethecosplaylass) is a seasoned veteran when it comes to creating and wearing spot-on comic costumes, designs made even better by the various collaborators she teams up with that lend a hand to help photograph, edit, and pose in these stunning images.
Joined by Megan (@meganrandom) as Catwoman and Lisa (@lisa.mancinerh) as Harley Quinn, all three of these cosplayers consistently upload quality costumed looks that not only wow from a creative standpoint, but thanks to some high production values, look like they've been ripped right out of a movie.
Related: Harley Quinn, Poison Ivy & Catwoman Redesigned as Mermaids in DC Fanart
The Gotham City Sirens Get a Live-Action Makeover in New DC Cosplay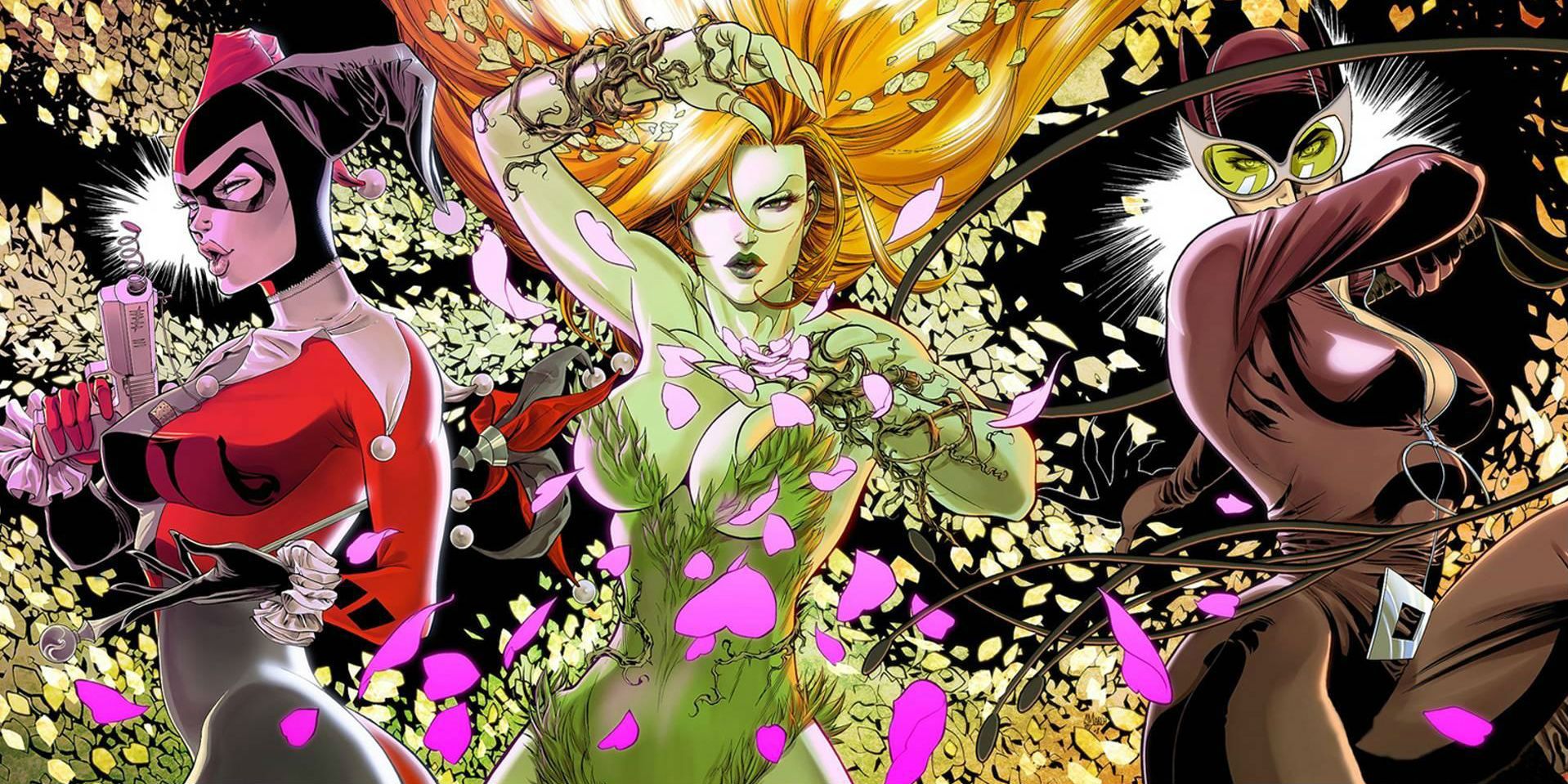 A team that was technically only a thing in DC lore for a brief time before being retconned as not being a team at all, the Gotham City Sirens, consisting of the popular Batman villains Pamela Isley aka Poison Ivy, Selina Kyle aka Catwoman, and Harleen Quinzel aka Harley Quinn, caused mischief and mayhem while occasionally helping out a Gothamite or two if it fit their needs. Initially written by Paul Dini with art by Guillem March, this fearsome threesome had a self-titled series that ran for 26 issues between 2009 and 2011, solidifying them as a fan-favorite team that still has an audience today, if these cosplay images are of any indication.
Photographed by @ericcarrollphoto and @janebergstrom, this five-image post immediately makes a case for this being not only the best Gotham City Sirens cosplay in the nerd community but some of the best Poison Ivy, Harley Quinn, and Catwoman designs seen yet. Dressing similarly to Poison Ivy's recent cordyceps form from her current solo series, Gracie nails the deadly but beautiful look of a villain at the height of her powers while adding a few of her own flairs — like a few baby Venus flytraps poking from her various greenery — that make this unique design her own. Meanwhile, Megan's Catwoman brings Selena's Darwyn Cooke-esque costume to life in the most comic-accurate way possible, with her signature whip, stylized cat ear cowl, cat eye-shaped goggles, and all-black bodysuit making the transition from page to real-life perfectly.
Last but not least, Lisa's take on the antihero known as Harley Quinn sees her dress in Harley's post-jester look that gives her a more realistic design, complete with multicolored pigtails, a red and black color scheme, her iconic oversized mallet, and of course, a mischievous smile that only Harley can pull off. So while this fan-favorite team hasn't been seen or even talked about all that much in the comic space since their initial run, Gracie (@graciethecosplaylass), Megan (@meganrandom), and Lisa (@lisa.mancinerh), as Poison Ivy, Catwoman, and Harley Quinn, respectively, show exactly why the Gotham City Sirens need to get back together, and now with the new DCU in full swing, why they need a live-action adaptation immediately!
Source: @graciethecosplaylass