Prime Video's series The Lord of the Rings: The Rings of Power isn't just massive in cinematic scope and scale, but in creative ambition, as well. Set in J.R.R. Tolkien's Second Age of Middle-earth, showrunners Patrick McKay and John D. Payne tackled an era of a beloved fantasy universe that had little world-building to base their production on. With only major events to mark their path, and an entire crew of talented creatives, Rings of Power rose to be the streamer's most-watched series ever. One element of the show's success lies in the stellar casting of storied characters, and Collider's Steve Weintraub had the opportunity to speak with actors Owain Arthur and Sophia Nomvete, who portray Dwarven Prince Durin IV and Princess Disa.
Rings of Power is set long before the events of The Fellowship of the Ring, and long before the dreaded Balrog destroyed the Dwarven kingdom of Khazad-dûm, which would come to be known as Moria. In the series, fans get to see a golden age of Elves, and a thriving community of Dwarves, ruled by King Durin III (played by Peter Mullan). In fact, Arthur and Nomvete are a particularly bright spot, not only for their impressive designs and costuming, but because of their onscreen chemistry. While talking to Weintraub, Arthur shares the "secret ingredients" that make up their fan-favorite relationship, and Nomvete credits their chemistry with that "tight-knit, safe feeling" she has with her costar.
During their interview, which you can watch or read below, they also talk about the joys of filming in New Zealand and the importance of having a strong bond amongst the entire cast. They discuss the merits of being well-versed in Tolkien, as well as the benefits of coming to the mythology fresh, allowing for the actors to take ownership of their characters. They also reveal why they weren't hitting the local Starbucks in full Dwarven attire in their downtime. Rings of Power Season 1 is available on Prime Video, and also features Morfydd Clark as Galadriel, Ismael Cruz Córdova as Arondir, Charlie Vickers as Halbrand, Maxim Baldry as Isildur, and Lenny Henry as Sadoc Burrows.
COLLIDER: So I think fans were unified in one thing on this series, which is, you guys were fantastic together. That is one thing I'm sure of, and can you sort of talk a little bit about finding that bond? Did you guys talk before you arrived on set the first time, or is this just actors being really good?
OWAIN ARTHUR: Both! No, I mean, you couldn't shut us up, this is the thing. But the first time we met it was coming out of a lift, Sophia was coming out of a lift with her daughter in her arms, and we just hit it off straight away, I think. And we had loads of cups of teas and talked on the balcony, and kind of casually chatted about our relationship together, Disa and Durin's relationship. We had time on our hands out in New Zealand, as well. So we really got to build on that. I think the key ingredient was that we were just at ease with each other, and happy, and naughty, and all of those kind of secret ingredients that form a good relationship, I think.
SOPHIA NOMVETE: Yeah, I second that, and I think safety is a really big key word for us, as well. I feel like Owain makes me feel really safe, and I hope I do the same. And so the minute that you have that kind of safety and trust in a relationship offscreen, what that means is, when you get onto a stage, suddenly you are at complete ease of freedom to take things to distances that you may be wary of if you didn't have that kind of tight-knit, safe feeling. So I think we just felt like we were on the same page, and we pushed each other, we challenged each other, we discussed things.
ARTHUR: We succeeded and we failed together.
NOMVETE: Yeah, we did. We kind of went through it all, and did we have some challenging times? Absolutely, and came out way stronger for them. We got to know each other more from them, and looked after each other, and looked after the characters, and I think saw their journey in the same light, which was really helpful, but we had a lot of fun. We're quite loud, quite silly, and we just had a good time.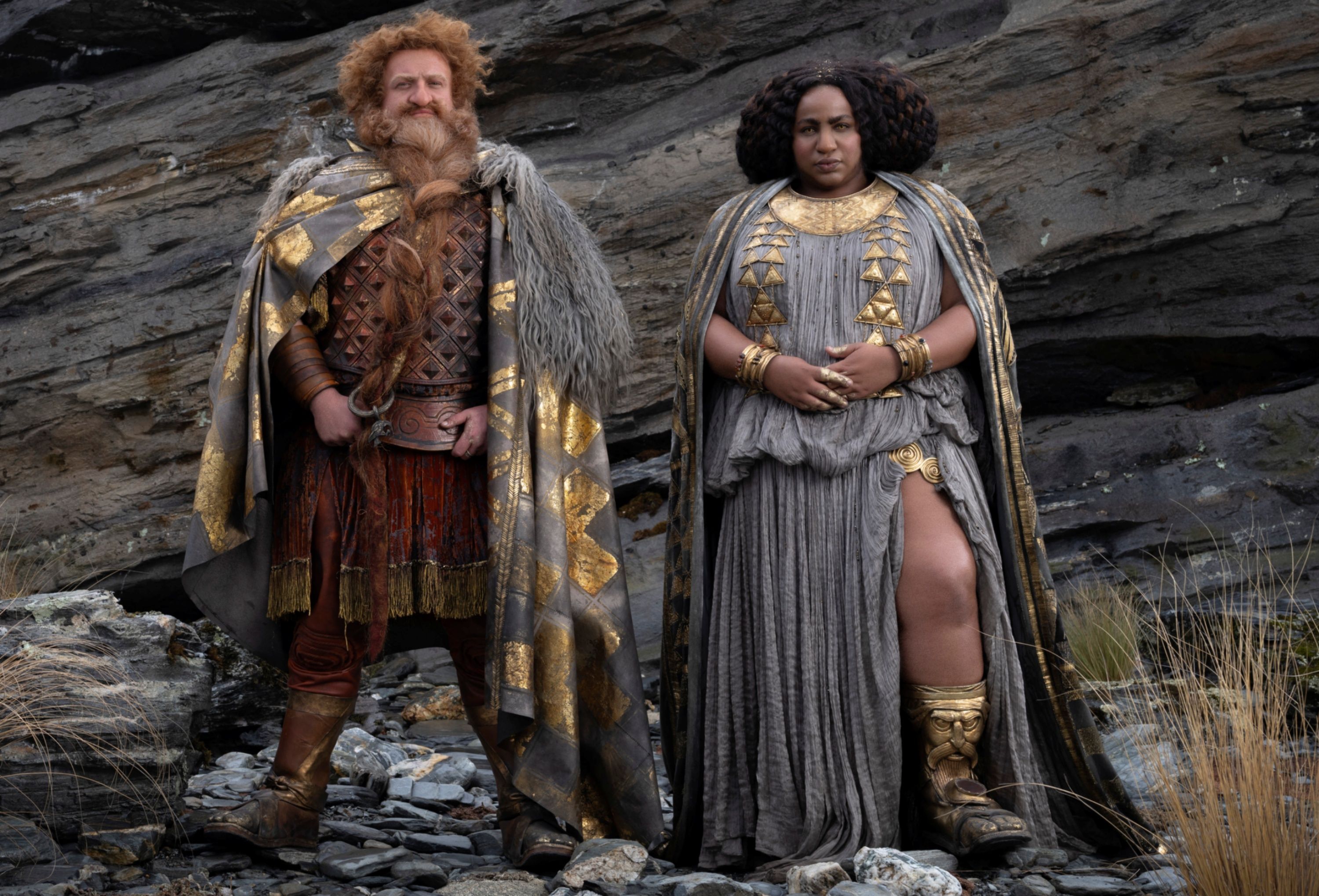 One of the things about this series is that, you're part of an ensemble cast. So I'm curious, what is it like making a show where they might say to you, "Okay, we need you Monday and Tuesday, and then you have two weeks off?"
NOMVETE: Oh, I love it! I think it's delightful. I have to say, it's kind of bittersweet in both realms. So it's kind of nice to be able to dip in, go out, because you can feel when you come back, there's this new kind of vivacious excitement, and what are we doing next? And we're all chomping at the bit to restart. However, there is also something in the consistency of keeping going. Like fairly recently, we had like quite a long stint of filming and we were kind of going at it for quite a long time, and that was really taxing, but I think really helpful because you stay in the zone. You don't have to remind yourself where we pick up, where we left off, where were we, where were our hearts? Where were our feelings? Even the voice, down to the voice and the accent! "Was I pitching her? What was I doing?" So, I think, yeah, there's kind of pros and cons on both sides, but I think, yeah, I feel like now we're home, it's nice to kind of get home and be home for a little bit. But I think when we were in New Zealand, we were like, "We just wanna work, we wanna do this."
ARTHUR: Yeah, and being in New Zealand for the first season, I think, was a key ingredient to us bonding, everyone. You know, even though I'm definitely not going to see every single character in this show, Durin's character. But we were able to bond an ensemble, a team, a group of actors, a group of players, if you like, that, again, was safe, we had each other's backs. We met up every Sunday in Ben Walker's house, and, you know, we just looked after each other, and became an ensemble. I certainly felt like I was in an ensemble when I was out there, and you come back and you hear about their various experiences on set, and stuff, and you live in it with each other, which is kind of quite poetic in what our characters are going through in Middle-earth, as well, I think. So, it's quite nice, very nice.
When you got the roles, or maybe even after you got the roles, how much did you feel an obligation to learn everything you could learn about Lord of the Rings, knowing you're going to run into fans that might ask questions, and how much are you sort of like, "I just know what I know, what I'm gonna get out of the scripts?"
ARTHUR: Well, ultimately, that gives you a sense of ownership over it, if you go, "This is what I know, this is what I'm bringing." You can go down that route, but it's hard to avoid all these little bits that you can get from the text. And also, what I think is that everybody interprets the text differently as well. Okay, there are some given circumstances that you have that you can't avoid, but there is room for interpretation in Tolkien's world because he himself contradicts himself in some parts of the text, as well. So there's no real answer to every question. But what's wonderful is that people have a sense of ownership over it and claim it for themselves, and I think that's great. And as long as you approach everything with an open mind, as much of an open mind as you had when you read the text, then I think you'll get more out of it.
NOMVETE: I think my personal approach in the beginning was, I know what I know. At this point, I know what I know, but that's my approach with every single project that I've ever done in my entire career. That is my approach at this moment, I know what I know. And so, when I started to learn about who it was I was playing, what I was doing, who have I got next to me, what are the surroundings, then suddenly I start to control the level of research, and the distances that I go. And I kept leaning back to Tolkien, obviously.
Tolkien is all around us, you know, he was all around us every minute of every single day. There isn't a speck of dust on the floor, or a stick in our costume, that didn't come from the infrastructure, or some kind of inspiration from Tolkien's appendices. There is no doubt in my mind about that because of the strength of our crew and our creative team. You are immersed in the research, wherever you came from, and that's what's so lovely is there's such a vast cast of us, but all of us have come from different backgrounds and different experiences with Tolkien and all of his stories. And so, it was this medley of different ideas and different kind of experiences all coming together, and saying, "Right, what have we got to bring to the table?" Some people had extensive knowledge of the legendarium, and some people had not much, but they had extensive knowledge of creativity and how to pull words off the pages, and we all kind of muddled together, cast, crew, creative team, production, everybody, and made this thing happen.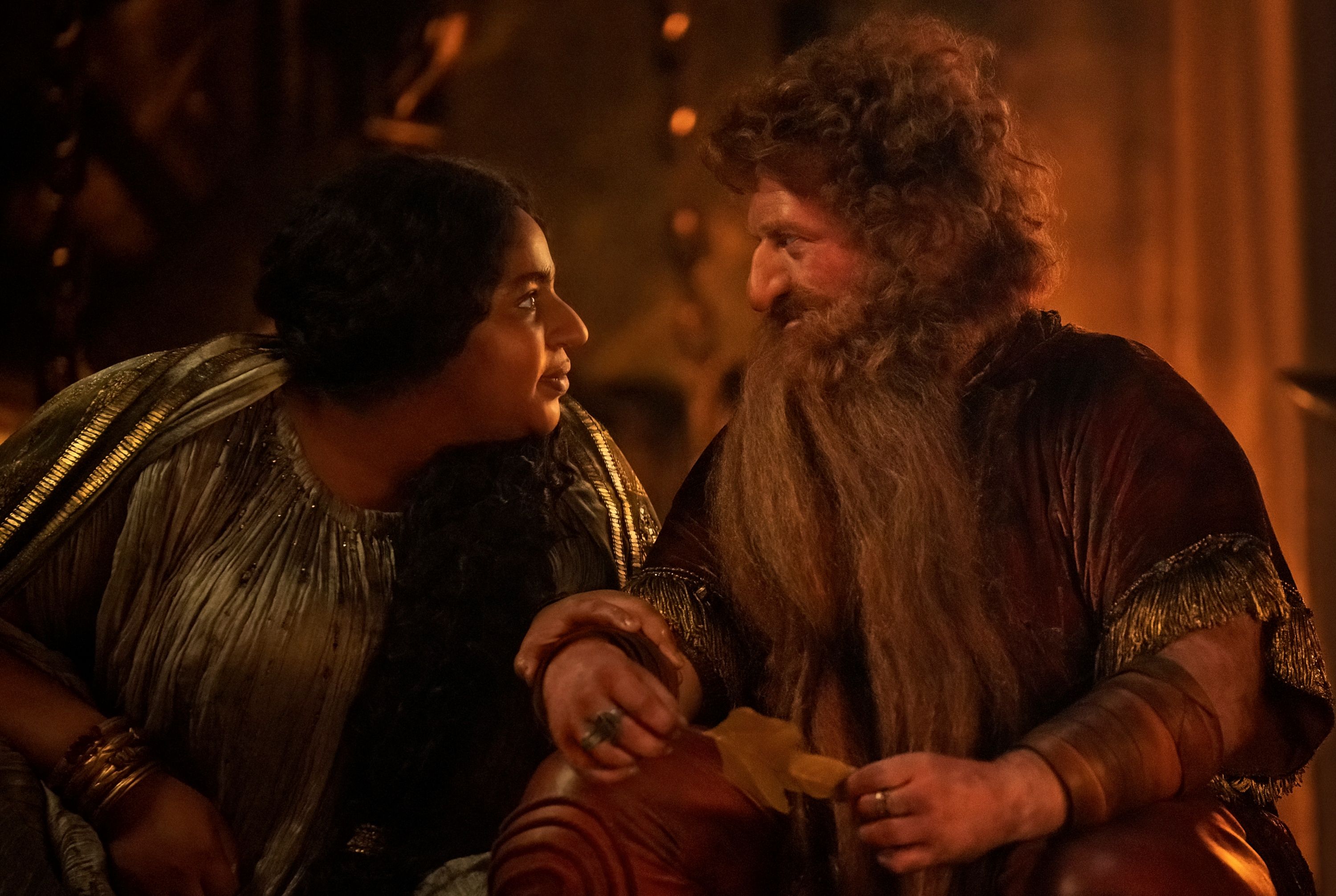 Now that everyone's seen the costumes, how much have you been pitching them on Season 2 to be like, "Just let me go to Starbucks in this thing, I know people are gonna enjoy it?"
ARTHUR: [Laughs] Yeah, I mean, I wish I was comfortable enough to be able to do that, but at the end of the day, at the actual end of the actual working day, you just want to rip it all off and kind of just breathe again. You know, it's an experience. I've never experienced it before on set, this kind of survival mode that you have to go to. It's definitely a new discipline that I've had to pick up quick, to be wearing the costume, to be wearing the beard, the wig, the prosthetics, and trying to work with that. But, yeah, I mean, there's loads of coffee on set, so we don't need to go to other coffee shops.
I think it was just, for me, for example, Halloween, and being able to go out, you know, but I didn't think about the fact that, yeah, it must be miserable wearing that all day.
NOMVETE: The one thing I'll say is, it's really transformative. I'll never forget that we did a ton of movement, which was really helpful, like how do the Dwarves move? How do they greet each other? How do they bond? How do they walk? If they're frustrated, how do they turn their heads? If they're to look at something, we wanted it to be beyond that kind of human just to turn their head. Like, what does that look like with everything that they're carrying, in terms of their pride, you know, they're inner carrying and they're outer carrying? So I found, I think the costume, I can speak for us both, that man, it grounded us, like the weight of that costume is about as Dwarven as it gets, right? You're gonna sit really low, you're gonna walk really tough, your feet, and every time you turn, you do feel like you're turning with a 10-ton weight behind you, and so, that was really exciting because it needed no more. You were immediately transformed. But yes, removing that at the end of the day, my goodness.
ARTHUR: Yeah, you felt like you were walking on a cloud!
I love the creatures of the Lord of the Rings, and I just want to know, what was your reaction when you saw on the script, "And then a Balrog appears?"
ARTHUR: "Well, that's gonna cut our story short!" [Laughs] But yeah, you know, exciting, obviously, because it's the Balrog that we all know, and we can hear Gandalf screaming that line – even though he said it incorrectly, but you know, we can still hear him saying it! But yeah, exciting. Again, it's one of those moments where you go, "Oh, my life, I'm in Lord of the Rings," and we get to live quite close to the Balrog, so it's kind of like another tick, I suppose.
NOMVETE: I was really excited for the fans, as well, I have to say. I knew by this point how excited they would be. My brothers actually are huge fans — huge, huge fans. In fact, they've been like my guardian angels on my shoulder with so much. And I just knew when I saw it, I was like, "Wow, yes!" I'm hoping that people are gonna be really excited about this! This will be a great moment for amazing, amazing, die hard fans. So, yeah, it's exciting.
The Lord of the Rings: The Rings of Power Season 1 is streaming on Prime Video. Check out our interview with Peter Mullan who plays Dwarven King Durin III below.