There is one major mistake from the New 52 Green Arrow era that Joshua Williamson's upcoming book must avoid at all costs. The new Green Arrow series, which is part of DC Comics' 2023 "Dawn of DC" initiative, was teased with a Green Arrow family cover by Sean Izaakse. The artwork suggests that the new series will restore many classic Green Arrow characters that have been absent from the comics in the decade following DC Comics' New 52 revamp.
The Green Arrow comics went through several false starts in the New 52 era, with the series changing creative teams three times in its first year. It finally found stability when writer Jeff Lemire and artist Andrea Sorrentino took over with Green Arrow #17, but their run took criticism for introducing elements from the television series Arrow into the comics, like making John Diggle part of Oliver Queen's support team. There was also umbrage regarding the changes that Lemire made to the origins of Katana and the Outsiders and Oliver Queen's family being tied to a society of clans based around the mastery of primitive weapons.
Related: Green Arrow's Version of the Bat-Cave Puts a Spin on Batman's Trophies
This led to a divided fandom and dropping sales, despite Lemire and Sorrentino's Green Arrow run being critically-acclaimed. Former Green Arrow and Black Canary writer and Arrow Executive Producer Andrew Kreisberg and Arrow Producer Ben Sokolowski took over the series' writing with Green Arrow #35. Their mandate from DC Comics was to win back classic Green Arrow fans and turn Arrow viewers into comic readers. It was a tall order, similar to the challenges faced by Joshua Williamson with the upcoming 2023 Green Arrow series, and one ultimately doomed to failure.
Green Arrow: Kingdom Attempted Too Much, Too Fast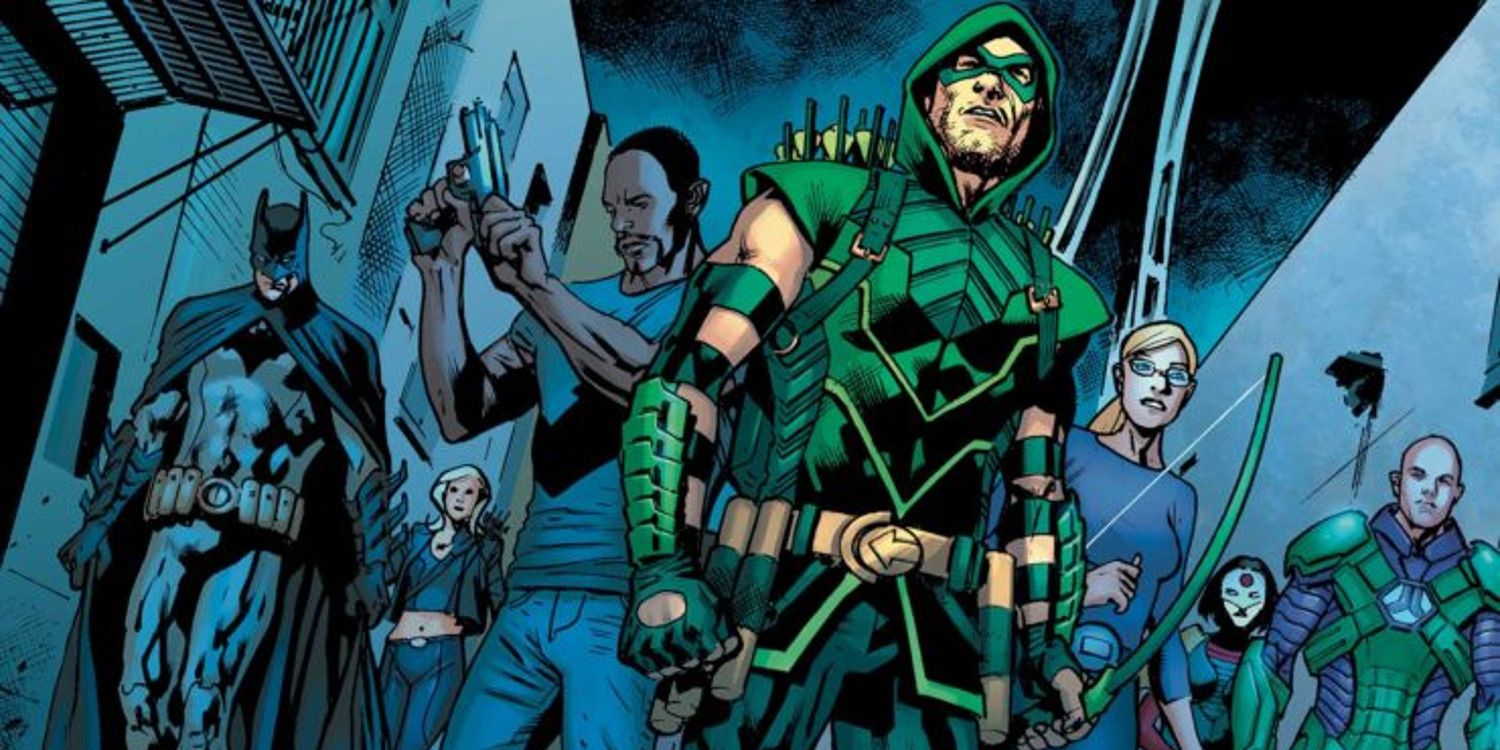 While Kreisberg and Sokolowski's Green Arrow: Kingdom was ambitious in its scope, it was also incredibly crowded and poorly paced. The story gave Green Arrow a new nemesis in the form of billionaire John King, a contemporary of Lex Luthor and Bruce Wayne, who ruled a network of equally corrupt government officials dubbed the King's Men. The six-part storyline found both Oliver Queen and Green Arrow under attack by the King's Men, as he tried to protect a homeless teenager named Mia Dearden, whom King was hunting. It was later revealed that Mia was King's illegitimate daughter, and that she had witnessed him killing her mother.
Beyond giving Green Arrow his own Lex Luthor and reintroducing the second Speedy, Mia Dearden, into the New 52 continuity, Green Arrow: Kingdom also introduced Arrow's master hacker Felicity Smoak into the DC Universe, as one of the King's Men who was inspired to switch sides by Oliver Queen's noble heart. This did little to comfort those Green Arrow fans who were worried about the comics becoming more like Arrow. The story also tried to reestablish Oliver Queen's friendship with Green Lantern Hal Jordan and picked up an abandoned Judd Winick storyline that would have established Oliver's childhood best friend Tommy Merlyn as the new Dark Archer.
Had Green Arrow: Kingdom been allowed to play out over 12 issues rather than six, it might have been successful in its goal of making the Green Arrow comics more like Arrow while reintroducing all the classic Arrow Family elements removed by the New 52. As it was, the Kingdom storyline was rushed, and it further drove down the readership of the Green Arrow series. Hopefully Joshua Williamson will not make the same mistake in the 2023 Green Arrow series and will take his time in reestablishing the Arrow Family.
More: Move Over Superman, Green Arrow is DC's Most Inspirational Hero