Warning: Mild SPOILERS for Koala ManHulu's Koala Man is a hilarious and very Australian superhero show that blends the classic animated sitcom with just enough superhero satire to feel at once fresh, relevant, and timeless. Koala Man was created by Michael Cusack, the man behind popular Adult Swim programs Smiling Friends and YOLO: Crystal Fantasy. Koala Man was developed with the help of showrunners Dan Hernandez and Benji Samit (Detective Pikachu, The Tick), and producer Justin Roiland (Rick and Morty, Solar Opposites).
While Koala Man centers on the exploits of its titular character, whose real name is Kevin, the show also gives plenty of the spotlight to Koala Man's family. Show creator Michael Cusack voices Kevin (AKA Koala Man) and his son Liam, Succession's Sarah Snook voices Kevin's wife Vicky, and Australian comedian Demi Lardner provides the voice of Kevin and Vicky's daughter Alison. Lardner is a performer, has hosted multiple podcasts, and entertains a dedicated viewership on Twitch, but had not voiced a TV character before Koala Man – a fact that is surprising given how effortlessly funny and sympathetic her character is on the show.
Related: Smiling Friends: Every Episode Ranked, According to IMDb
Lardner spoke with Screen Rant about getting the gig, relating to the character, and more.
Demi Lardner on Koala Man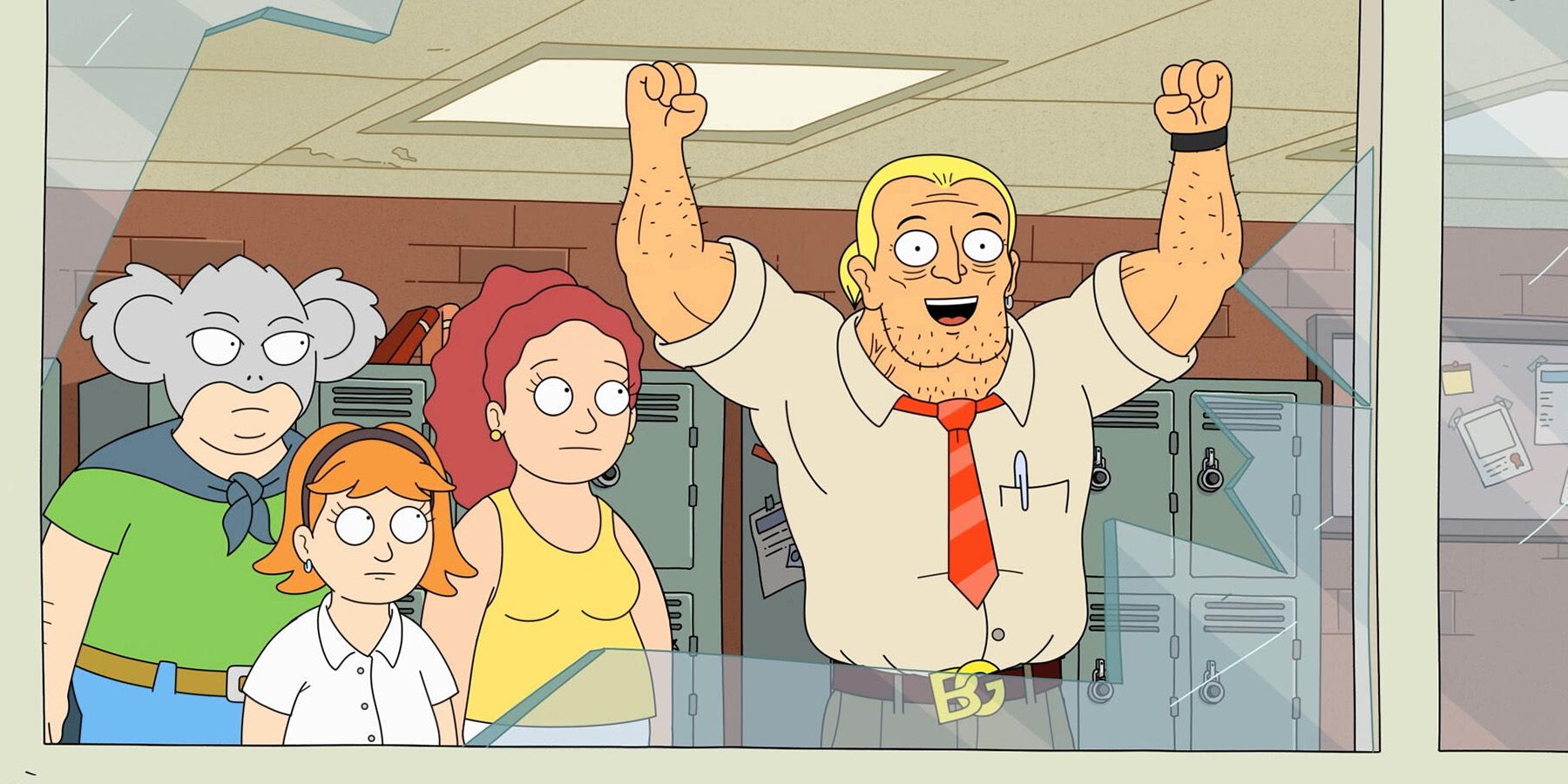 Screen Rant: First off, how did you find your way to this role, and what made you want to be involved?
Demi Lardner: It was really weird. I'm a comedian; I never really did voiceover before. It turns out I'm, like, really good at it. I did the audition, and sent that in, and the guys who were running the auditions and picking the cast came on my Twitch stream. Alison's kind of like a mean little psycho, and they came to my Twitch stream, and they were like, "Oh, my God, she's perfect!" Which is very telling, but they're not wrong. It's an insanely fun job. I didn't think I'd ever have this much fun and also be like, "God, that was easy." I really enjoyed it.
Was it hard to transition into TV? I know you've had podcasts, so you've done some voice work.
Demi Lardner: I was really weirded out. Again, I'm not going be modest; I was really good at it. Being a comedian, you just do stuff; you're doing everything. It turns out I'm good at being an annoying teen girl. Man, it's so good. The voice that I do is me bullying my friend Naomi Higgins. She kind of sounds like, "Okay, guys, I'm actually getting a little bit stressed!" It's kind of just me doing that the whole time, which made it even more fun. She's going to be extremely mad at me.
You obviously write jokes. How much leeway did you have to play around with the voice or the lines as you were doing this?
Demi Lardner: I'm not a writer on the show or anything, but we would collaborate on some of the lines, and the readings and stuff. Then, [for] a couple of them, we were just like, "Okay, well, why don't you just improv for three minutes?" It'll be interesting to see what gets used because some of it was foul, which is cool. That's where I live, where I'm most comfortable. It was nice to feel like I had a little bit of creativity coming out in it as well – to be disgusting.
Have you not seen the show yet?
Demi Lardner: I have seen one episode of the show. I was keeping myself away from it; I was scared to hear my own voice. Then we went to Comic-Con, I saw the episode, and then did a panel straight after. It was real wild.
Are you going to watch it, or do you hate watching things that you've done?
Demi Lardner: I think it's going to be fine, because it's Alison; it's not really me. I am going to watch it. I think I'm going to have friends there so they can bully me, and I won't feel so seen.
How much were you able to relate to the show, just as someone who is from Australia?
Demi Lardner: Oh, heaps. That dad character is almost jarring. He'd say something, and you'd be like, "Oh, that hit me in the chest." There are a couple of things that come up that I'm like, "Guys, guys, you can't make us this seen. We need to ease into letting people know what Australians are about." It's really strange.

Also, I went on a trip to North America last year, and I was like, "You know what, maybe this show will be good." I had forgotten to try not to say the C-word, and I had done it way too much. People were taken aback, and it's like my favorite word. Maybe softening that a little bit will be a good thing for society.
Yeah, we don't have that here as much, unfortunately.
Demi Lardner: Well, it's positive here! I would never call an enemy that word. It would only be friends, you know?
Is 'not on' really said a lot in Australia, or was that played up in Koala Man?
Demi Lardner: Yeah, it really is. "That's not on." It's a real dad thing, or teachers. My dad would be that, like, "Oh, mate, no, that's crook. That's not on."
Was it a challenge at all to nail the tone of this show? A lot of times Alison seems very normal, and then every once in a while she's a psychopath. She's not a full psychopath all the time.
Demi Lardner: Exactly, which is how you know she's a genuine psychopath. She's good at being normal. But I had direction the whole time, and it was really cool. I think I take direction quite well. But I think you could really feel the character. I kind of fell into it. I was like, "I know what this girl is about. Hide your true self. Be really mean, and annoying, and popular." It was fun, and strangely easy to get.
This is a great combination of animated sitcom and superhero show. Did you have any affinity for any animation or superhero stuff before Koala Man?
Demi Lardner: I'm way into cartoons, and always have been. The really stupid stuff is what I like. Ren and Stimpy, SpongeBob-type stuff, like gross-out, weird, crazy. I think this is the perfect version of superhero for me, because I'm like, "Oh, it's really stupid, but it's a superhero, and he's trying to do his best." Watching someone try their absolute hardest and be dog**** at it is the funniest thing in the world, so it's kind of perfect.
Finally, did you have any favorite moments from your work on the series?
Demi Lardner: There are two that I remember really having fun with. One made me completely lose my voice for two weeks. There is a point where, for one reason or another, Alison turns into a dingo, and I had zero voice. I ruined myself for two weeks.

Then, there's another one where they were like, "Okay, so this is quite an emotional moment, and you're actually crying in this moment." I was like, "Oh, okay, do you want it to sound genuine?" and they were like "Yeah." I was like, "All right, give me one second," and turned around and came back [sobbing]. I had tears pouring down my face. I think I scared them, but that was really fun. I'm looking forward to seeing how that very realistic crying comes out of a weird little cartoon face.
About Koala Man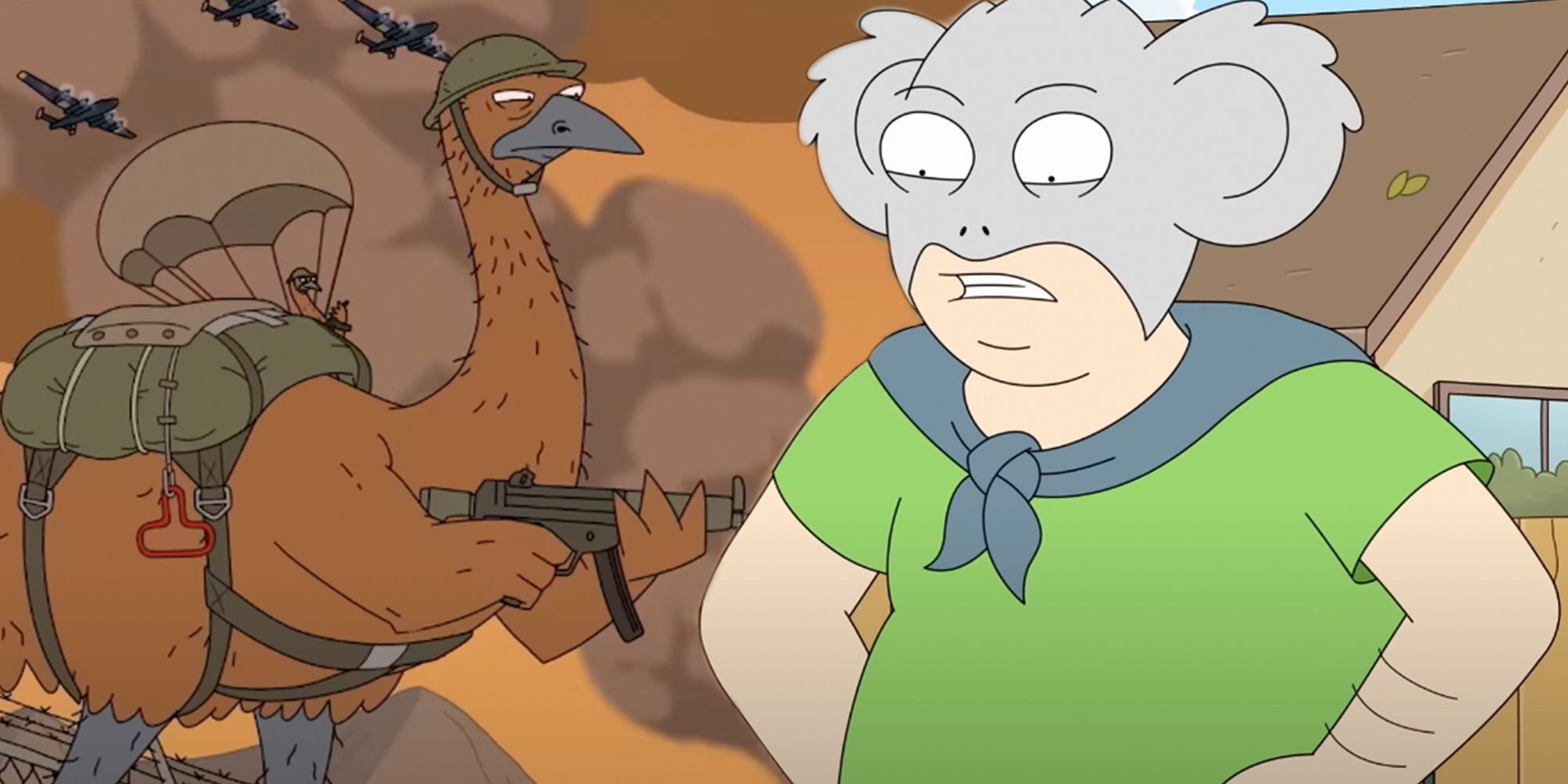 "Koala Man" follows middle-aged dad Kevin and his titular not-so-secret identity, whose only superpower is a burning passion for following rules and snuffing out petty crime in the town of Dapto. Though it may seem like any other Australian suburb, forces of evil both cosmic and man-made lie in wait to pounce on unsuspecting Daptonians. On a quest to clean up his hometown, and often roping his frustrated family into his adventures, Koala Man stands at the ready. He'll do whatever it takes to defeat villainous masterminds, supernatural horrors, or worse: jerks who don't take their rubbish bins down on the proper days.
Check out our other Koala Man interviews here:
Next: Smiling Friends: 10 Things You May Have Forgotten About Season One
Koala Man premieres on Hulu on January 9.