While the strategic combat, exploration, and story of Pathfinder: Wrath of the Righteous is undoubtedly a joy to experience, some of the adventure's puzzles, such as The Legacy of the Ancients, can be a headache to get through. This puzzle is one part of "The Secrets of Creation" Quest, during which players must solve four puzzles in separate locations of the Worldwound. Of course, solving puzzles might sound like an engaging activity for the average CRPG enthusiast, but some of these puzzles might be more than simply overwhelming for most players.
To solve The Legacy of the Ancients puzzle in Pathfinder: WotR, players must first acquire the slabs needed to conduct the activity. These runic stone slabs can be found on the western side of the world map at a location called the Place of Execution, near the Stonewilds. If it is the first time that adventurers are visiting this area, they will need to fight through several enemy mobs, including two powerful demonic beasts. Once the battle is over, players can loot a square-shaped basket to acquire all the slab pieces needed to solve The Legacy of the Ancients puzzle.
Related: Sacred Lands Puzzle Solutions – Pathfinder: WotR
Solving The Legacy of the Ancients in Pathfinder: WotR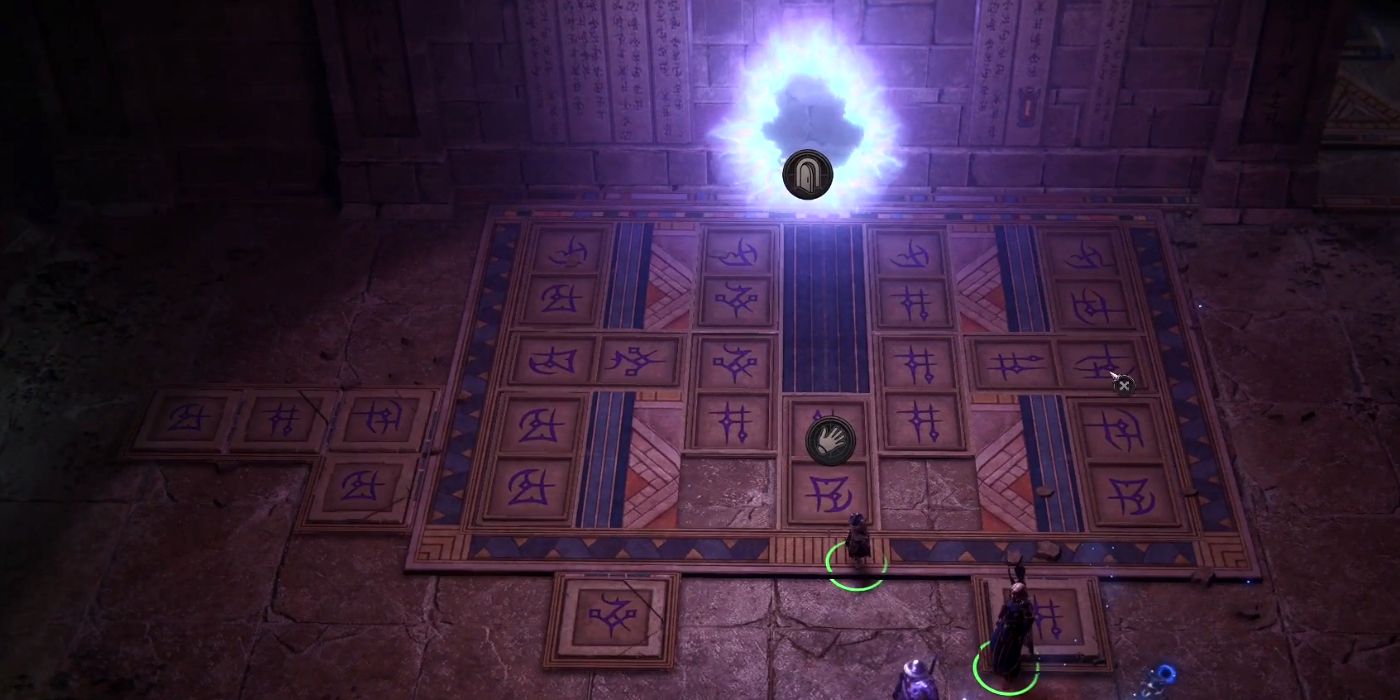 YouTuber Papa Sean suggests that players begin The Legacy of the Ancients puzzle in Pathfinder: WotR by filling in the square-shaped recesses at the bottom and left of the puzzle's central area. These spots in the puzzle only have a single choice for the slabs, meaning that these slates are meant to be used to guide how the puzzle is to be solved in WotR.
As Papa Sean puts it, the slabs on the bottom form the vertical columns where they align. This means whatever empty spaces are above these two slabs must have their symbols match. Likewise, the slabs on the left side dictate the symbols that will be in the middle and remaining slots.
For further clarification, The Legacy of the Ancients puzzle in Pathfinder: WotR is solved in a similar fashion to how one might play a game of dominos, where the side facing another side must match each other. Accordingly, the two slabs on the bottom serve as keys from which players must place the rest of the double-sided slabs across the board. Once players have solved the challenging puzzle, they will be rewarded with a Diamond, 500 GP, Elven Notes, and an enchanted Heavy Mace weapon in Pathfinder: WotR.
More: How to Solve the Sword of Valor Circles Puzzle in Pathfinder: WotR
Source: YouTube/Papa Sean