The Marvelous Mrs. Maisel is grounded in true showbiz history, with many of its characters inspired by real people. Since its beginning, the show's inclusion of actual historical figures such as Lenny Bruce (Luke Kirby) and Moms Mabley (Wanda Sykes) alongside fictional characters like Midge (Rachel Brosnahan) and Susie (Alex Borstein) has given the series a flexible relationship between fact and fiction. The fictional main cast of characters in The Marvelous Mrs. Maisel allows creator Amy Palladino-Sherman the freedom to tell her own story, while the use of real influences gives the show the ring of truth.
While some characters are heavily inspired by one particular person, others are mishmash of many, and others still are not fictional at all. None can be considered one-to-one parallels; even with the characters representing real people, some measure of creative license must be taken to fill in the gaps and to indulge the narrative. The facts which Palladino-Sherman chose to include from her characters' historical counterparts, and those which she chose to leave out, can reveal plenty about what compels her and the story she wishes to tell.
7
Midge Maisel – Joan Rivers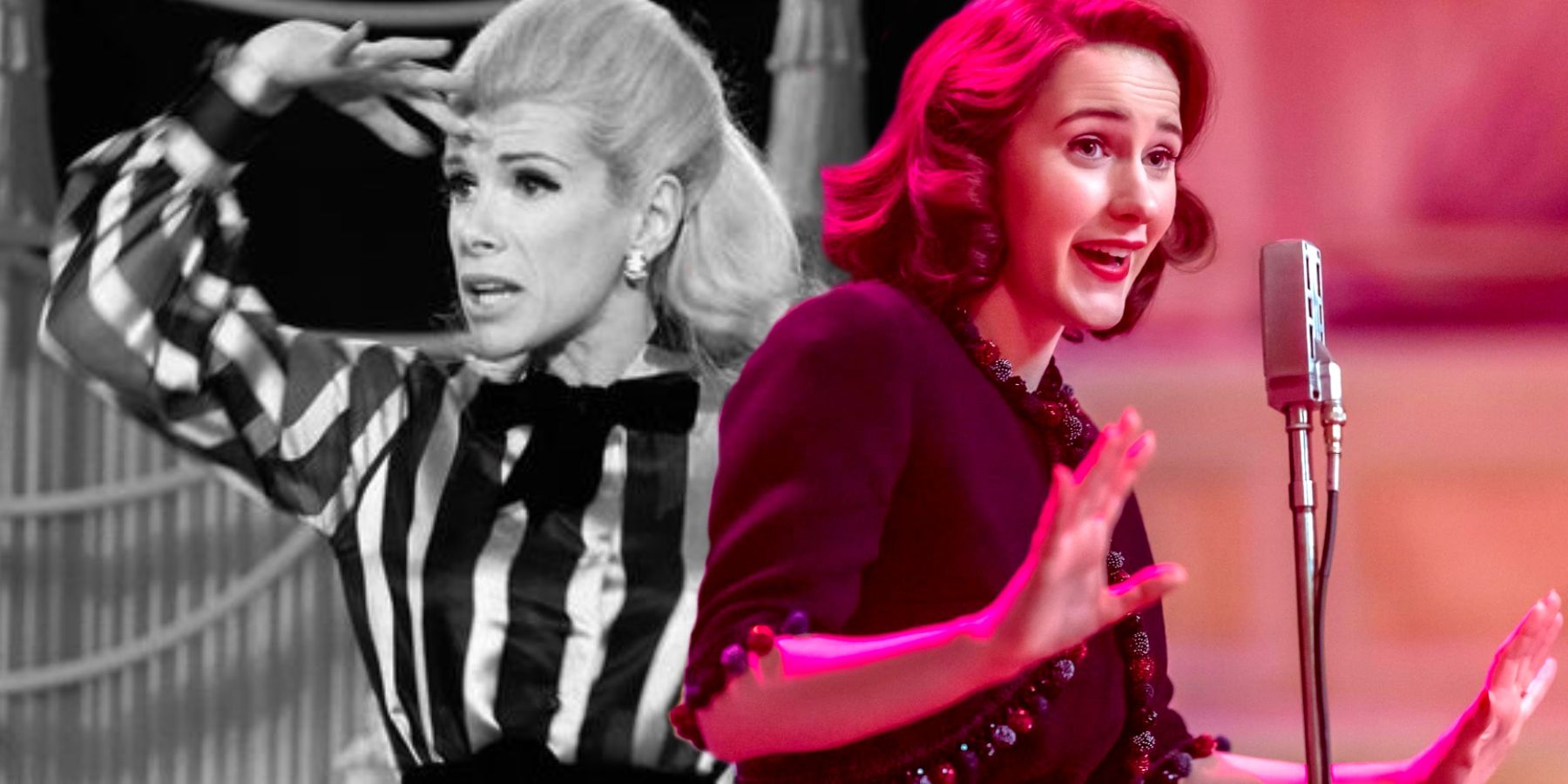 Midge's story overlaps heavily with the real life of Joan Rivers. Both are Jewish New Yorkers born in 1933 to upper middle class parents who disapproved of their comedy careers. Both Midge and Rivers went to prestigious schools -Bryn Mawr and Barnard respectively­- and both performed at the real-life club, The Gaslight Café of Greenwich village. In her comedy, Rivers, like Midge, would play up her femininity by appearing onstage in classy outfits, only to shock audiences with a foul-mouthed, fearless act that struck powerfully against the expectations for a female comedian of the time.
Sherman-Palladino described Rivers as possessing "that wonderful mix, that battle of wanting to be accepted on a feminine level – you can't have that many balls and be accepted on a feminine level." However, Brosnahan identified a key difference between the two: "Joan's comedy came from a place of feeling like she never belonged […] Midge is the opposite. She knows she is beautiful; she knows she is great at what she does". Moreover, Palladino-Sherman states that the only real person who definitively influenced Midge Maisel is her father, Daniel Sherman, a stand-up in the 60s who came up alongside such comedians as Lenny Bruce.
6
Susie Meyerson – Sue Mengers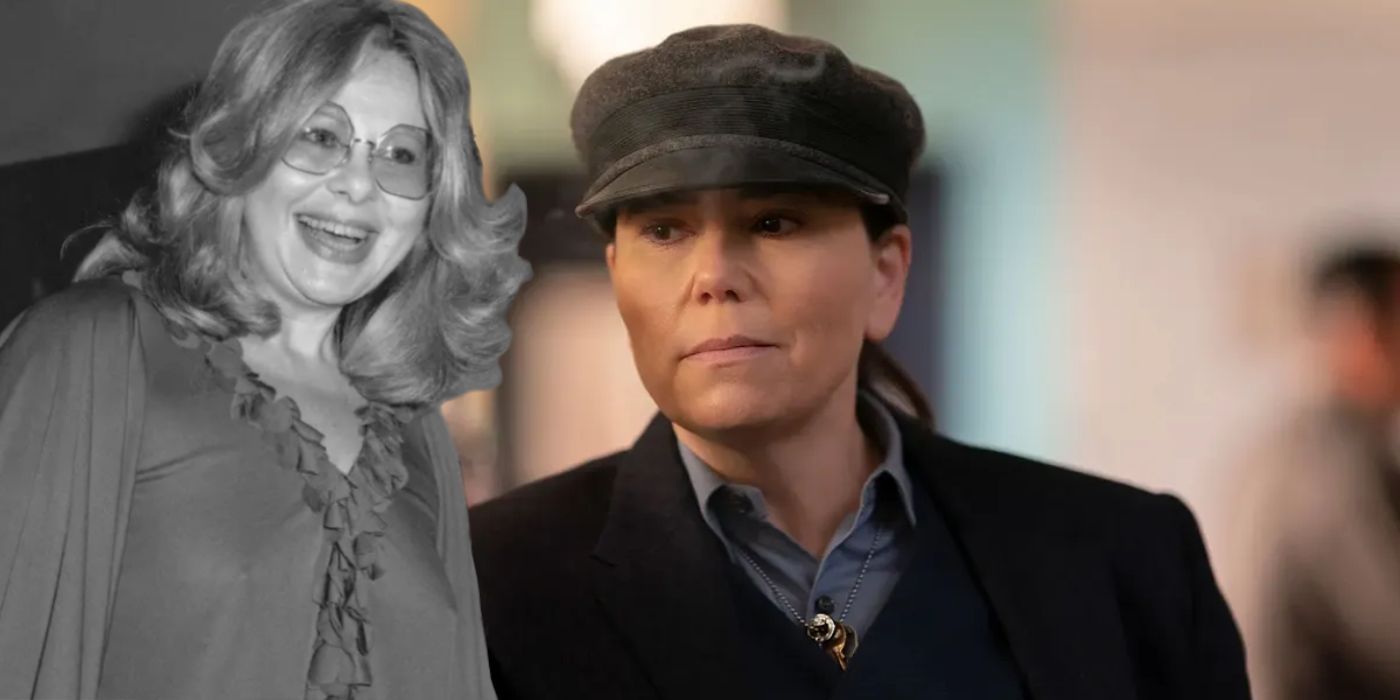 Another Marvelous Mrs. Maisel Character with a clear parallel to a real person, Susie Meyerson bears a powerful resemblance to legendary Hollywood talent agent Sue Mengers. While Susie isn't yet a Hollywood kingmaker, a flash forward in The Marvelous Mrs. Maisel episode 6, "The Testi-Roastial" shows that, like Mengers, she will be an icon to industry insiders by the 1980s. Aside from the clear name similarities and a striking physical likeness, the two share similar family histories. Both were born to Jewish immigrant parents who fled Europe before World War 2.
Susie and Mengers are also alike in spirit. Mengers was known for her brutal honesty; Mengers biographer Brian Kellow told Variety "instead of yes-yesing or kissing up, she would say, 'You're too fat' or 'Your hair looks terrible,' but it was all in service of getting them work." Marvelous Mrs. Maisel viewers will surely recognize such a straight-shooting streak in Susie. Palladino-Sherman confirms (via Parade) "we had Sue Mengers in mind", but once again clarifies that the greatest influence on this character was not a historical figure, stating "we wrote this character with Alex Borstein in mind, so she's the biggest inspiration for Susie."
5
Lenny Bruce – Lenny Bruce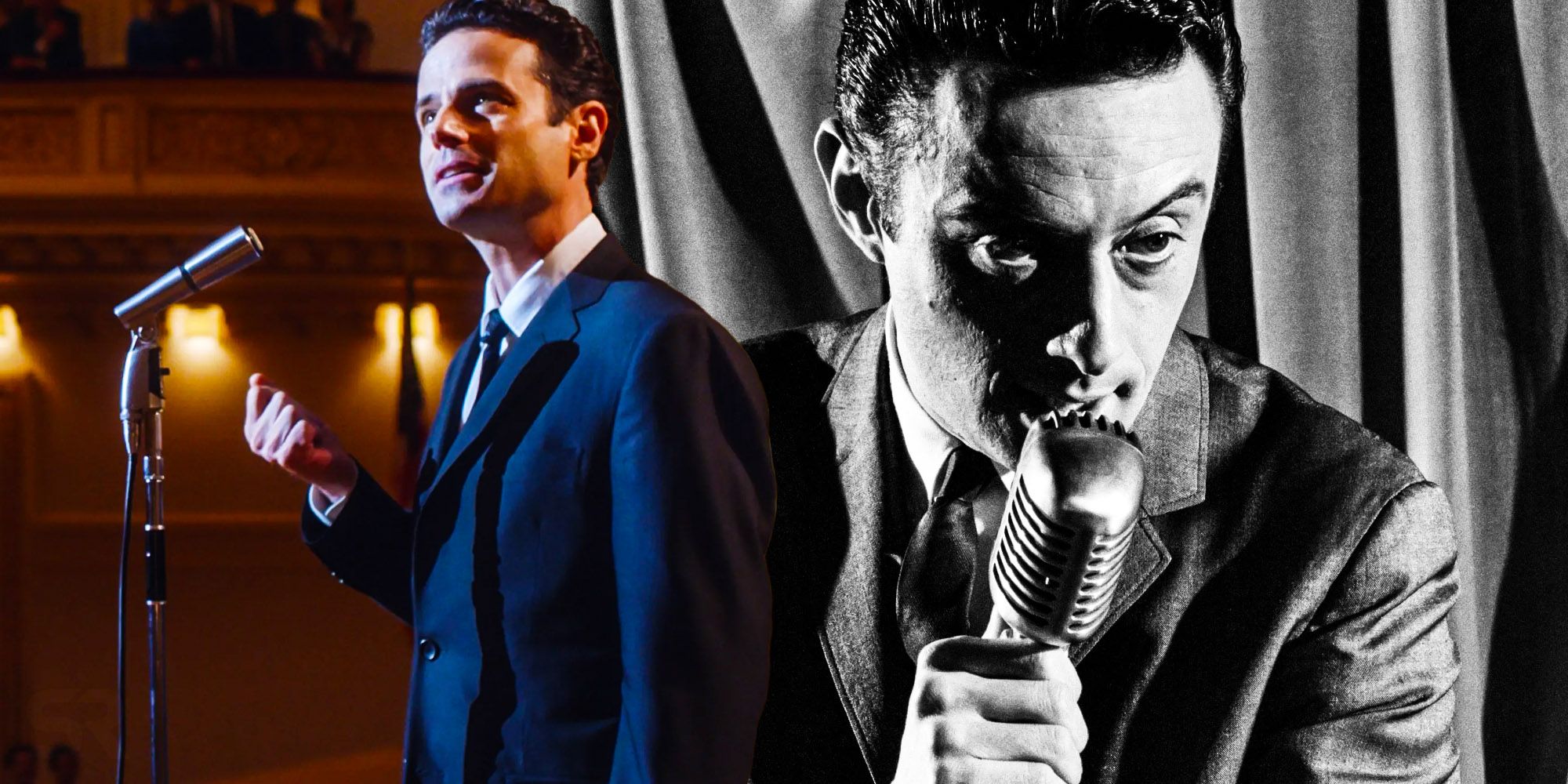 In their depiction of Lenny Bruce, the Marvelous Mrs. Maisel team took pains to ensure it was a fair portrait of the real person, even inviting Bruce's daughter to set so that she could sit down with Lenny Bruce actor Luke Kirby. Many of Bruce's routines are reproduced verbatim, including his "All Alone" bit on The Steve Allen Show, and his career high performance at Carnegie Hall, during which a blizzard really did hit New York, as depicted in the season 4 finale. Lenny Bruce's drug habit, which would sadly prove fatal, is also referenced in the show, albeit in passing.
While the relationship between Lenny Bruce and Midge is, of course, fictionalized, Bruce did have an impact on Midge's real-life counterpart, Joan Rivers. Rivers recalls bombing at a club called The Bitter End one night early in her career, when Lenny Bruce sent her a note reading "They're wrong, you're right". Rivers professes that the note meant so much to her, she kept it in her bra for a time. While it's unclear if anything romantic ever occurred between the two, Rivers (via Collider) called him "sexy as hell".
4
Sophie Lennon – Phyllis Diller/Totie Fields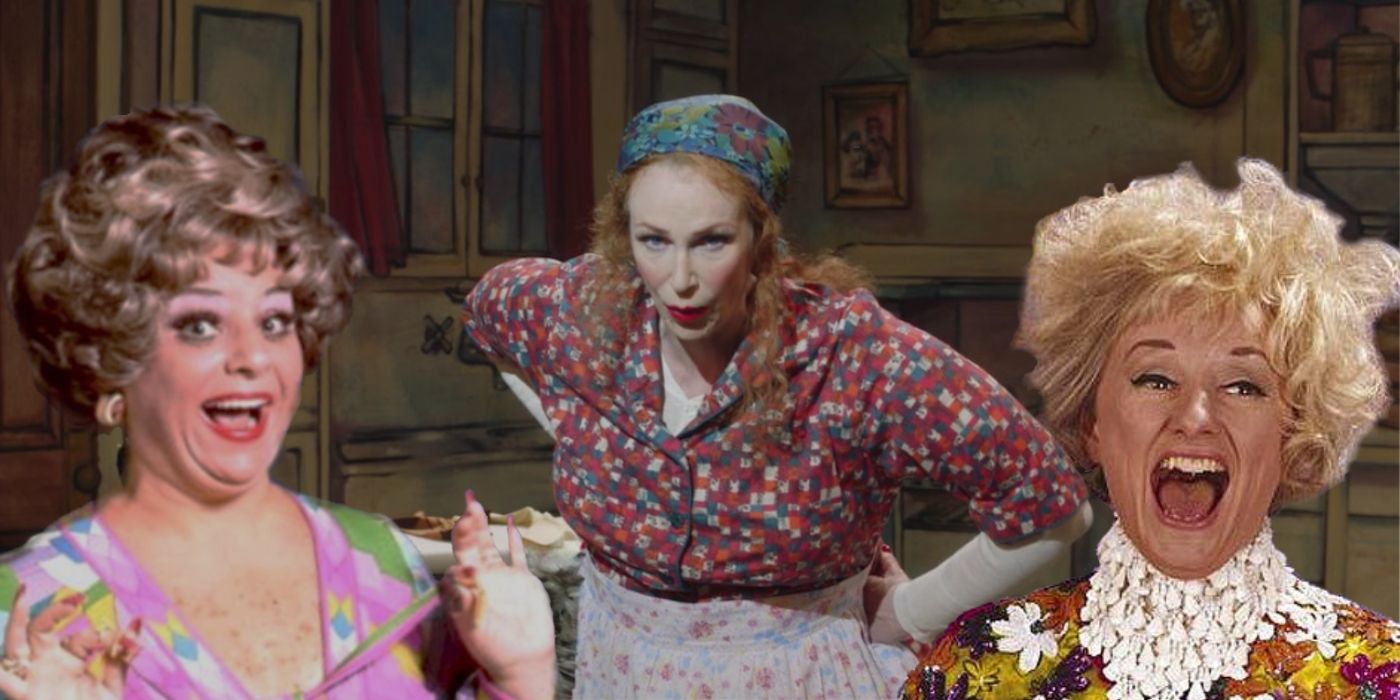 Sophie represents the establishment of female comedians in Midge's time. The two real people after whom Sophie is most overtly modeled are highly successful female comedians Phyllis Diller and Totie Fields, about whom Palladino-Sherman said (via Parade) "women back then couldn't just be a woman onstage; they had to dress as a 'character,' a lot of these female comics were well-educated and into the arts, not those crazy, strange caricatures." Their comedy was often deprecating towards themselves and femininity, with one-liners about cooking, cleaning and marriage that elicited safe laughs from a patriarchal 1950s audience.
Phyllis Diller was well-known for padding makeup on her face in order to create a more homely character, much like Sophie's standup persona, "Sophie from Queens". The rivalry between Sophie and Midge mirrors the one between Rivers and Totie Fields, about which Rivers writes in her autobiography that "Totie Fields was spreading the word that I was dirty and vicious, not funny." Apparently, Fields felt threatened that Rivers, as another Jewish woman in comedy, was moving in on her niche, so she attempted to undermine her. Their feud persisted in bitter animosity until they reconciled in 1978, shortly before Fields' death.
3
Shy Baldwin – Johnny Mathis/Harry Belafonte
It's hard to name a single influence for Shy Baldwin (Leroy McClain). Co-writer Daniel Sherman said (via Parade) "we were inspired by a lot of African American crooners at the time, like Johnny Mathis"; however, Harry Bellafonte is another real person with whom Shy shares similarities. Both Bellafonte and Shy worked with real-life comic Moms Mabley, and both are Grammy winners. Bellafonte and Mathis both produced highly successful Christmas albums, much like Shy's Christmas album which Midge's mother adores, and all three cited Nat King Cole as an influence. There are other singers of the time who would likewise invite comparison; it seems Shy's textured character is a patchwork of many artists.
2
Moms Mabley – Moms Mabley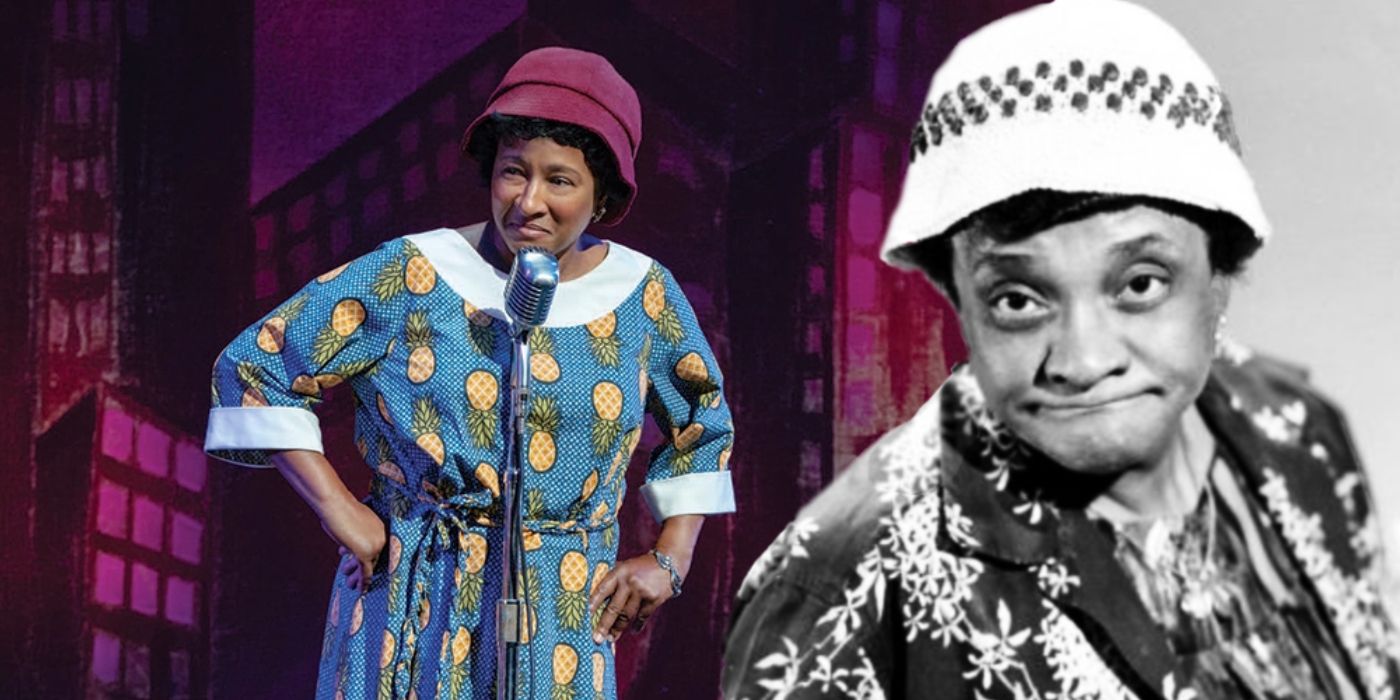 This real comic appeared in a single episode of The Marvelous Mrs. Maisel. Mabley's real act was used when she opens for Midge and Shy at the Apollo theater; as mentioned, Moms Mabley had a working relationship with Harry Bellafonte, who may have influenced Shy. Mabley was a trailblazer in her own right; the first female comic to appear at the Apollo and one of the first openly gay standups, Mabley approached edgy subjects like racism, sexuality and a preference for younger men. Her bold work as a standup, beginning in the 1920s, doubtless paved the way for both Midge and her real-life counterpart, Joan Rivers.
1
Gordon Ford – Johnny Carson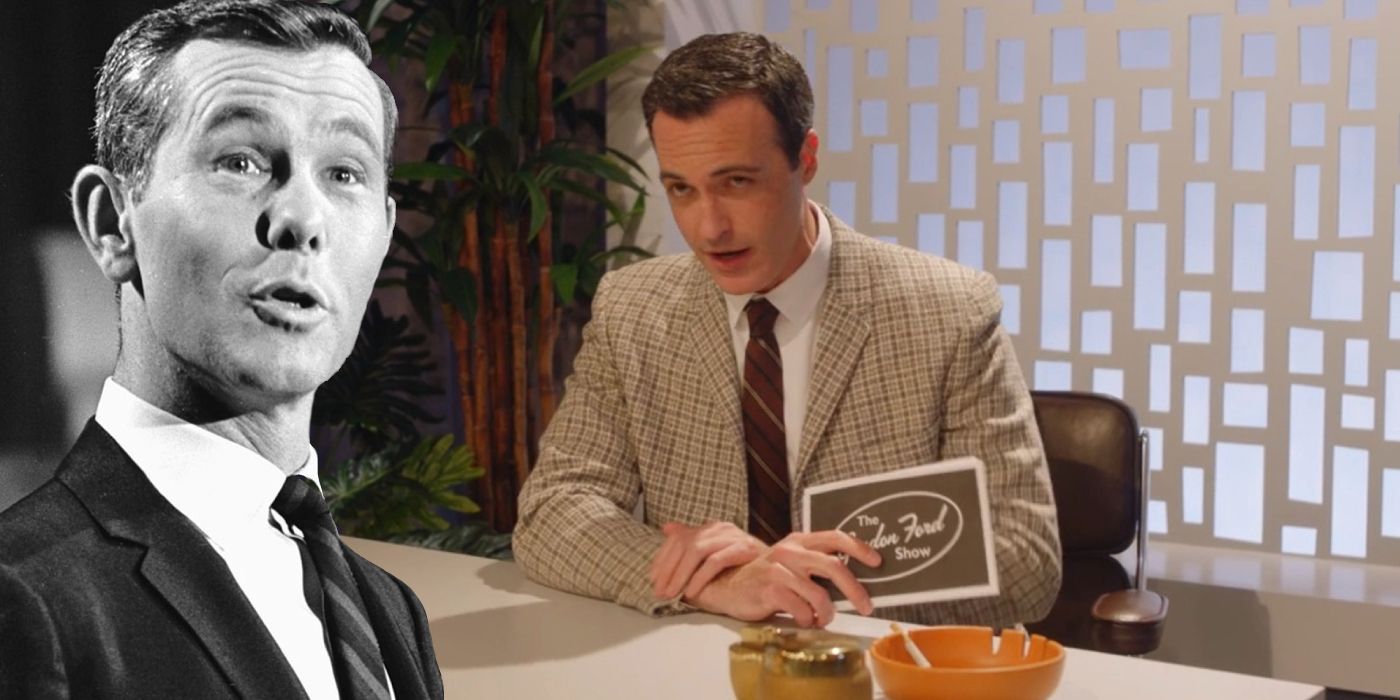 There are a handful of details hinting at Gordon's likeness to iconic late-night host Johnny Carson. Gordon's laissez-faire attitude to the bonds of marriage lines up with the timeline of Carson's first marriage, which was likewise rife with infidelities. The Marvelous Mrs. Maisel makes repeated mention of Gordon's rivalry with Jack Paar, a real person with whom Carson was often considered to be in competition, due to Carson's replacement of Paar on The Tonight Show. The bar at which The Gordon Ford Show's staff drink after work, Toots Shor's, was a favorite watering hole of Carson's.
Most significantly, it was Rivers' appearance on Late Night With Johnny Carson, that is considered to be her first leap into comedy stardom, with Carson telling her on-air, "you're going to be a star". While the final episode of The Marvelous Mrs. Maisel has not yet aired at the time of this article's writing, it seems likely Midge's career will receive its boost the same way, since Midge's goal throughout the entire season has been to perform as a comic on The Gordon Ford Show. Just as the real person upon whom Midge is based received her start with Carson, so too will Midge receive her start with Carson's fictional counterpart, Gordon.