Considering his extensive biography and the fact that he is one of the biggest stars in Hollywood, it isn't surprising that Robert Downey Jr. has turned down several major movie roles in his storied career. The actor is best known for playing Iron Man in 10 movies in the Marvel Cinematic Universe, along with starring Guy Ritchie's blockbuster Sherlock Holmes movies and a whole slew of comedies, dramas, and thrillers. Over his 40-year career, Downey has won two Golden Globes and was even nominated for an Academy Award for his controversial role in the Ben Stiller-directed action comedy Tropic Thunder.
While Downey will star in Christopher Nolan's Oppenheimer, a period drama about the atomic bomb, blockbuster action movies are usually what he feels most comfortable in (so he gets plenty of offers in this genre). Given that Downey is one of the most prolific actors working today, he can't say "yes" to absolutely every script that he gets handed, and his dedication to the MCU and Sherlock Holmes has kept him from playing other iconic characters. In an alternate reality, Downey would have been Batman instead of Iron Man, the Wizard of Oz instead of Sherlock, and Ferris Bueller instead of a Saturday Night Live regular.
RELATED: How Superhero Movies Killed The Movie Star
Oz In Oz The Great And Powerful (2013)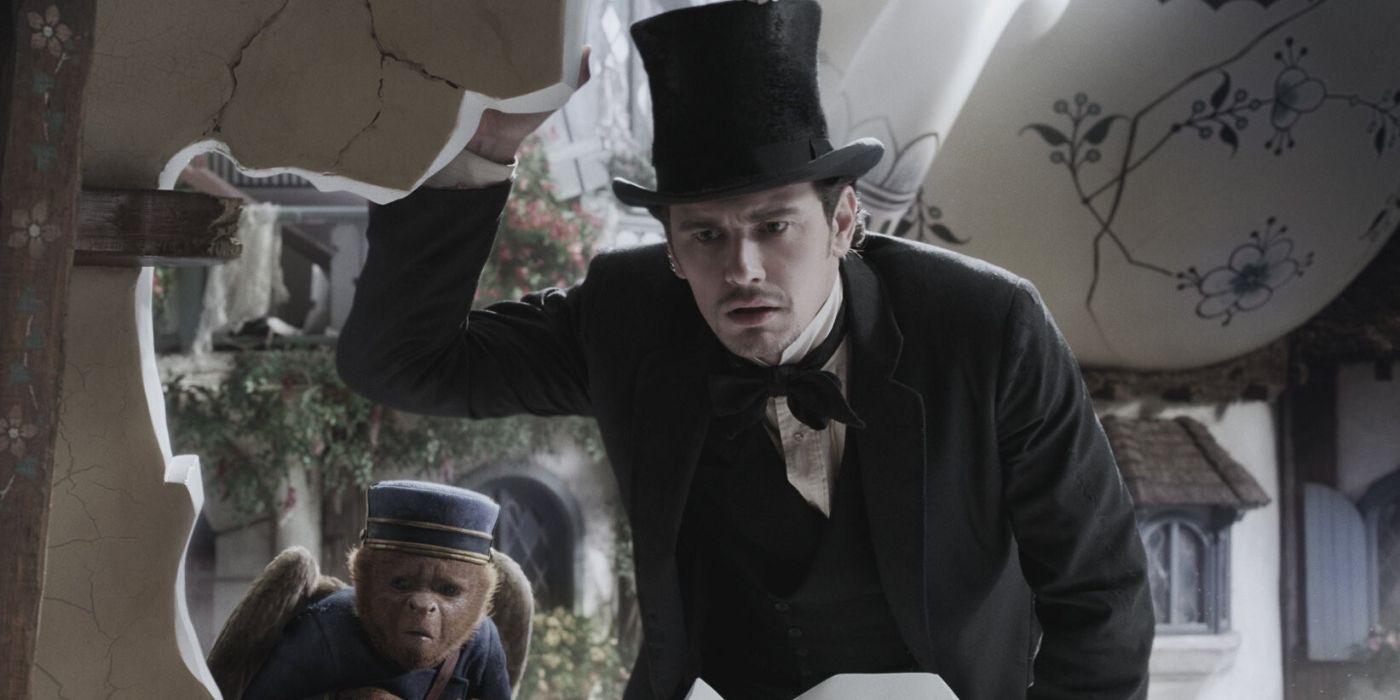 There are so many adaptations and spin-offs of The Wizard of Oz, and there's no sign of that trend slowing down. While a two-part movie adaptation of the stage play Wicked is in production, as is a Wizard of Oz remake, Disney also made another Oz-related in 2013, with Oz the Great and Powerful. Oz the Great and Powerful is a fun blockbuster, but before James Franco was confirmed, Downey was in talks to play the Wizard. However, negotiations fell apart when director Sam Raimi found that a plant he had gifted the actor had wilted (via Huffington Post).
According to the report, Downey and Raimi also allegedly fell out due to creative differences. Downey was, undoubtedly, a much bigger draw than James Franco at the time. While the movie made $500 million (via Box Office Mojo), that was still an underperformance in the eyes of the studio, so a star like Downey Jr. might have helped the film reach that next tier of box office success. However, if Oz the Great and Powerful 2 does get made, there is a possibility that Downey may revisit the offer if Disney chooses to replace James Franco after sexual misconduct allegations were made against him (via LA Times).
Zaphod Beeblebrox In The Hitchhiker's Guide To The Galaxy (2005)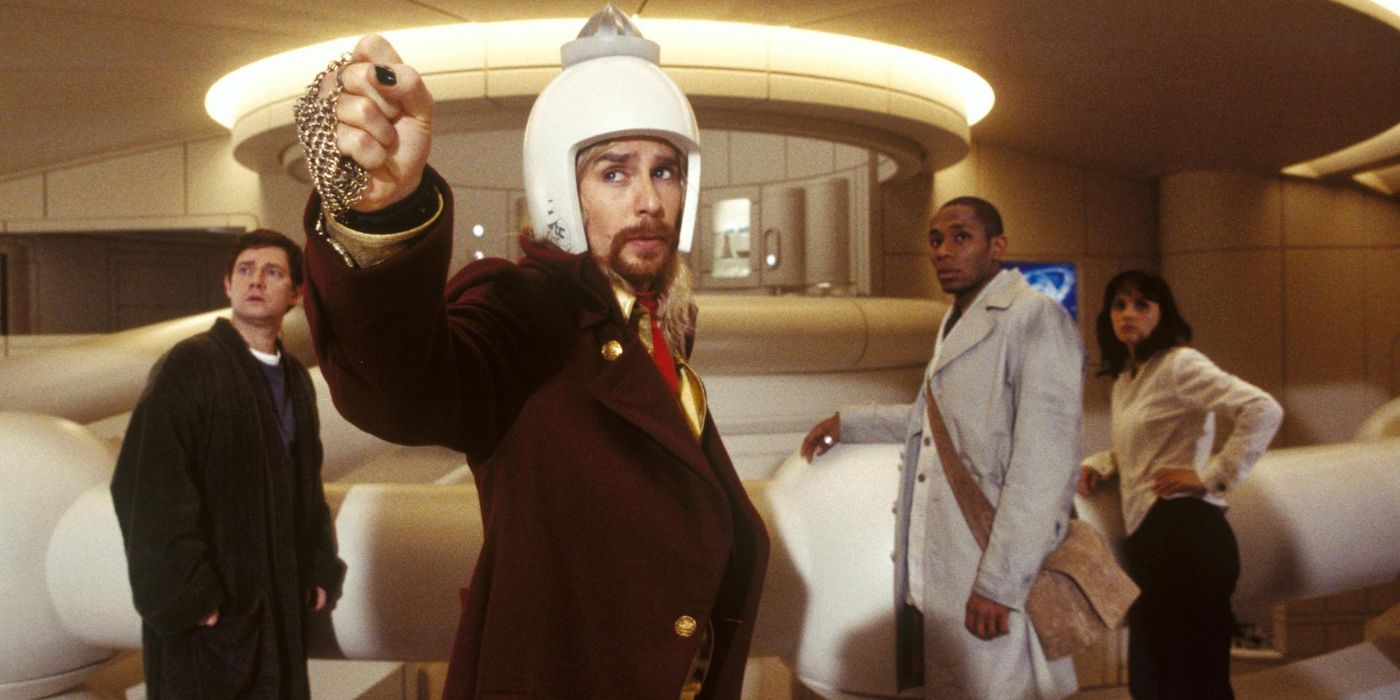 In 2005, Downey was in the running to play Zaphod Beeblebrox, the eccentric and outgoing president of the galaxy, in The Hitchhiker's Guide to the Galaxy. The role eventually went to Sam Rockwell, and while Downey would undoubtedly have been great, Rockwell's feverish and energetic style is perfect for the character. No specific details have been revealed about why Downey and the studio went different ways, but some reports suggest the actor was demanding changes to the script (via IGN). The actor's role in the film wouldn't have made a huge difference to the movie's success, as this was long before Downey was the bankable star he is today.
Cowboys & Aliens (2011)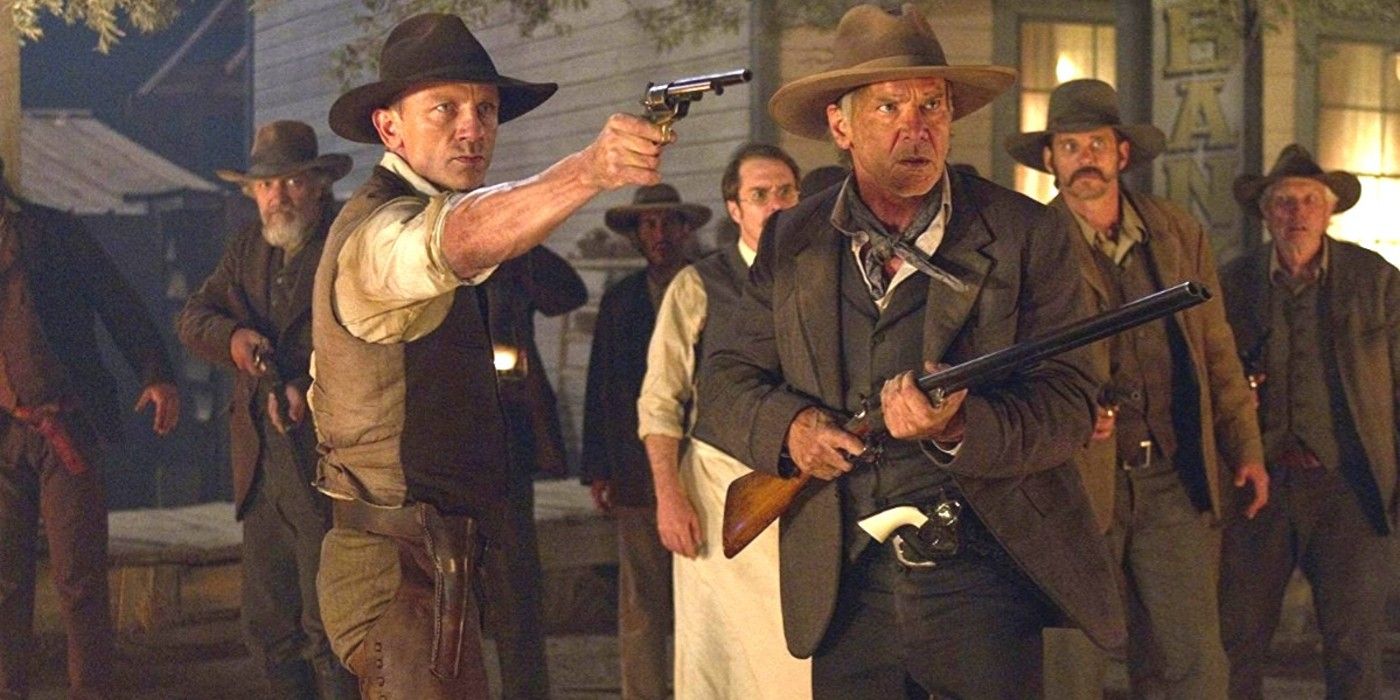 Despite there being so many of them, Cowboys & Aliens is considered to be one of Harrison Ford's worst sci-fi movie, and in this case, Downey managed to avoid a disastrous career move. The film was slammed by critics, as it has just 44% on Rotten Tomatoes, and made just $174 million worldwide (via Box Office Mojo). That sounds like a lot, but relative to its $163 million budget, it's one of the biggest box office bombs of all time. Downey was originally in talks to play Daniel Craig's Jake Lonergan. However, if the James Bond actor wasn't able to sell movie tickets, then Downey wouldn't have been able to either.
RELATED: How Robert Downey Sr. Influenced RDJ's Career
Given that the movie was endlessly criticized for its underwritten characters and monotonous narrative, it seems like no movie star could have saved the film from failing. However, with the movie being helmed by Jon Favreau, who also directed Iron Man and Iron Man 2, the director and actor clearly have a great working relationship, so they might have brought something fresh to the set if they were working together. Regardless, according to Entertainment Weekly, Downey dropped out so he could work on Sherlock Holmes: A Game of Shadows, which was the right decision as this was the better of the two films.
Ferris Bueller's Day Off (1986)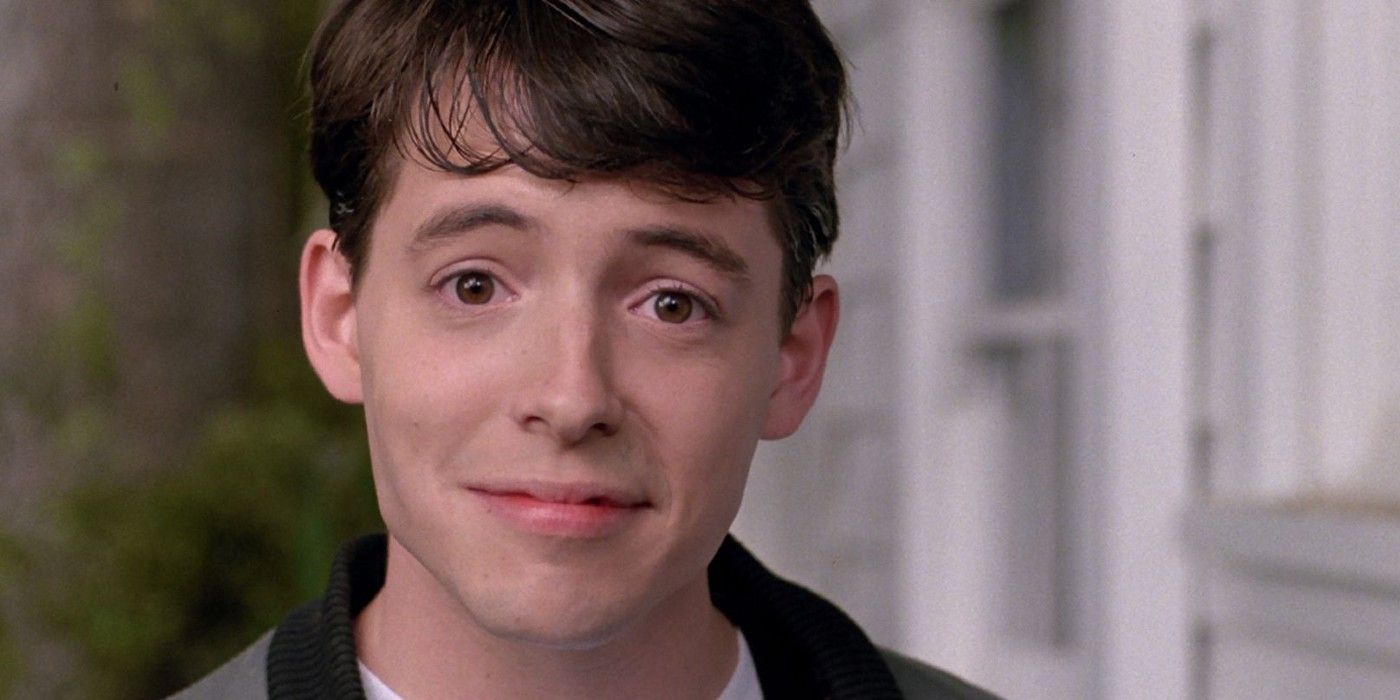 In Ferris Bueller's Day Off, It's hard to imagine any actor other than Matthew Broderick playing the '80s slacker, as Broderick made the character iconic. The actor's deadpan delivery every time he breaks the fourth wall couldn't have been done better by anyone else. However, Ferris Bueller's Day Off almost had several different stars in the lead role. Between Jim Carrey, Johnny Depp, Michael J. Fox, and tons of others, many different actors almost played Ferris. If any of those became a reality, the character would have looked and acted a lot differently. But one of those actors was Robert Downey Jr.
Downey was considered for the role but ultimately lost the part to Broderick (via Screen Crush). However, Downey did star in another school-based comedy in 1986; the surprisingly successful Back to School. While Ferris Bueller's Day Off has become a classic and Back to School has disappeared into obscurity, the Downey Jr.-starring movie was the more successful of the two upon release. Both films were released in the same week, and, overall, Ferris Bueller's Day Off made $20 million less worldwide (via Box Office Mojo). The role of Ferris wouldn't have quite fit the actor anyway, as Downey is used to playing heroes, and Ferris Bueller was the real villain all along.
Megamind (2010)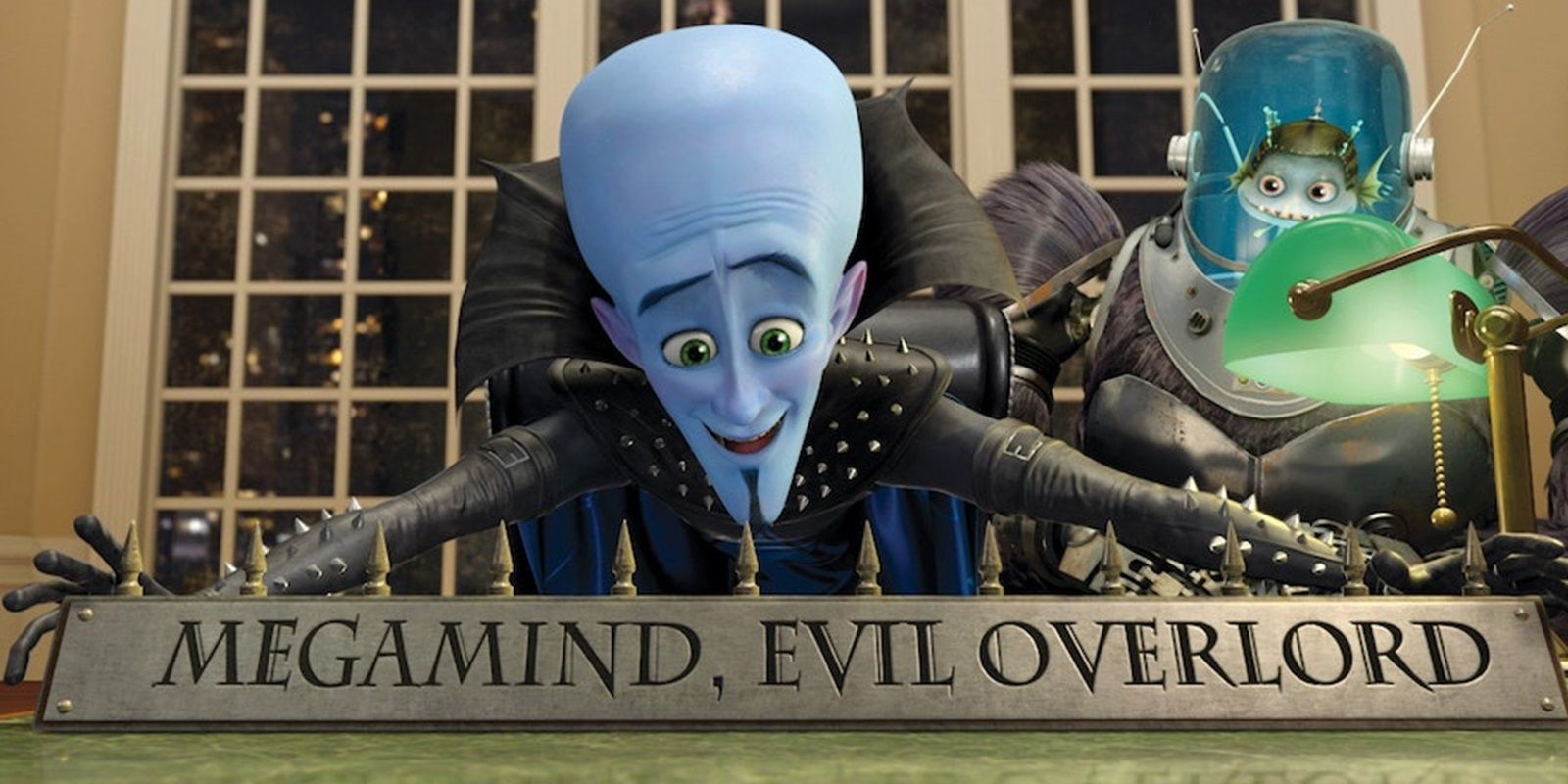 A-list actors are increasingly turning to animation, with the latest example being the polarizing casting of Chris Pratt in the upcoming Mario. Surprisingly, Downey has yet to do a voice-only role, but he did come close in 2010 as the actor had already been cast as the titular anti-hero in Megamind and even recorded lines for the film. However, it is Will Ferrell's voice in the final cut of the movie. There's no denying that Ferrell is much better qualified for the role, as he has a more animated voice than Downey and his movies with director Adam McKay are almost like live-action cartoons. Yet, this hasn't stopped imaginations from running wild.
RELATED: Robert Downey Jr. Predicted Iron Man's Death 11 Years Before It Happened
Although Downey's interpretation didn't make the final cut, recordings of his lines can be found online (via Reddit) and he doesn't miss a single beat, providing just as much of a charismatic and entertaining performance (which could have potentially helped him transition into the field of animation). There hasn't been a clear reason as to why Downey dropped out other than "schedule conflicts" (via Collider), but given that the term can often hint at the fact that there could have been creative differences or personal issues, there may be more to the story since Downey did record quite a bit of the dialogue.
Top Gun (1986)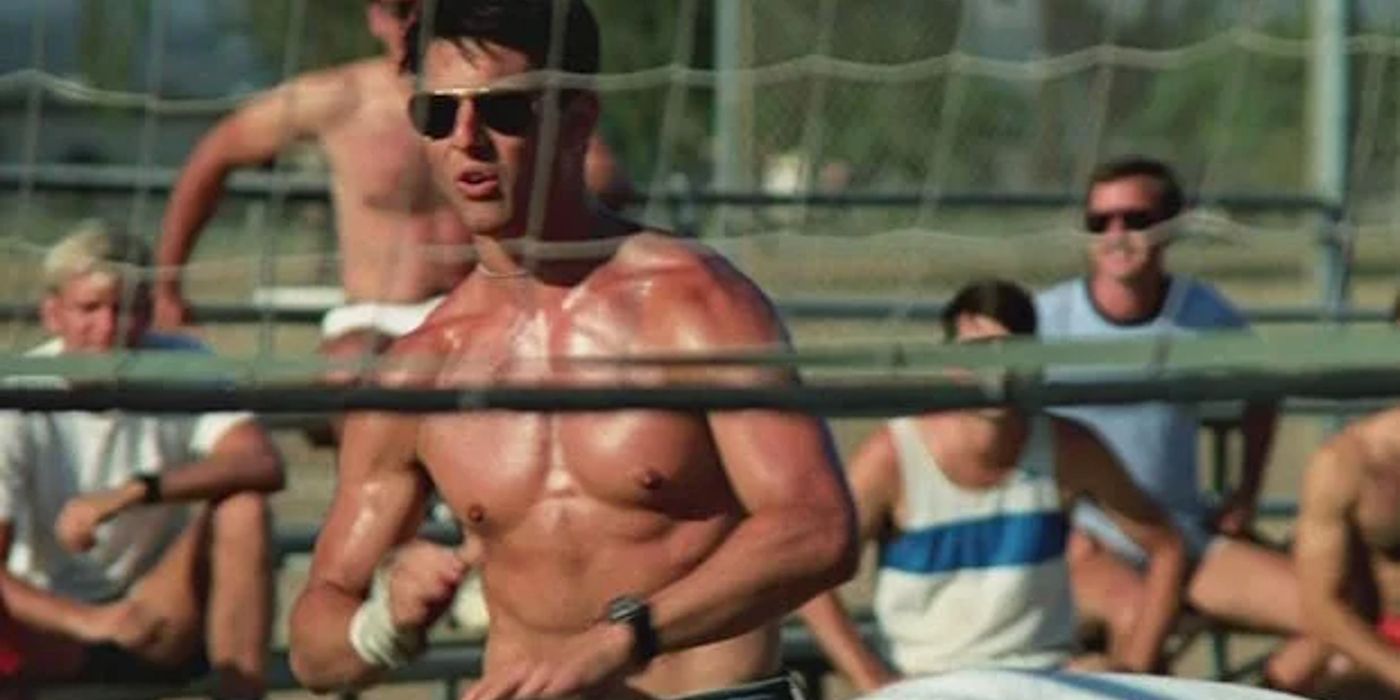 A lot of different actors were considered for the role of Pete "Maverick" Mitchell in the epic 1986 action film, Top Gun. Everyone from Tom Hanks to John Cusack was almost cast as Maverick in Top Gun, and it seems as if 1986 was a year of missed opportunities for Downey, as he was also in the running to play the cool fighter pilot. According to Indian Express, Downey narrowly missed out on playing the iconic character, which makes it ironic that Downey only got the role of Tony Stark because Cruise turned Marvel Studios down (via Slash Film).
Top Gun has been elevated to a whole other level with the 2022 sequel, Top Gun: Maverick. Maverick was a box office hit, as it outgrossed every 2022 superhero movie, which was an almost impossible feat, and it's the highest-grossing movie of that year, second only to Avatar: The Way of Water (via Box Office Mojo). The reason for its success is largely thanks to Tom Cruise and his well-documented commitment to pulling off all the Top Gun 2 stunts himself. While Downey Jr. can bring drama and comedy to every role, his willingness to do his own stunts isn't on the same level as Cruise.
Batman (1989)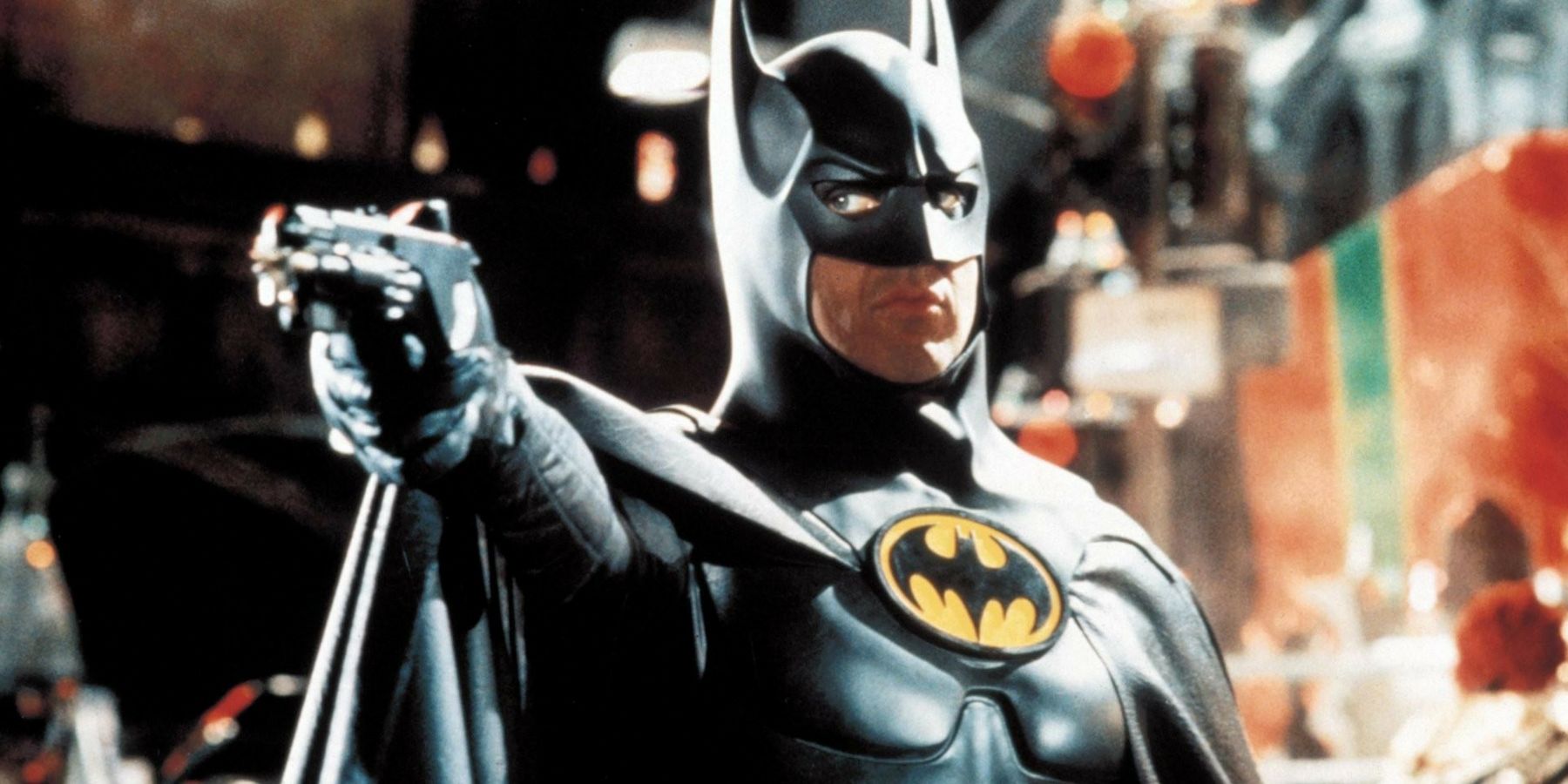 A whole host of Hollywood actors have been attached to play the Caped Crusader with each and every reboot, but the original Tim Burton-directed Batman had the most out-there shortlist. Interestingly, Bill Murray almost played Batman before the role was eventually given to Michael Keaton. However, Downey was seriously considered to play the World's Greatest Detective too. According to The Richest, Downey was on Burton's personal shortlist of actors he was thinking about casting. The Iron Man actor doesn't exactly seem to fit in with the actors Burton was weighing up, as Keaton and Murray were mostly comedy-oriented.
RELATED: 1 Upcoming Robert Downey Jr. Movie Can Redeem An Iron Man 3 Issue
However, Downey was a regular on Saturday Night Live (even if it was for one season), but he might not have been able to bring the odd eccentricities Keaton brought to Bruce Wayne. Ultimately, it's for the best that Downey didn't play Batman, as he was way too young at the time, being just 24 when the film was released compared to Keaton's age of 37. Downey would have been better suited to playing Robin than Batman. But Downey did go on to play a different playboy billionaire philanthropist, and though many actors have worn the cape and cowl, it's almost impossible to replace Downey as Tony Stark.
Edward Scissorhands (1990)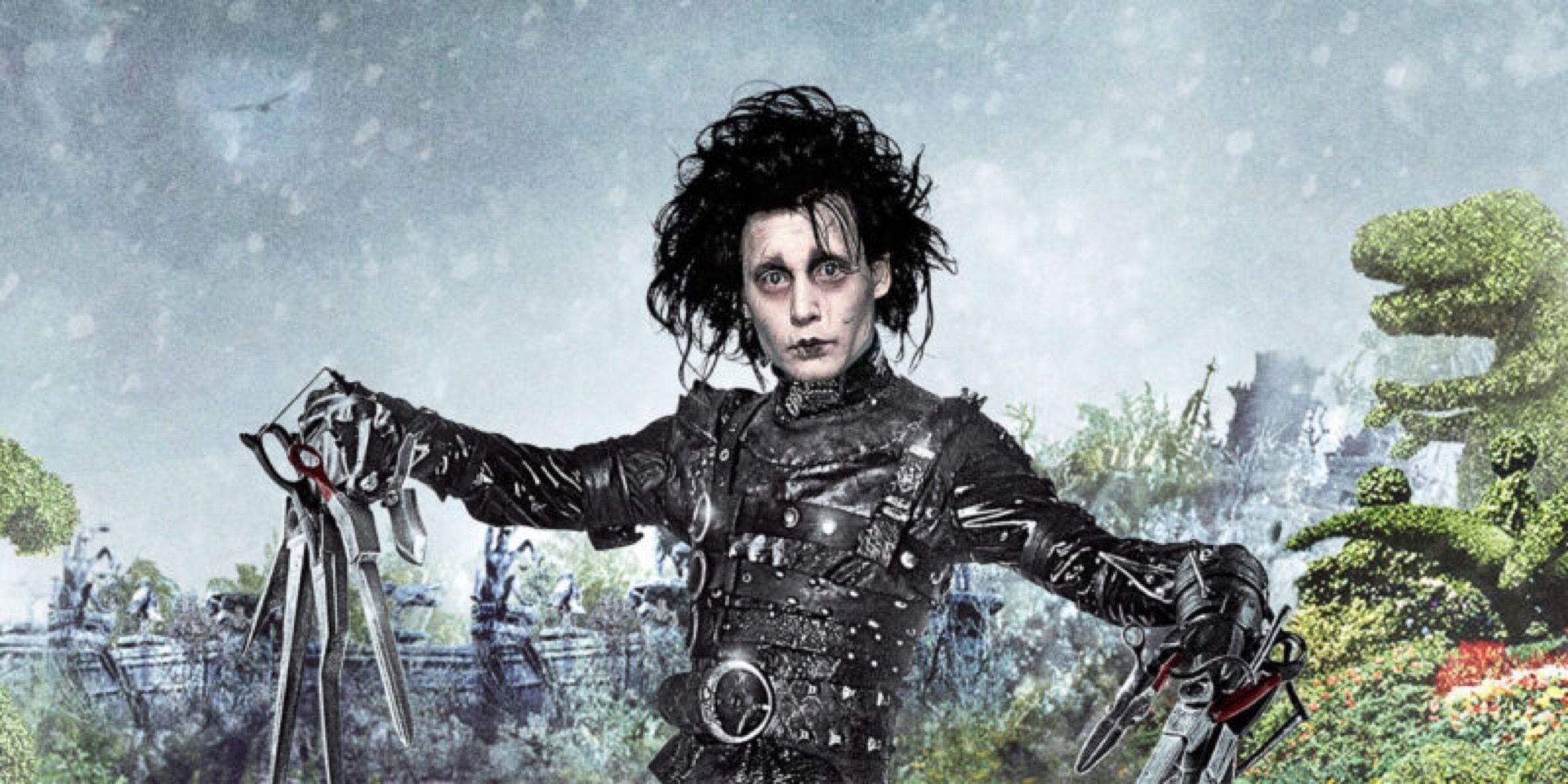 Batman isn't the only Burton-directed movie the actor came close to starring in, as Downey was almost cast in the lead role in the gothic Christmas fantasy movie, Edward Scissorhands, which was released the following year. As Burton was the most talked-about director in the early-90s following the success of Batman, a starring role in the Holiday classic would have advanced Downey's career by years. According to screenwriter Caroline Thompson, Downey was seriously considered for the role, but "not sure why that happened" (via Insider). The role ultimately went to Johnny Depp, who would go on to become a frequent collaborator of Burton.
Though Edward speaks less the 150 words in the entire movie, he's still a difficult character to play despite not having to memorize lines. There's no doubt that quirky, oddball characters have always been Depp's biggest strength, which is what makes the 1990 movie so engaging. However, while Depp seems irreplaceable as the tortured character, Downey has played some weird characters that show just how great he is in wacky and goofy roles too. Movies like A Scanner Darkly, Sherlock Holmes, and even the critically panned Dolittle prove how Downey can take his performances into weird and surprising places.