After Lisa Rinna announced her departure from The Real Housewives of Beverly Hills, Erika Jayne says her friend "can't" be replaced. Lisa shocked fans and answered many prayers when she announced her exit from RHOBH after eight seasons on the show. Lisa's announcement came months after Kathy Hilton said she wouldn't return to the show if Lisa and Erika remained on the cast. Lisa had mustered up feuds on and off the show and garnered quite the anti-Fanclub for herself. But as a member of the Fox Force Five, Lisa is leaving her friends Kyle Richards, Erika, and Dorit Kemsley.
Erika is the first member of the FFF to speak out in response to Lisa's exit. TMZ caught up with Erika after Lisa's announcement and asked for her thoughts. According to Erika, producers won't be able to replace Lisa because she's an iconic member of the franchise. When asked how producers can "fill" Lisa's shoes, Erika claimed, "they can't." Erika continued, "she's the fu*king G.O.A.T." The photog noted how producers will have to attempt to find a viable replacement for Lisa. "They can try," Erika quipped while walking into a shopping mall. When asked if Lisa Vanderpump should return, Erika threw major shade in labeling Lisa a "coward" who "ran away and couldn't show up for the reunion. So I don't think that's a good fit."
Related: RHOBH: Inside The Harry Hamlin Cheating Rumors
Erika Gives Kathy Credit for Attending Reunion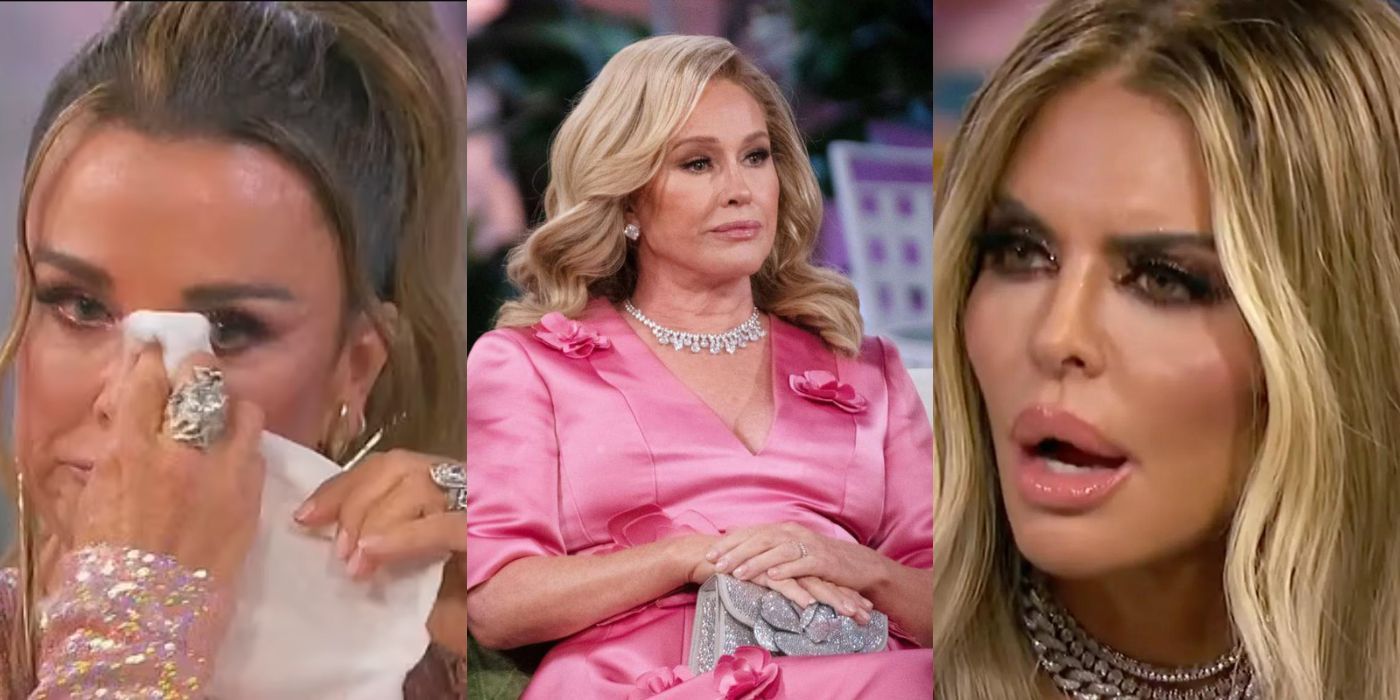 When Kathy's ultimatum was referenced, Erika gave Kathy credit for at least having "showed up" to the season 12 reunion to face Lisa head-on. "She came to play and I respect that," Erika said, while noting their "differences." Erika went on to express how much she will "miss" Lisa Rinna in wake of her absence on the show, but they will still hang out in their personal lives since their friends off camera. But Erika believes Lisa's exit will be a huge loss for viewers. "She will be missed, and I think that everyone will feel it," she warned.
Viewers have been complaining about the power the FFF has had over the cast in recent seasons. Many have felt like Lisa, Erika, and Kyle have teamed up to gang up on certain housewives. Many feel the group chased Lisa Vanderpump and Denise Richards off the show. RHOBH season 12 saw the group seemingly targeting Sutton Stracke and Garcelle Beauvais on and off the screen. The FFF faced backlash from fans with many calling for their removal or a cast shakeup of some type. Lisa faced much of the criticism with many demanding producers cut her for having little to no storyline outside of picking petty feuds with Sutton and Garcelle.
Erika, Kyle, and Dorit have also been under fire with fans wanting some or all either fired or demoted. Many don't think Kyle, the reigning OG, will be going anywhere. Especially with her sister Kathy joining in a friend role. But Dorit and Erika are still up for debate. Erika's legal issues remain a major talking point and could secure her spot for another season. Dorit, on the other hand, faced speculation from viewers who thought her season 12 robbery was an attempt to secure her spot on the show. The Real Housewives of Beverly Hills are shaking things up and fans are wondering if another exit announcement is on the way.
More: Best Moments From The Real Housewives Of Beverly Hills In 2022
Source: TMZ