After years of audiences anxiously awaiting the follow-up, Joel McHale has revealed the Community movie's filming start window is sooner than expected. The NBC sitcom ran for six seasons and revolved around an eclectic group of junior college students as they navigate their lives and their dysfunctional Colorado community college. Created by future Rick and Morty co-creator Dan Harmon, Community garnered a dedicated cult following during its run and in the years since its cancelations by both NBC and Yahoo! Screen, finally resulting in development of a movie adaptation continuing the show's story, which may be coming sooner than some expected.
While appearing on a recent episode of Jimmy Kimmel Live!, Joel McHale was asked about the long-awaited Community movie. The actor, well-known for his turn as disbarred attorney Jeff Winger, confirmed that development is moving along in a much quicker fashion than some may have anticipated, even revealing the filming start window to be this June. McHale went on to jokingly thank Kimmel for remembering to ask about the Community movie, a project that has been talked about for nearly a decade. Check out McHale and Kimmel's interview in the video below:
Related: The Biggest Questions That The Community Movie Can Finally Answer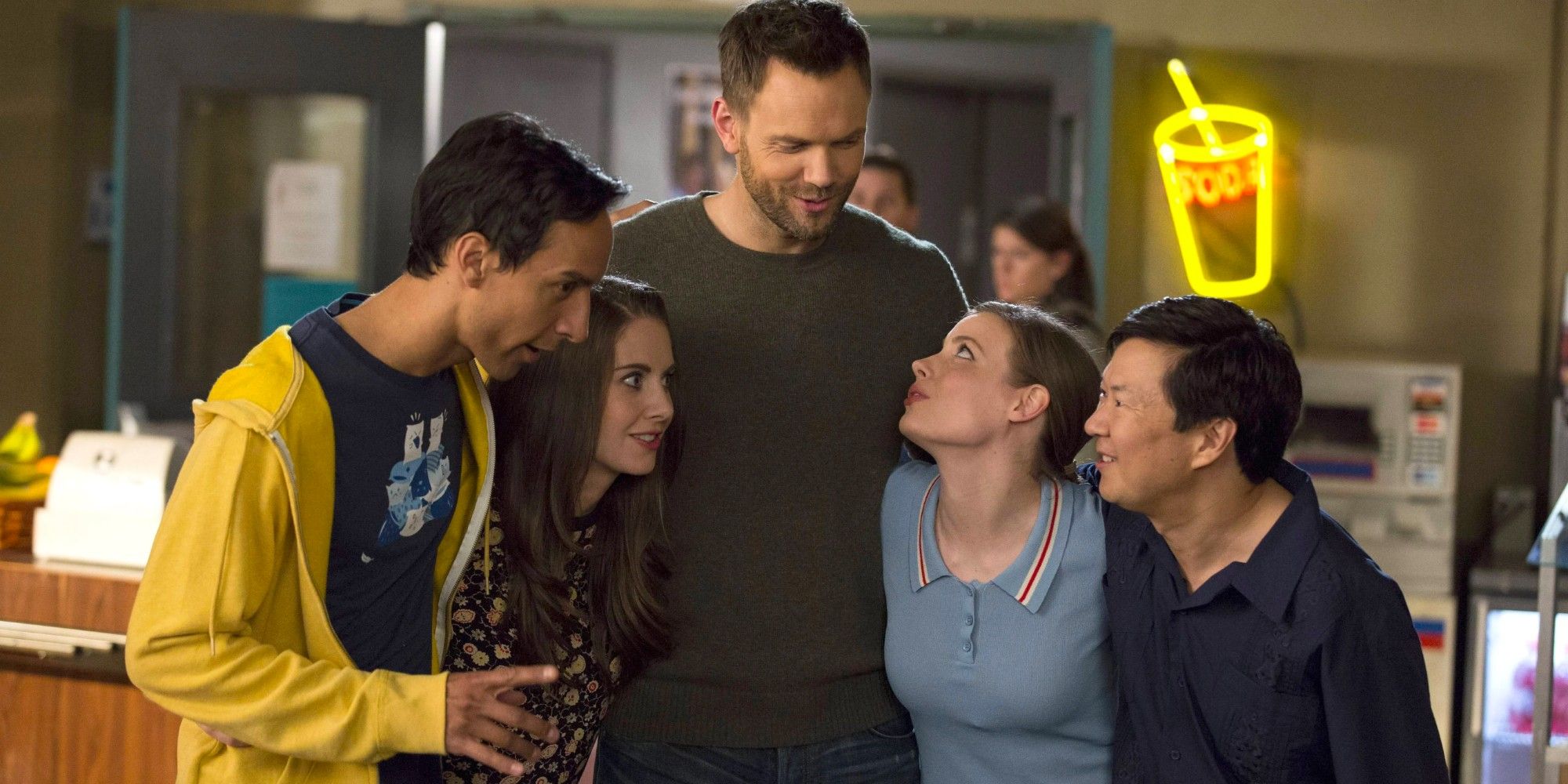 McHale's statement that the Community movie is looking to start filming in June may come as a surprise to some considering Harmon previously indicated in November that he was still in the process of writing the script for the project. While two months worth of development could have led to Harmon finally completing the script, the elongated time it took for the Community movie to get confirmed and his previous discussions of struggling to crack a story for bringing the fan-favorite Greendale study group back understandably may see some skeptical about McHale's comments. However, with his and his collaborators' enthusiasm for getting the film off the ground, a June filming start could see the Community movie arrive as early as 2024 on Peacock.
Plot details for the Community movie have remained under wraps in the months since the film's confirmation, though Harmon has offered a few tidbits of what to expect from the film. Or, more accurately, what not to expect as the show's creator has confirmed that neither paintball or Dungeons & Dragons, two fan-favorite elements of Community, will not factor into the story for the film, citing the hopes to keep audiences guessing and feeling it difficult to recapture the feeling of the original paintball episodes. Considering the paintball and Dungeons & Dragons episodes tended to offer little in the way of progressing character arcs for many of them, some have found it understandable Harmon would want to move away from these formulas for the long-awaited movie.
While most of the main cast were confirmed to be returning for the Community movie, many fans quickly took note of the absences of both Yvette Nicole Brown and Donald Glover from the roster. Harmon has confirmed, however, that Glover is still expected to return, indicating his contract hadn't been complete at the time of the film's announcement, and while Brown has remained quiet on her potential return, Keith David and Paget Brewster have recently indicated they will be back to reprise their fan-favorite season 6 roles of Frankie Dart and Elroy Patashnik. While audiences await further updates on the film, they can revisit the entirety of Community streaming on Hulu and Netflix now.
Next: How Community's Movie Budget Could Pay Off Old GagsSource: Jimmy Kimmel Live!