Warning: Spoilers for Boruto: Naruto Next Generations chapter 76Sumire is now the second shinobi known who isn't affected by the terrifying cyborg Eida's love charm, and this further validates a possible Boruto theory about Eida's powers.
The latest hint drops during a hilarious and almost spicy scene when Eida drags Sumire and Sarada Uchiha into a bedroom with her to talk privately in Boruto: Naruto Next Generations chapter 76 by creator and supervisor Masashi Kishimoto, artist Mikio Ikemoto and scriptwriter Ukyo Kodachi. Somehow, Sumire is able to communicate telepathically with Sarada and tells her that, for whatever reason, she is also unaffected by Eida's controversial Boruto power.
Related: Chainsaw Man Reveals Denji's Biggest Fear, & It's Greater Than Any Devil
Earlier, when Eida first landed in Konoha, Sarada didn't seem to suddenly fall in love with Eida or suffer some other malady as is normally the case for anyone who lays eyes on Eida except for blood relatives or members of the Otsutsuki like Boruto and Kawaki. At the time, most fans believed that Sarada might be immune to Eida's charm because she possesses the Sharingan since the Otsutsuki also share a connection to the ocular jutsu through Hagoromo Otsutsuki's first son Indra. But due to Boruto's sudden shift to romance, some fans of the genre change hoped that Sarada could not be affected by Eida's powers because, like actual members of the Otsutsuki, those who are in love with an Otsutsuki can stave off Eida's charms in Boruto.
The Real Key to Beating Eida's Jutsu in Boruto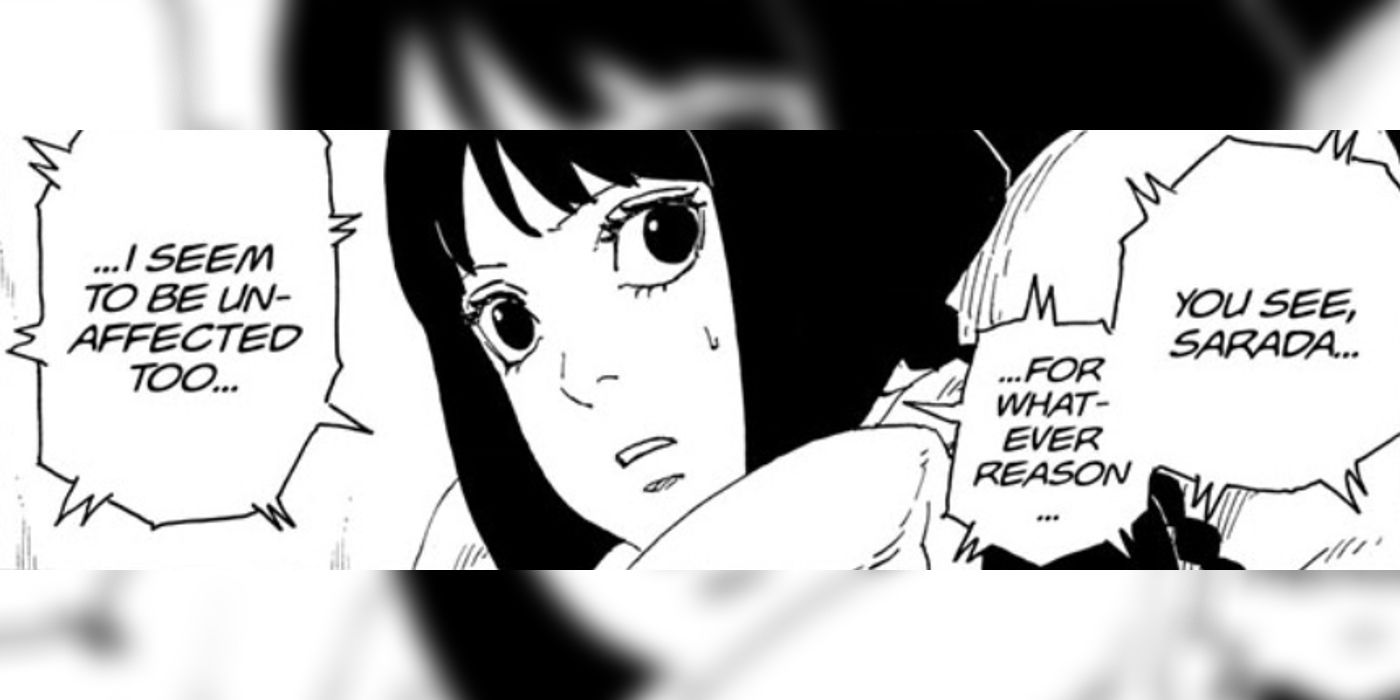 Although never proven, there are a myriad of clues, especially in the anime, which suggest that Sarada has romantic feelings for Boruto, supporting the theory. But now that Sumire clearly has an immunity as well, these hopeful fans are now just one step closer to having their theory confirmed, for, unlike Sarada who could be either keeping her desires hidden or is unaware of her true feelings, Sumire straight up confessed her love for Boruto to Sarada the first time she appeared in the manga.
Although still just a little more convincing theory than it was before, Boruto has ventured farther into the realm of romance than fans expected. Eida not only came to Konoha to meet her crush Kawaki, but she is now living in the same house with both him and Boruto, a play on common tropes in successful romance stories. So there's inherently more of a chance that a target's love for an Otsutsuki could be the key to them overriding Eida's powers. (This is especially the case since the likelihood that it was the Sharingan has been debunked as Sumire doesn't possess the ocular jutsu herself). It just makes sense, too, that a power that causes others to fall in love would require some form of love to break it. More importantly, even critics of Boruto's new focus can now agree that the more romantic explanation fits the series' new creative direction and tone – and that's a good thing.
More: A Powerful Boruto Ability Is Made Even More Twisted By Tokyo Ghoul's Creator
Boruto: Naruto Next Generations is available at Viz.com.