For January 2023, Pokémon Scarlet and Violet Trainers can start off the new year by claiming free rewards from this month's featured Mystery Gift codes. These freebies from the developers have always been an excellent source of valuable materials and currencies. For instance, one of the codes for January grants users over ten thousand League Points for their player character. Of course, to those far in the postgame content, this amount could be somewhat negligible. Conversely, newer players will undoubtedly find much use for this currency pack, as they will be able to craft a variety of TM Moves for their pocket monsters in preparation for challenging Tera Raids and Trainer Battles.
Those who have redeemed Mystery Gift codes in the past should have no issue claiming their freebies for January 2023 in Pokémon Scarlet and Violet. On the other hand, newcomers might need assistance to carry out the process. To redeem January 2023's Mystery Gift codes in Scarlet or Violet, players must press the Y Button to open the Main Menu window. Next, they must select Poké Portal and then navigate to "Mystery Gift." Finally, choosing "Get with Code/Password" will open the code input screen in-game.
Related: Pokémon Scarlet and Violet: How to Get (& Use) the Soothe Bell
Every Redeemable Mystery Gift Code for Scarlet and Violet in January 2023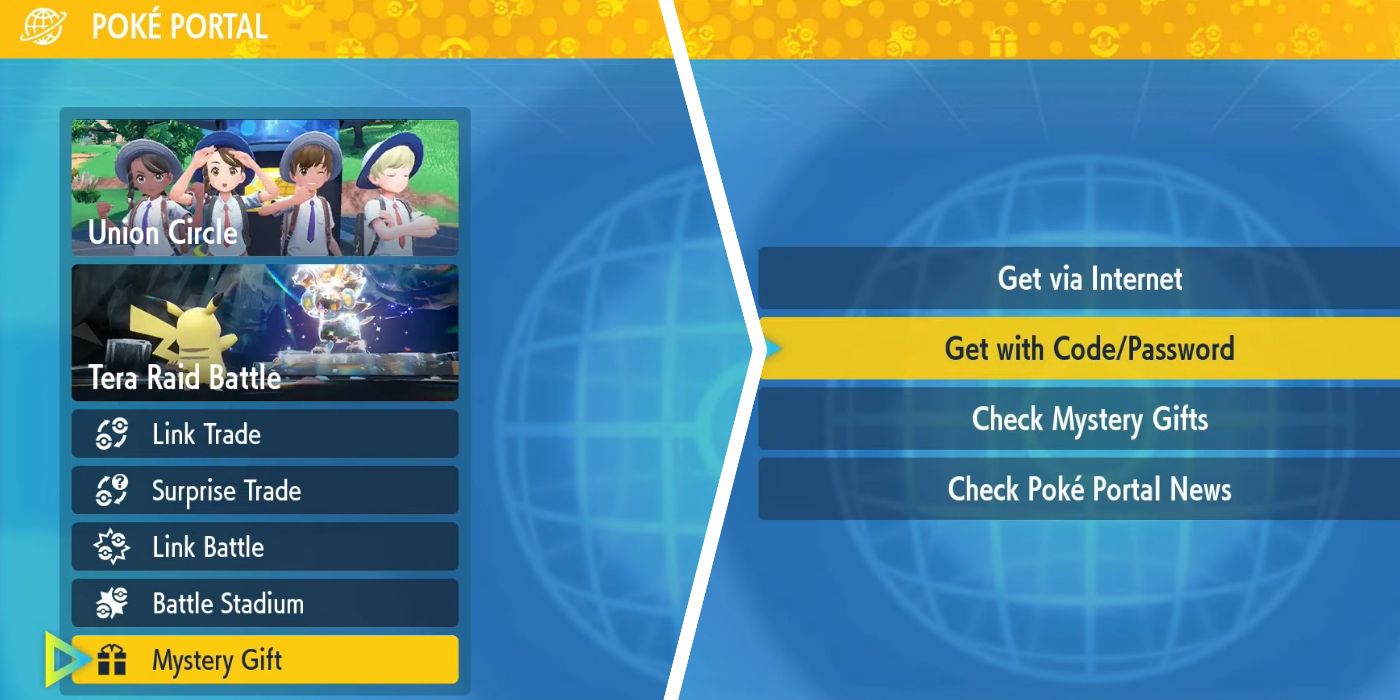 Based on sources at GameRevolution and YouTuber The Game Looters, here is a list of every working January 2023 Mystery Gift code for Pokémon Scarlet and Violet:
Code

Rewards

MAKEWA2AMACH1NE (New)

This code can be redeemed for a Comet Shard, a Star Piece, or a bag of Stardust.
Trainers will not receive all of these rewards but will instead only receive one of three at random.

READY4RA1D

This code can be redeemed for 20,000 League Points.

HAJ1ME0R1G1NAL

This code can be redeemed for:

Peanut Butter × 10
Prosciutto × 10
Hamburger × 10
Cream Cheese × 10
Noodles × 10
Rice × 10
As noted above, the first code will grant players a Comet Shard, Star Piece, or Stardust currency. Comet Shards are extremely valuable collectibles that can be sold at Delibird Presents Shops for ₽12,500, while Star Pieces are valuables sold for only ₽6,000. Both are excellent sources of "fast money." Likewise, Stardust can also be sold at stores but at a low profit of ₽1,500. The second January 2023 Mystery Gift code for Pokémon Scarlet and Violet provides League Points for crafting powerful Moves via TM recipes, and the third code gives players a host of ingredients for cooking buff-providing Sandwiches in Pokémon Scarlet and Violet.
More: Pokémon Scarlet and Violet: How to Get (& Use) Gold Bottle Caps
Source: YouTube/The Game Looters | GameRevolution
Original Release Date:

2022-11-18

Developer:

Game Freak

Franchise:

Pokemon

Genre:

RPG, Adventure, Action

Platform:

Nintendo Switch

Publisher:

Nintendo, The Pokemon Company

ESRB:

E

Summary:

Pokemon returns in its next installment series: Pokemon Scarlet and Violet. Now set in a fictional locale based around Mediterranean Spain, players will traverse the land of Paldea as they continue catching the series' classic and new Pokemon. New to this entry are unique Pokemon that can transform into vehicles, allowing players to traverse the world through new means- which helps with Scarlet and Violet's new open-world approach. Players can tackle gym battles in any order they wish, with foes scaling to their level as they progress. Scarlet and Violet also introduce co-op exploration online and a new battle feature known as Terastallize.

Multiplayer:

Online Co-Op, Online Multiplayer

Prequel:

Pokémon Sword and Shield

Mode:

Single Player, Multiplayer