Former 90 Day Fiancé star Rosemarie Vega exposed ex-boyfriend Big Ed Brown's lies by revealing his flirtatious DMs to his current partner Liz Woods. Big Ed traveled all the way from San Diego to the Philippines to see Rose in person on 90 Day Fiancé: Before the 90 Days season 4 after they met on Facebook. Big Ed, 54, and 23-year-old single mom Rose had become a standout couple of the season based on their humorous interactions. But Rose decided to split with Big Ed and stood up for herself when he told her she needed to take an STD test and had bad breath.
Rose and Big Ed went their separate ways after the show. Big Ed began dating Liz Woods in America on 90 Day: The Single Life season 1, while Rose used her online clout to become a model and influencer. However, Rose returned to the recent 90 Day Fiancé: Happily Ever After? season 7 Tell-All when the producers wanted to prove Big Ed was not fully committed to Liz. In a clip shared to the 90 Day Fiancé Instagram account, Big Ed claimed he had not been in touch with Rose, though she claims he is "always" asking her to FaceTime. "That's not true," Rose told Liz when she repeated what Big Ed had said about him not remembering talking to Rose. "He messaged me and I have a screenshot," 90 Day Fiancé celeb Rose declared, and the same was shown to Liz on a screen, who read it out loud for the cast. In the messages, Big Ed had told Rose she looks "amazing" and expressed a wish to go to the Philippines to see if Rose was open to meeting up.
Related: 90 Day Fiancé: Photos That Prove Rose Vega Is Better Off Without Ed Brown
Big Ed Pokes Fun At Non-Native English Speaker Rose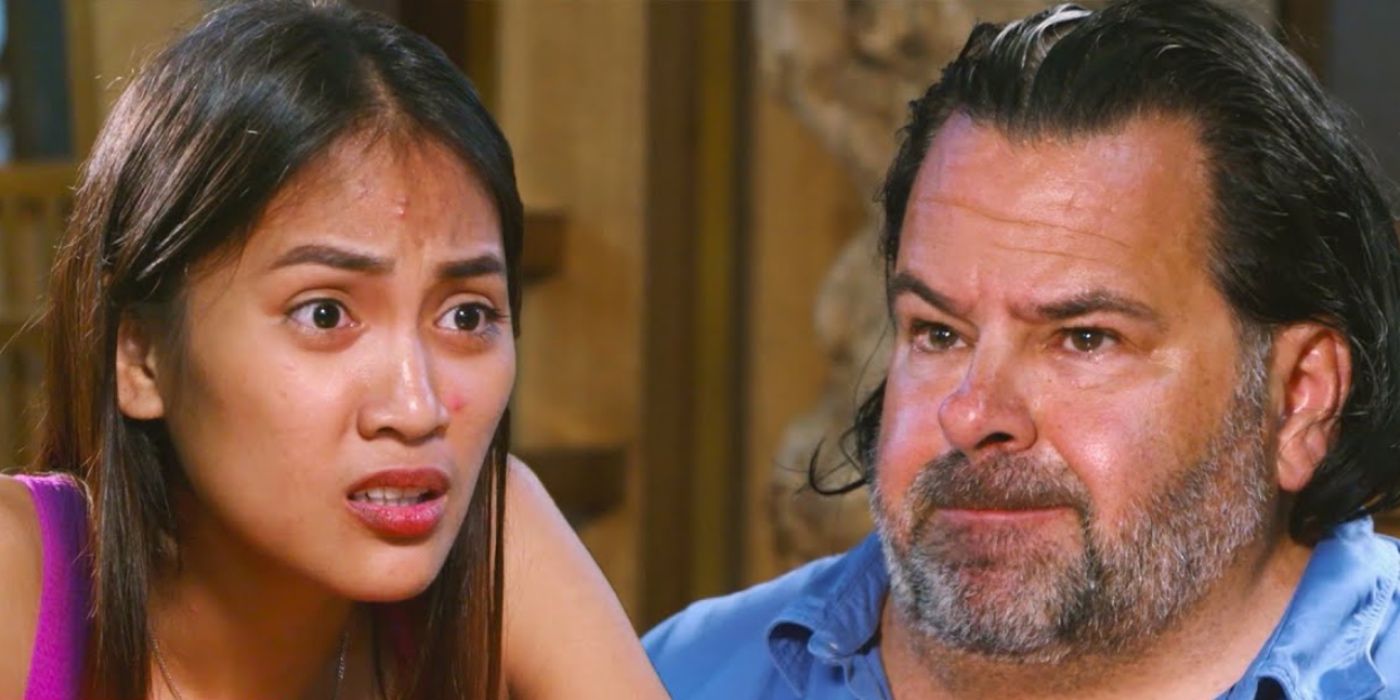 "Liz sit down," Big Ed told Liz, who started confronting him for his blatant lies. "Did you or did you not just say I've not spoken to her," Liz asked Big Ed again, to which his shameless reply was, "me no speak English." Big Ed's racist response seemed to be targeting 90 Day Fiancé cast member Rose, who doesn't speak English as a first language, in an attempt to get back for exposing him. He was called out by Kim Menzies who said "it's not something to joke about," but he kept denying that he flirted with Rose. "I am tired of all the lies," Liz told host Shaun Robinson at the end of the clip.
In all likeliness, Liz, who got back together with Big Ed after breaking up for the tenth time, will not change her attitude towards him. The couple was seen at a bar by a 90 Day Fiancé viewer at the end of December when they also revealed their plans of moving out of San Diego. 90 Day Fiancé celeb Big Ed making dating profiles to meet Asian women, fetishizing them, and later mocking their inability to speak English are all things that could be forgiven according to Liz, who looks like she's hopelessly in love with him.
Fans have reasons to believe Big Ed and Liz are in a fake relationship for TV. Their multiple breakups and recent living arrangement, where they are only spending every other night at their once-shared home, to fix their relationship is as absurd a theory as it sounds. Meanwhile, Rose coming back to the franchise to destroy Big Ed as her ultimate payback is being applauded by viewers. But Liz always seems to come back, no matter how much Big Ed hurts her, which makes 90 Day Fiancé icon Rose's attempts ultimately worthless.
More: 90 Day Fiancé: Why Fans Say Rose's New Boyfriend Is An Upgrade From Big Ed
Source: 90 Day Fiancé/Instagram